If you're wondering whether a hair serum could be the holy grail of products when it comes to solving all of your hair issues, you're not alone. The truth is, with so many undeniable benefits from improving the look of shine and banishing the appearance of frizz to promoting a softer-feeling texture, serums, in particular the Nubi Boosting Hair Serum with Marula Oil by Nubi, really are a must for your hair care regimen.
So what exactly do they do, and how do they do it? In this extensive Nubi Hair Serum review, we'll answer all of your questions on the following.
Which environmental factors can affect our hair negatively, leading to the need for a serum?

Who should use/will benefit from using a hair serum and why?

How serums improve the look of our hair

Exactly how serums improve the feel of our hair, especially for those of us that heat style our locks

How to use/apply a hair serum

Which stage to use a hair serum in your haircare routine

Finally, according to our Nubi Hair serum review, why this particular product is our top recommendation!
Damaging Environmental Factors That Create the Need for a Hair Serum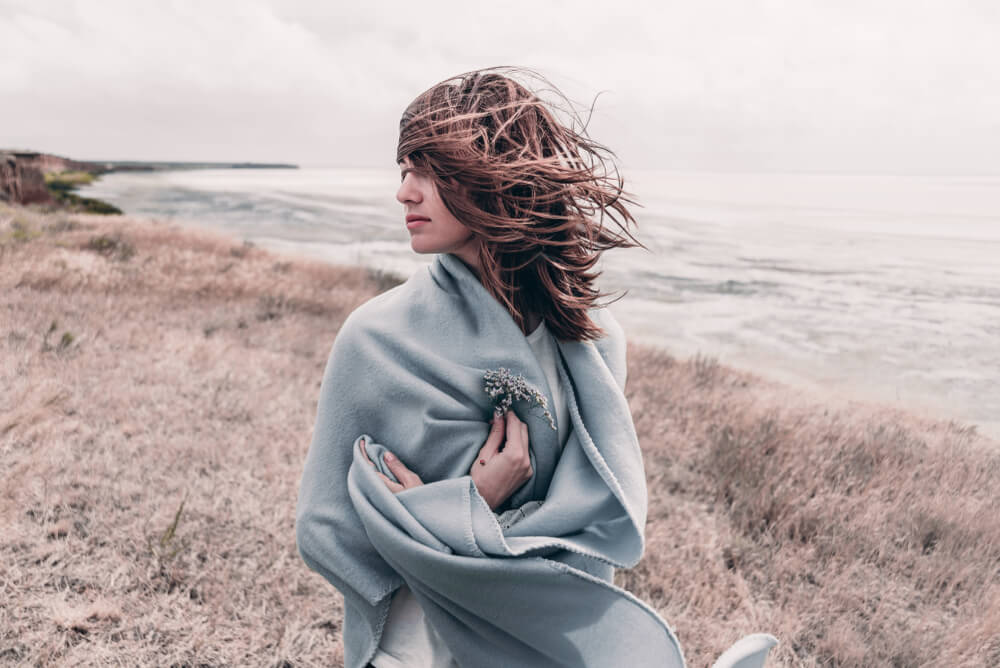 First off, let's get into the reasons why we might need to consider a hair serum in the first place. Of course, we know hair serums make hair super shiny, but, as our Nubi Hair Serum review exposed, there are many other reasons to use them and many other environmental factors that can lead to us actually needing their moisture-rich goodness! 
An example you ask?
How about the wind!
Yes, we know it might sound silly, but in reality, those of us who live in particularly windy locations (we're looking at you Chicago!) will often notice our hair feeling drier and more brittle the more we expose it to the elements.
And it's not only strong winds that can affect our hair weather-wise. Pretty much any significant, swift rise or drop in temperature can freak out your tresses as they try to adjust. 
Meanwhile, long periods of sun exposure and changes in humidity are well-known factors that can also dry out and damage the hair cuticle.
With so many varying weather conditions to contend with as we move through the seasons, it's no wonder our hair so often feels damaged and out of control. This is especially true for those of us with a hair texture that's naturally on the drier or more brittle side.
Protecting Your Hair from Environmental Damage
So how can we fix the appearance of damage and give our locks some much-needed TLC?
All together now… hair serum!
After all, the reason our hair becomes frizzy, damaged, and downright unmanageable from the effects of ever-changing weather conditions is because it loses the majority of its moisture and becomes dried out. We, therefore, need to replace that moisture and give it the extra help it needs to once again feel moisturized and get its look of shine and luster back.
Of course, a serum will be the main product we recommend to do this. By applying the star product from our Nubi Hair Serum review, you'll find your hair feels instantly softer and smoother. 
Meanwhile, with repeated use, your hair will begin to look and feel more moisturized from within. This means your locks will not only look shinier but also feel more manageable.
In addition to this we also highly recommend treating your tresses with a high quality, moisturizing shampoo each time you wash your hair. Additionally, you should use a super moisturizing conditioner every other wash or more if your hair needs it. 
This gives your locks a great jumping-off point and will offer the best base for any other products, namely serums, you choose to apply afterward.
Who Would Benefit From Using a Hair Serum?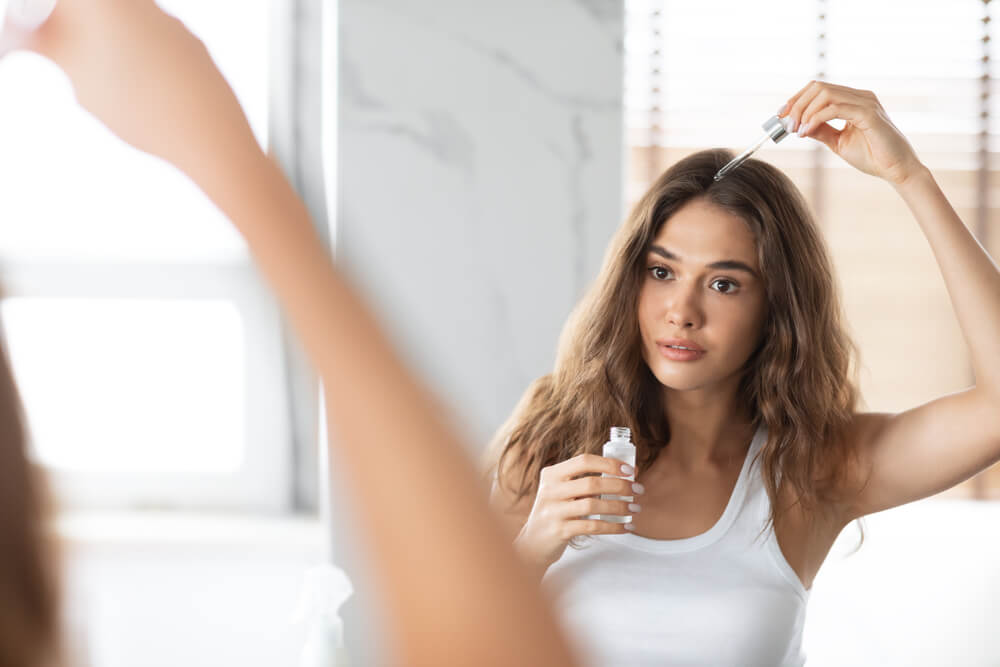 Unmanageable lengths, split ends, breakage, flyaways. If this sounds like an accurate description of your hair these days, our Nubi Hair Serum review can confirm, it's definitely time to introduce a hair serum into your haircare routine!
Doing so will work to rehabilitate the look of your damaged lengths and help to restore their appearance to their former glory. You'll also notice your hair feels much smoother after even one or two uses. This means easier styling, not to mention a beautiful shine when you're done.
A great deal of this is to do with the inclusion of Marula oil within the Nubi Hair Serum. This oil will do wonders for your hair from the moment it's applied. You'll notice an improved look of shine almost immediately.
Meanwhile, those of you concerned that the oil content will leave your hair feeling greasy or wet can relax. Marula oil absorbs incredibly easily into the hair. This means you get all of the benefits of soft silken tresses with none of the greasy residue you sometimes find with other products!
Can Everybody Use a Hair Serum?
All this said, in truth, here at Nubi Hair we would absolutely recommend that everyone, no matter the current condition of their locks, introduce a good hair serum into the haircare routine. 
Why?
The benefits are so clear!
Even those blessed with naturally healthy, manageable, shiny hair will notice a vast improvement the moment they start using a serum. 
That's because it's not only designed to help care for damaged hair. Hair serum is also made to simply improve the look and feel of your hair no matter how its starts out. 
So, even if you feel your hair is in excellent condition and you're happy with how it looks and how it styles, you can still enjoy the benefits of hair serum. Trust us, it will only make great hair even greater!
How Do Serums Improve the Overall Look of Our Hair?
Now, as you may well be aware, serums are known for adding instant, glowing shine to our hair whether we're wearing it loose or styling it into a specific hairstyle. They also make the hair feel incredibly soft to the touch and, more often than not, make it smell amazing!
But how exactly do they work? What makes them so special?
The slightly thicker than normal texture of hair serum, compared to hair oil, means they can easily coat the hair. This means not only do they reduce the appearance of frizz, add shine, and create a smoother-feeling texture overall, they can also help to keep the hair feeling fortified.
And, since this Nubi Hair Serum review highly recommends our hair serum infused with Marula Oil, there are even more benefits to be had! But more on that later…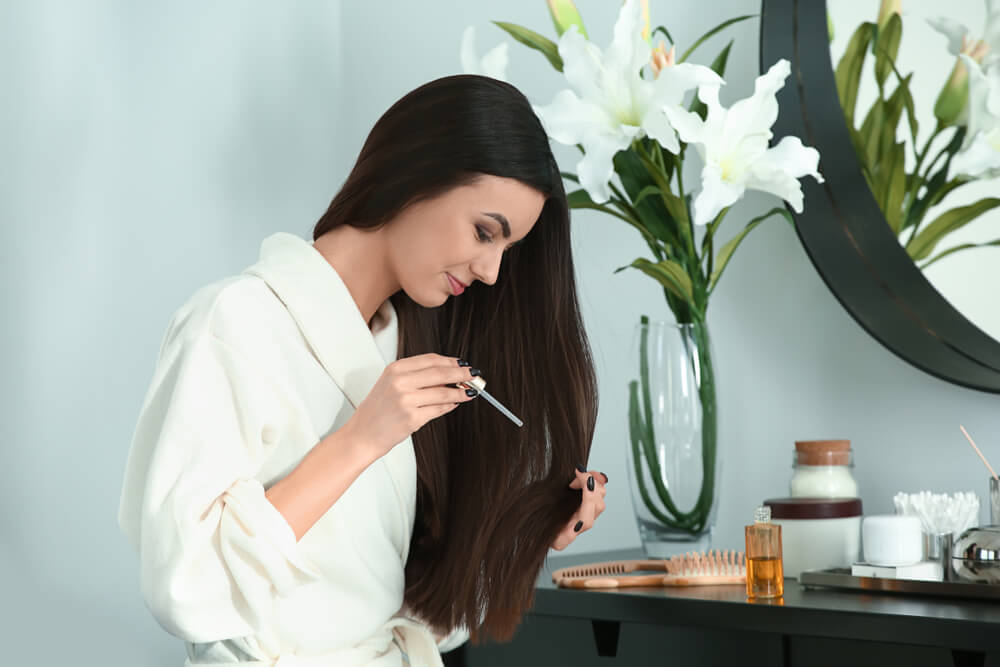 How Should I Use/Apply a Hair Serum?
When adding a new product to your regular routine there are always a few questions you need to ask yourself before the first use. For example:
How often should I use it?
When do I use it?
How much should I use?
How/Where do I apply it?
Knowing the answers to these questions will ensure you're using the product correctly and that you're giving your hair the best possible outcome.
How Often
Some may think that since it's not an oil exactly, you can apply hair serum every day. 
This is not something we would recommend. Even though every person's hair is different and some may require a little more product than others, we would usually suggest using serum only on the days that you wash your hair. 
(This can be in addition to special occasion days where you may want your hair to shine out a little more such as a wedding or any other event where you're likely to have your photograph taken!)
Limiting its use to hair wash days only will maintain your hair's healthy-looking shine without causing the product build-up that can make the hair feel overworked and unpleasant to the touch. 
When
Some serums can be used on dry, already styled hair. However, for the purposes of our Nubi Hair Serum review and the gorgeous serum that we most highly recommend, we suggest adding serum to your hair just after washing. 
Once you've rinsed out your shampoo and subsequently your conditioner, pat your hair with a clean dry towel. (Never scrub at the hair or you risk damaging it irreversibly!)
Then, whilst the hair's still damp, go ahead and apply the serum to your locks before blow-drying or styling your hair.
How Much
If you've never used a hair serum before, you're probably wondering how much you should even be using!
Luckily, our Nubi Hair Serum review can help. 
Don't overdo the amount you use, especially if you're new to hair serums. Your locks may need a little time to adjust to the new influx of beautiful moisturization!
One or two pumps will be enough for those with fine or normal hair at a short to medium length. If your hair is very thick, curly, or happens to be longer than average, you may need to increase the amount to three pumps to cover all of the hair that needs serum.
Where
Yes, yes, we know, you apply it on your hair!
But where exactly should you apply the serum for best results. And which areas of your tresses should you avoid?
Firstly, as with hair conditioners and oils, keep the application of your hair serum to the mid-lengths and ends of your hair. Though it absorbs amazingly well, applying it directly to the roots may give it an overly shiny, almost greasy-looking effect. We definitely don't want that!
Instead, once you've applied it mid-way down and on the ends, if you want to add a little to the upper section of your hair and near the roots, simply use the leftover residue on your hands and smooth it on gently. Don't add another pump's worth or you'll end up with a wet look effect rather than a lustrous looking glow. 
Why We Adore the Nubi Hair Serum with Marula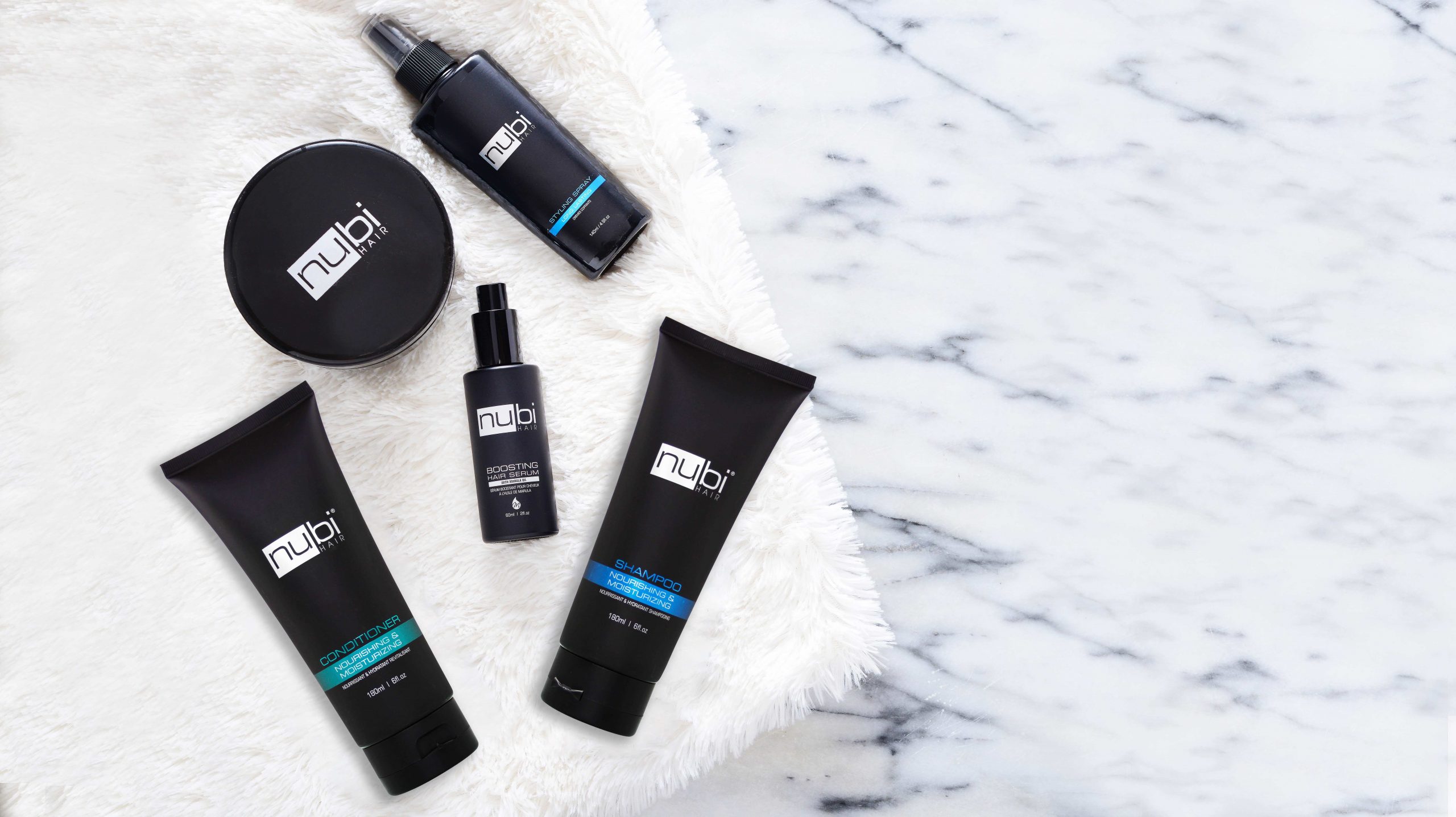 Now since you're reading our Nubi Hair Serum review, we can bet you're wondering just what makes this particular product so special.
The answer?
Everything about it!
Firstly, as we mentioned previously, this serum is infused with Marula oil. This means it not only adds an outward silken look to your hair, but it also cares for the hair from within. 
What's more, this high-quality formula also works to transform the look of your tresses from dull and lifeless to soft and eternally manageable. That means styling your hair will be much easier than it previously would have been when your hair felt dry, damaged, and frizzy.
It'll also look incredible once it's been styled thanks to its glowing appearance both inside and out! We can think of few hair products out there with so many incredible benefits. 
That's why we'll continue to use the incredible Nubi Boosting Hair Serum with Marula oil for years to come!