We couldn't be happier that summer is finally here! From beach days and picnics in the park to cotton sundresses and going on vacation. We love everything about the warm weather, but not for our hair! Read more about our hair tips for summer to avoid dry summer hair.
Our hair doesn't always feel the same. And yes, we know, it's the season of care-free curls, pretty, beachy waves, and being able to let your hair air dry in the sunshine. So what's not to love?! 
Well, whilst these things are great for us, they can often leave our hair feeling dry and neglected.
Happily, it doesn't always need to be this way for our precious tresses. Here are 12 handy hair tips for summer that will not only make things simpler for you and your luscious locks, they'll also make your hair look and feel sleeker, more hydrated, and amazingly healthy all season long and beyond.
Firstly, let's look at what we're up against!
Why Does Our Hair Become Damaged at This Time of Year?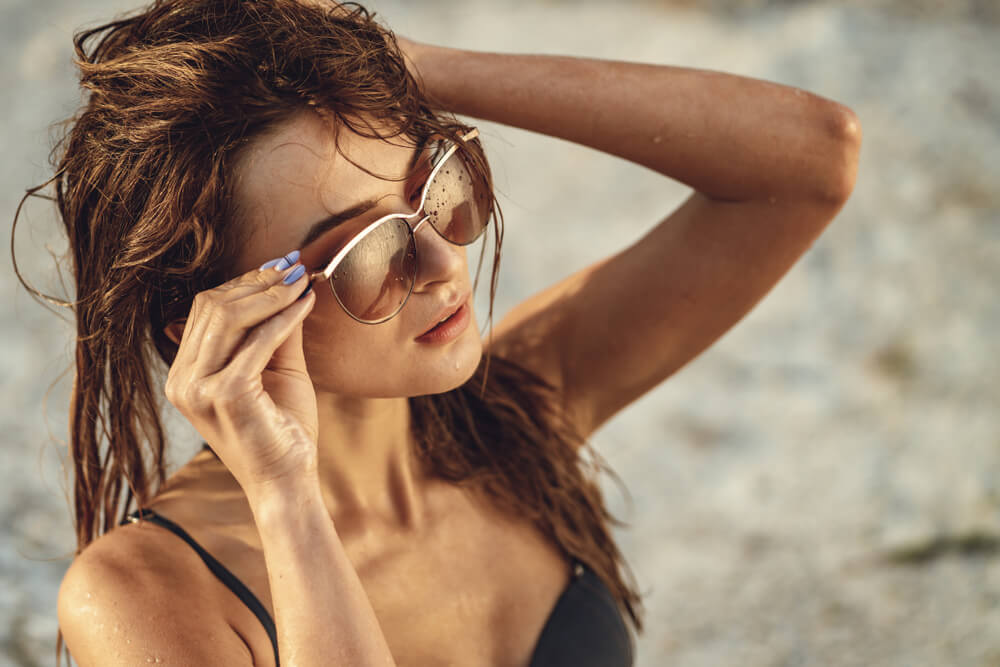 If you're looking for hair tips for summer because your locks always seem a little more tired and dried out than usual during and after this season, you're not alone. 
Most of us find our hair misbehaves during and directly after warm weather spells. And, as it turns out, there are plenty of reasons why. 
Here are some of the main ones you've probably encountered before. You may even be experiencing them right now!
Straw-Like Hair After Overexposure to Sunlight
When it comes to spending time in the sun, we're pretty good at taking care of our skin. However, our hair also needs that same attention as harmful UV rays can easily penetrate the hair cuticle. This can lead to dryness, split ends, frizziness, and even breakage.
Dry Locks After Swimming
No sunny day at the beach is complete without submerging ourselves into the water. It's great for cooling off, does wonders for your health, and is just plain fun! 
Sadly, all that saltwater means our hair doesn't often see the benefits. Saltwater makes our hair feel super dry as it causes our hair cuticles to swell up, not to mention trying to comb it through afterward is nothing short of a nightmare!
Meanwhile, chlorine can come for your hair in a very similar way. Drying it out by removing natural oils and frequently altering the color as your tresses react with the chemicals.
Drinking Soda Instead of Water
There may be nothing like drinking an ice-cold soda in the summer sunshine. However, as much as we enjoy it, that sugary beverage really won't do much for you in terms of hydration! In truth, they actually offer the opposite. 
All that sugar and the fact that the majority (yes, even the diet ones) contain high amounts of caffeine means you'll eventually feel less hydrated than before. 
Our bodies need pure water to ensure proper circulation which in turn makes sure our hair follicles are adequately lubricated. Without it, your summer locks will feel lifeless and dry from root to tip. Nobody wants that!
Frizziness After Brushing Your Hair Out
If your hair is in the habit of frizzing out the moment you run a comb or brush through it in warm weather, it's likely down to the humidity.
Humidity itself doesn't damage the hair. However, trying to de-tangle it with all of that extra moisture inside is similar to brushing out wet hair. It'll be much harder to do plus you really do run the risk of causing more frizz, damage to the ends, and even breakage.
Now, that may all sound like doom and gloom. However, it's actually just the opposite! None of these issues need actually affect your precious locks this summer. We're about to share our best hair tips for summer to make sure they don't. 
Simply follow along below and enjoy the season as much as you always would, just with silkier, softer, healthier tresses!
Switch Up Your Shampoo & Conditioner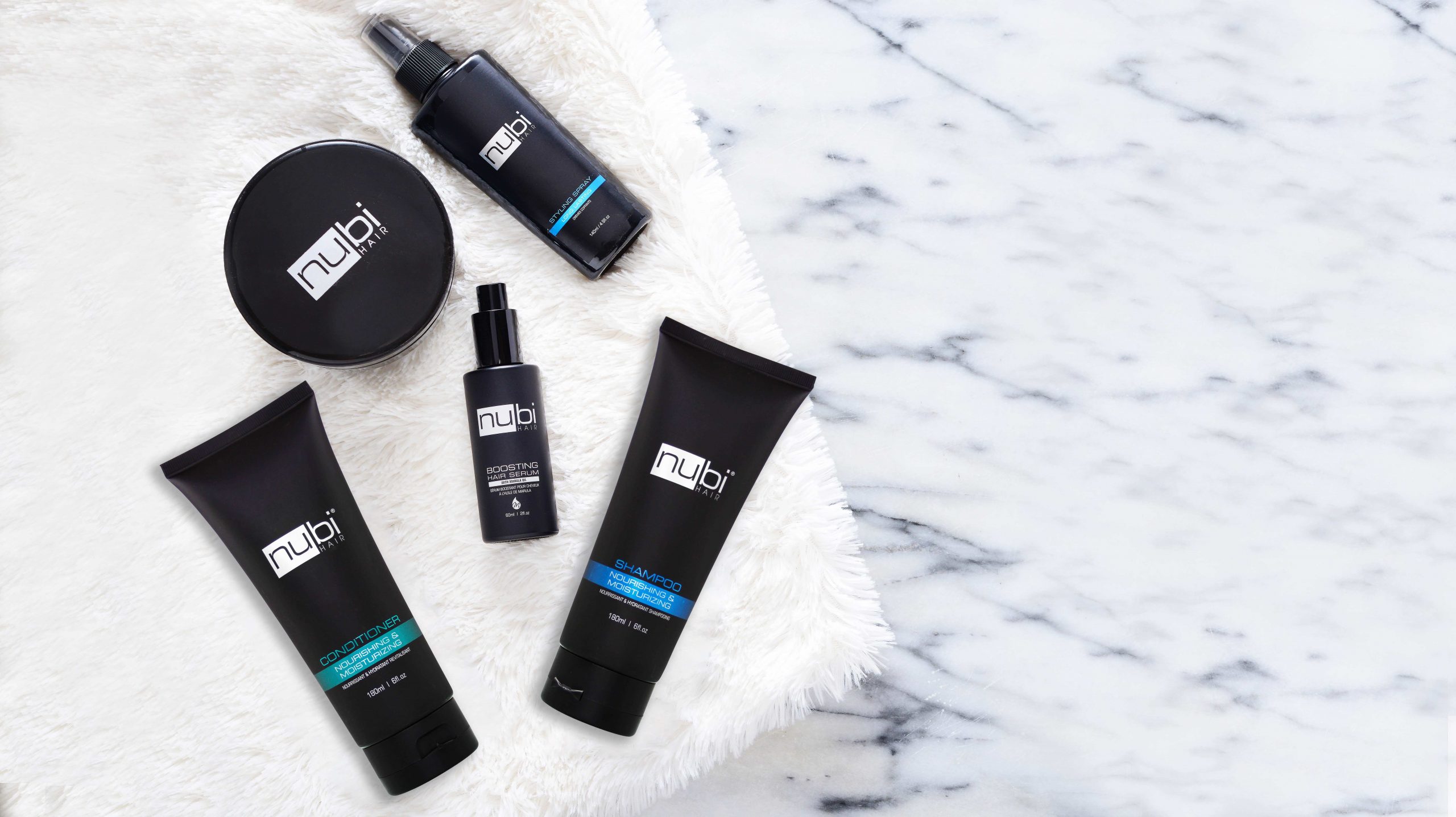 Since we just got done telling you all about all of the ways summer can dry out your hair, you probably won't be all that surprised that this is one of our top hair tips for summer.
Instead of reaching for whatever shampoo and conditioner you have on hand in your bathroom, go ahead and invest in a set specifically designed to intensely moisturize your hair. 
Doing this will instantly begin to combat dry locks suffering from too much sun or salt water. Plus, as we recommend you wash your hair less frequently in the summer months (keep reading for more on that!), using a highly moisturizing formula will help ensure your precious locks get all of the nourishment they need each time you hop in the shower for hair wash day. Give our Nubi Shampoo and Conditioner a try for gloriously healthy summer locks. 
Leave the Heat to the Sunshine
Trust us, thanks to the humidity, the sun beating down, and any building you step inside without AC, your hair is exposed to more than enough heat in summer without you constantly adding to it with hot styling tools!
Keeping your hair moisturized from the outside in and hydrated from the inside out is the only real way to combat dry ends, frizz, and breakage at this time of year. Therefore, if you start blow-drying it every other day or frequently styling it with flat irons and curling wands, it's going to get upset.
What do we recommend instead?
It's very simple!
We know asking you to lock up your favorite heat styling tools for the foreseeable is an unfair. For some, this may also be a seemingly impossible request. It's wedding season after all! Let's not even mention all of the garden parties, barbecues, and picnics we'll be attending and wanting to style our hair for over the next couple of months!
With that in mind, we highly suggest limiting the times you style your hair with heat to special occasions only. Since this will usually be on the weekends, on weekdays, allow your hair to air dry. Then, use heatless rollers, or braid it to create some texture and shape. 
It may feel strange at first. But you can trust us – your hair will thank you for it and you'll quickly get used to your new routine. Plus, we'll bet you find ways of styling your hair that you actually love and will want to use going forward, even as we head into fall and winter!
Want to know what has to be one of our easiest hair tips for summer?
Keep scrolling…
Wash Your Hair Less Frequently Than Usual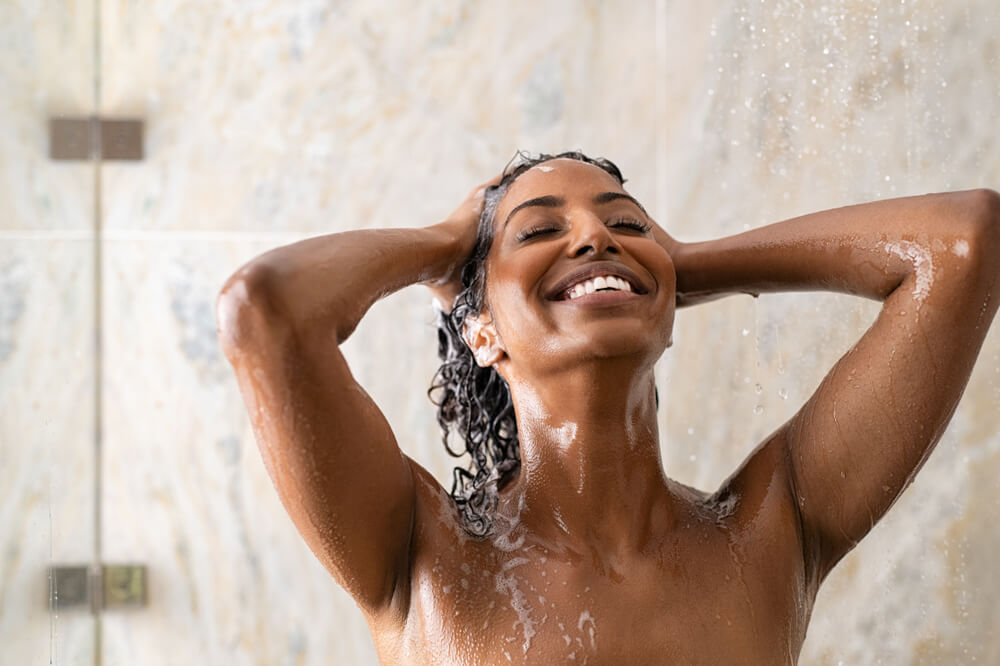 Washing your hair is, of course, a necessity. It gets rid of dirt and grime, and unclogs the hair follicles from product build-up. It also makes sure your hair smells fresh and clean. 
But, since the whole point of taking extra care of your hair in the summer is to prevent it from drying out and becoming brittle in the heat, it stands to reason that over-washing it would be a big no-no in our book.
Wondering why?
It's like this…
Washing your hair more frequently, as many of us do in summer to combat exposure to chlorine, saltwater, product build-up, and even sweat will strip its natural oils much more quickly. 
This will not only dry out the ends and mid-lengths of your hair, but it can also cause your hair follicles on the scalp to over-produce oil as it fights to rehydrate your locks. This can result in greasy roots.
As you can imagine, your hair would be feeling pretty unbalanced at this point. That's where our next hair tips for summer come in!
How often should we wash our hair in the summer?
It depends.
On what? We hear you cry! On your hair type and how often you usually would wash it. It's all about cutting back. If you usually wash your hair every day, try every other and see if that works better for you. If you usually wash your locks every couple of days, try twice a week.
We won't lie – it'll likely be trial and error at first. That said, once you learn which routine suits your hair best you'll be more than happy you opted to suds up less. Your hair will look and feel much healthier throughout summer. Not to mention, it'll be in much better condition to combat the cold once summer ends and the chill eventually sets in.
Have A Post Beach Day Game Plan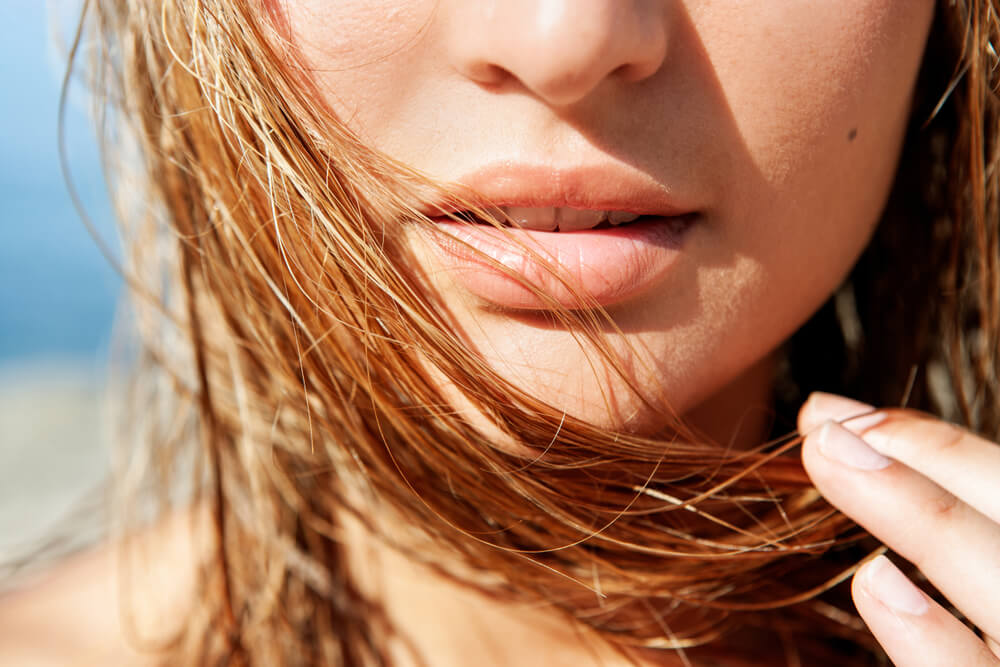 As we mentioned before, sun + sand + seawater = dry hair and plenty of knots. They can also irritate the scalp and can even cause colored hair to fade. 
But don't despair! There are plenty of hair tips for summer you can follow to make sure your hair remains smooth, healthy, and vibrant in color after a relaxing day at the beach.
Nourish Those Strands
Before hopping in the shower and shampooing away the days' buildup from your hair, offer it some TLC with a moisturizing treatment. This can be in the form of your favorite hair oil, a serum, or even using a little conditioner first. It may sound strange but doing this will soften your hair and stop your shampoo from stripping it of all moisture when you rinse it out.
Use a Moisturizing Shampoo & Conditioner
We already covered the importance of a nourishing shampoo and conditioner but it's an important step so make sure you don't miss it! You'll love the shampoo and conditioner from Nubi Hair. 
Massage Your Scalp
As you wash your hair, make sure you're using your fingertips to gently massage your scalp. One full minute is all you need to really cleanse the hair and stimulate blood flow throughout your scalp. This is great for unblocking your hair follicles from dead skin cells and product build-up. It can also aid hair growth by doing so.
Treat Your Tresses
After your shower, pat the hair with a clean dry towel so it's no longer dripping. Then, add a serum or oil of your choice from the mid-lengths to the ends. Let this sit in your hair for around 15-20 minutes before combing it through with a wide-tooth comb.
Let Your Hair Air Dry 
Forget the blowdryer, which would usually strip away a fair amount of the moisture you just created with your conditioners and treatments. Trust us, you won't believe how soft your hair feels if you allow it to air dry after patting it with a soft towel.
Hydration for Your Body and Your Hair
Hopefully, since the weather's so much warmer and we're all sweating more (nice!), you've already taken it upon yourself to drink a lot more water each day. After all, our bodies are made up of around 60% water meaning adequate hydration is vital. 
It benefits your skin, your internal organs, your digestive system, and, as you've probably guessed, it even helps your hair by making sure your hair follicles can function properly! 
This is without a doubt one of our most simple yet highly effective hair tips for summer!
Style Out Your Summer In Sun Hats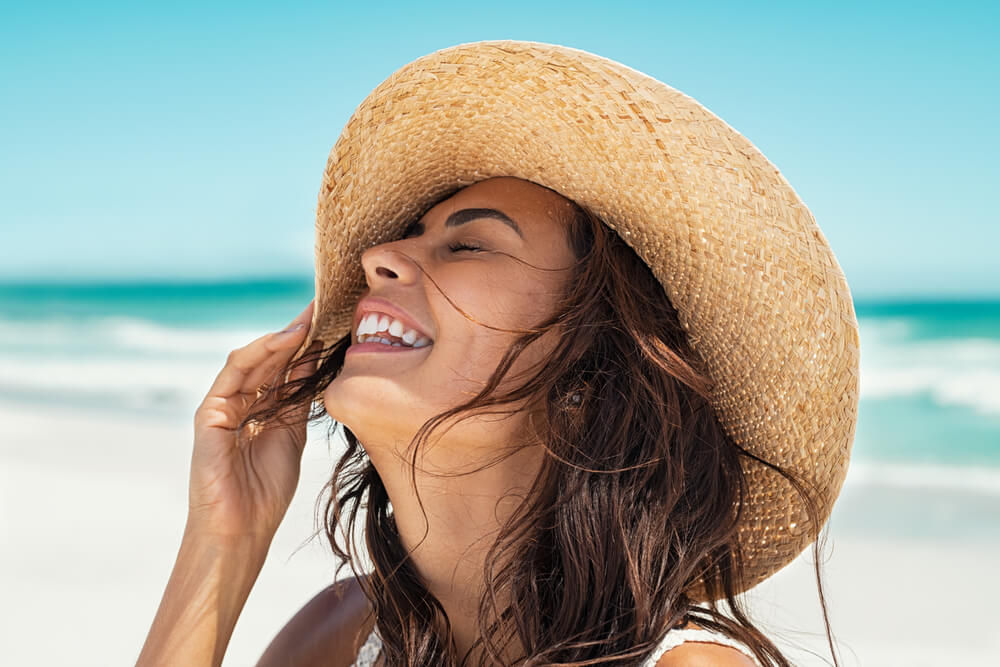 As we all know, and like we mentioned above, protecting your hair and scalp from damaging UV rays is essential. Especially in the middle of summer when temperatures really soar!
That's why we highly recommend you wear a sun hat next time you plan to be out in the sun for more than ten minutes. It'll go a long way in protecting your hair.
What's more, burning your scalp can pose serious health risks and can also lead to flaking skin and breakage throughout your hair. Luckily, sun hats these days are super cute. They will only serve to make your beach day outfit look prettier whilst protecting your hair and scalp simultaneously. It's a win-win, so wear. the. hat.
Switch Out Your Brush for a Wide Toothed Comb & Opt for Gentle Summer Styles
When it comes to brushing and styling hair tips for summer, brushing it from root to tip with a hard-bristled brush and scraping it into all sorts of different styles is never a good idea. Especially if your hair is already feeling delicate or dry from the heat and other factors.
So, what to do?
A couple of simple changes are all you need!
Instead of your brush, choose a wide-tooth comb and de-tangle your hair from the ends, working your way up to the roots. Combing wet hair from root to tip will drag it down and stretches the cuticle. This creates instant damage which later on can cause your hair to break as it stretches further than it should. A wide-tooth comb, however, will be much gentler and won't tug on the strands.
In terms of styles, opt for pretty, loose chignons fastened with silk hair ties, relaxed braids that don't pull on the root, or (best of all) wear your hair loose.