If you're a self-proclaimed hairstyling enthusiast, you'll likely have a handful of heat-styling tools you use often to create different styles and textures for your hair. You probably have curling wands, straightening irons, and even those cutting-edge ionic blowers everyone's talking about on Instagram.
But it's important not to get so caught up with these trendy new hairstyling gadgets that you forget the basics, like a good old hair dryer. Sure, it doesn't sound as sexy and fresh as the newer heat stylers you see online nowadays. However, trust us when we say it's still a must in any hair lover's arsenal of hair tools.
There are many hair dryer styles you can take on as long as you know how to work a classic hair dryer. These include framing your curtain bangs to highlight your features effortlessly, or getting big, sexy, retro waves.
Today, Nubi Hair will talk about why a hair dryer is still your ultimate best friend when styling and drying your hair. We'll also discuss how you can make your hair look nice and voluminous with simple angles and flicks of the wrist while hair-drying.
Why a Trusty Hair Dryer is the Most Important Heat Styler You'll Own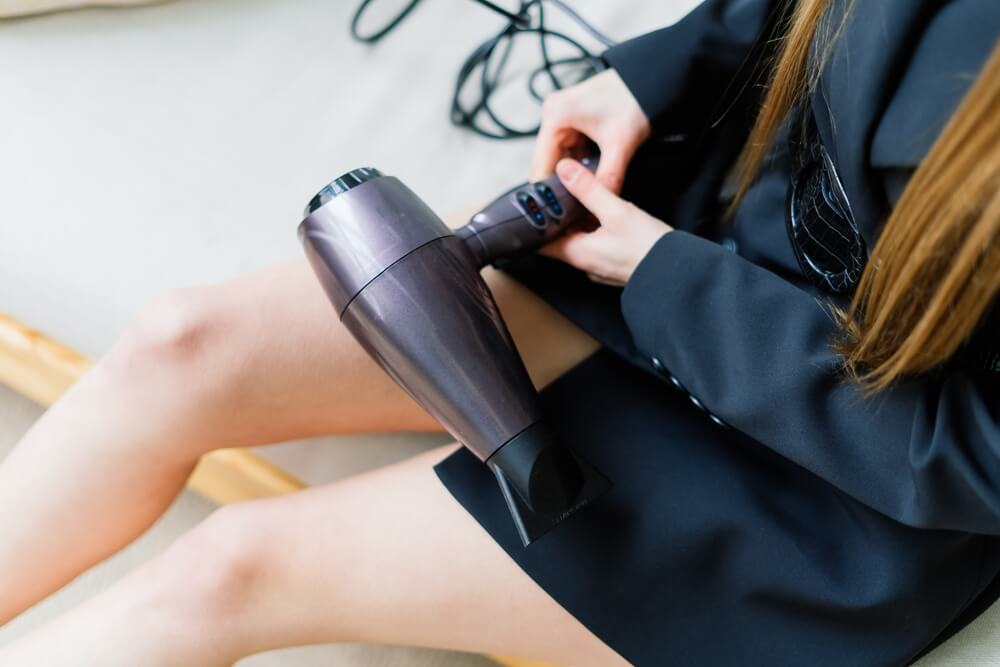 While it's fun to play around with tools that give you specific results — like a big curling wand for old Hollywood wands or a crimper for a beachy vibe — a good hairstyling routine will always start with a proper blow-out.
Whether it's to add extra texture to your locks or just dry it out evenly, it's an important piece of equipment if you take your daily hairstyling seriously.
Many people tend to demonize hair dryers and look at them as an unnecessary tool that burn and dehydrate your hair. But don't believe the myth! Creating hair dryer styles doesn't always end with heat damage.
In fact, some experts believe that air-drying can be even more damaging to the hair. It causes your cuticles to swell up and crack, resulting in breakage. As long as you do your hair dryer styles properly, you'll reap all the benefits of this classic heat styler.
A hair dryer is incredibly useful for those with short and fine hair that usually looks limp and lifeless. There are tons of hair dryer styles you can try to elevate the volume and lift the roots. They'll add more bounce and body to your delicate strands.
It can also be your secret weapon for long hair that takes forever to dry. If you're the type who showers early in the morning but wants to style their hair right away before heading out the door, using a hair dryer is also non-negotiable.
The Benefits of Styling with a Hair Dryer
Owning a hair dryer to style your hair on your own is a huge convenience. First off, it saves you lots of time in the morning. Instead of waiting hours to air-dry your hair or walking out with locks that are drenching wet, a hair dryer gets your hair ready and looking gorgeous in mere minutes. And who wouldn't want that?
It's also one of the most versatile heat stylers you will ever use. There are so many hair dryer styles you can achieve with just that one tool. From loose waves to bombshell curls to simple, straight locks with added volume – there are endless options. Small adjustments to the heat settings are all it takes to create multiple hair dryer styles that fit the occasion.
Lastly, having a hair dryer helps you save a pretty penny. Many people love to go to the salon and get their hair blown out before a big event or wedding. But if you have one of your own, you can save yourself the expensive trip to the salon and do it yourself.
Invest in a High-Quality Hair Dryer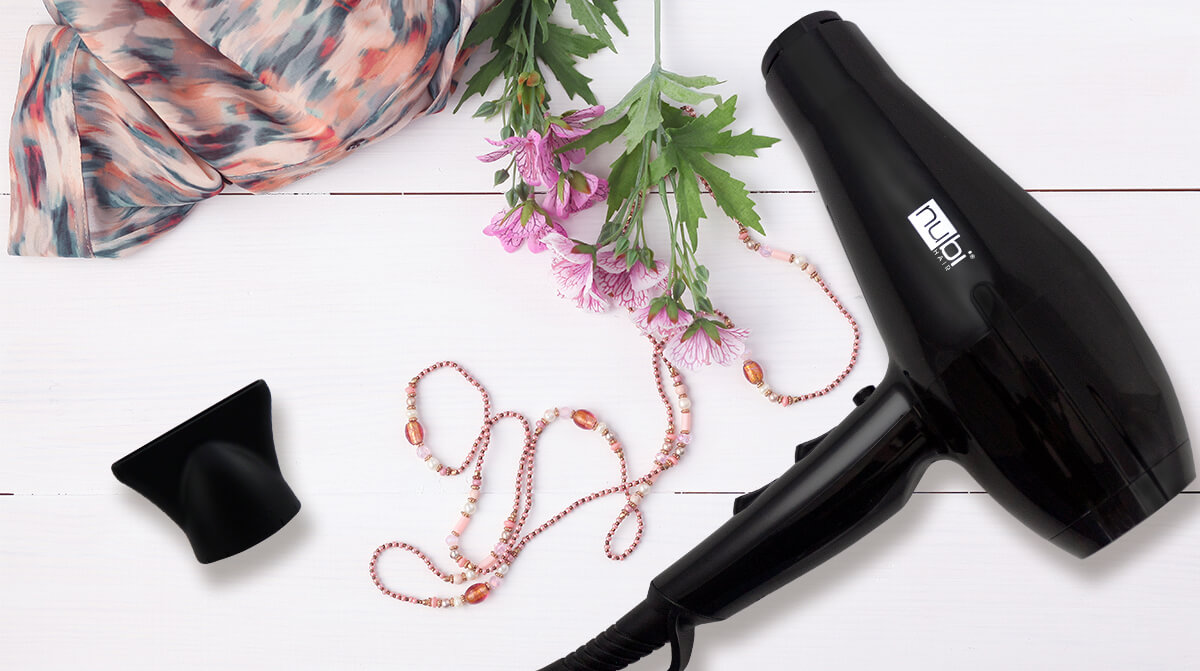 But you can't expect to use any random hair dryer and get the best results right away. You have to cop one that's of outstanding quality and designed to be safe on your hair. You also want a hair dryer that will help make your hairstyle last longer.
That's why it's important to invest in a hair dryer, even if it costs a little extra compared to those you can easily find in a drugstore.
Spending more on a higher-quality hair dryer can get you one with special features and functions that are safer for your hair. It'll help you style your locks in a shorter amount of time. After all, you wouldn't want to spend a little less on a hair dryer but have to do twice the work every single day on your hair, right?
Our Nubi Blow Me Away hair dryer is on the pricier side compared to others. However, it will give you your money's worth in terms of style and function.
This hair dryer has three temperature settings. This way, you can choose which one you're most comfortable with. There are two concentrators and a high-performance fan to give you the most efficient styling experience possible. It even has a cool shot button to help you lock in your hairstyle after you finish.
You can even adjust the speed of the fan when using it. This will ensure you're not stripping your strands of the oils that keep it looking shiny and moisturized.
Not sure how to use the Nubi Blow Me Away to get the hairstyle you desire? Here are a few how-to's to help guide you as you style your locks:
How to Dry Your Hair Straight with A Little Bit of Volume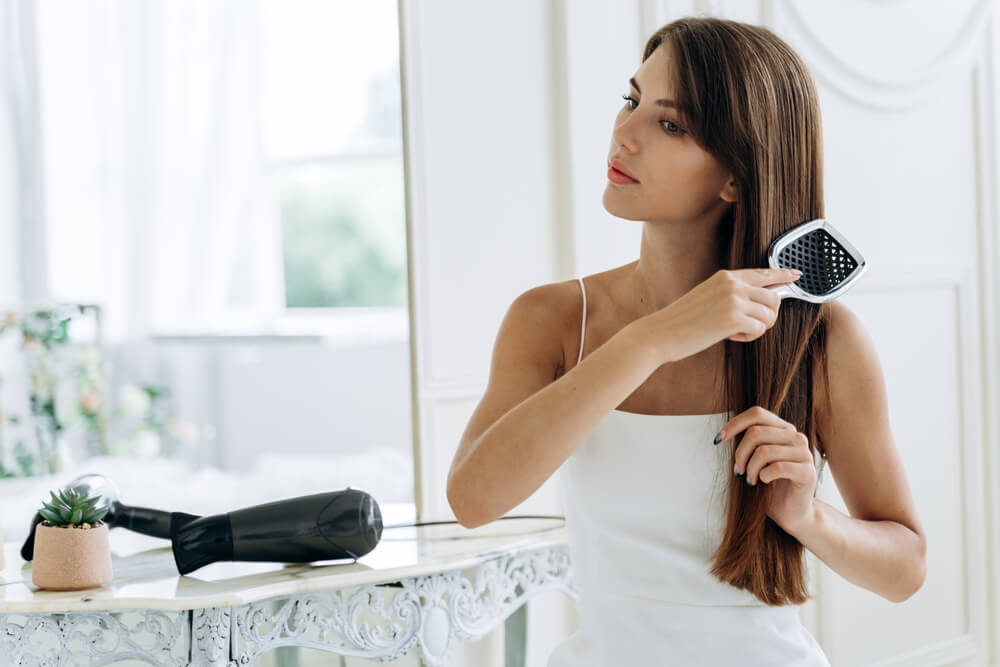 The easiest way to style your hair with a hair dryer is to dry it straight and sleek.
The first thing you should do immediately after you get out of the shower is to towel dry your hair. Scrunch out all the excess moisture to leave your hair damp, never sopping wet. Don't be too rough with the towel either, because that can cause frizz later on.
Next, apply some heat protectant to your tresses to keep them from feeling dehydrated as you blow-dry them. This is especially important for chemically processed hair, which is more prone to heat damage.
One heat protectant you can use is the Nubi Boosting Hair Serum. It's infused with marula oil to moisturize your hair without making it look and feel greasy.
Now, you're ready to blow-dry your hair straight. Here's all you have to do:
Section off your hair into two to four parts, depending on how thick your hair is. This will make it easier and faster to work with.

Start drying your hair on the lowest heat setting until most of the water has evaporated. At this point, you're just drying your hair, so don't be pressured to go any higher with the heat setting — save that for the straightening stage.

Blow-dry each section from the root to the tip. Starting from the ends and going upwards might cause frizz. Take your time with this step so your locks come out smooth and tangle-free.

When your hair is around 80% dry, it's time to straighten. Take a section of hair and position your round brush underneath it. Put the hair dryer on top so that your hair is between it and the brush. Slide down, making sure to keep your lock of hair straight and taut without tugging too much.

For added texture and body, flip your brush inwards when you get to the ends of your hair so it doesn't look pin-straight. Repeat until you're done with all sections.
How to Give Yourself Loose, Sultry, Bodied Waves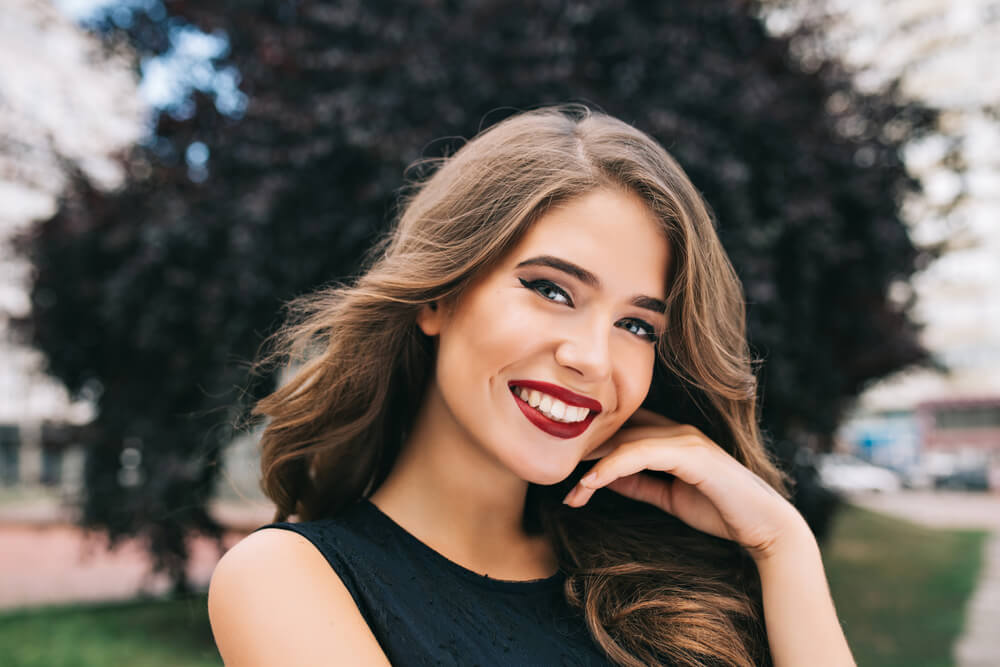 Another popular way to style your hair with a hair dryer is to create big, bouncy waves. They'll give you a bombshell 70's look. Here's how to make soft but voluminous waves with your hair dryer for your next big event:
Take a medium-sized lock of hair (not too thin and not too thick) and brush it until you get close to the ends.

Then,

re-roll your round brush upwards

to wrap your lock of hair around your brush. With your hair dryer on a higher heat setting, blast it on that section of hair. The high heat level will help your hair take on the curved shape of the brush. This will create big, loose curls.

Once that lock of hair is dry, remove the brush carefully by brushing the hair out. Try to twist your hair and keep it rounded as you pull the brush out. Do this to all parts of your hair until your entire head is full of bouncy curls.

Lastly, use your hair dryer's cool shot button to lock that texture in place.
How to Use a Hair Dryer to Tame and Style Your Fringe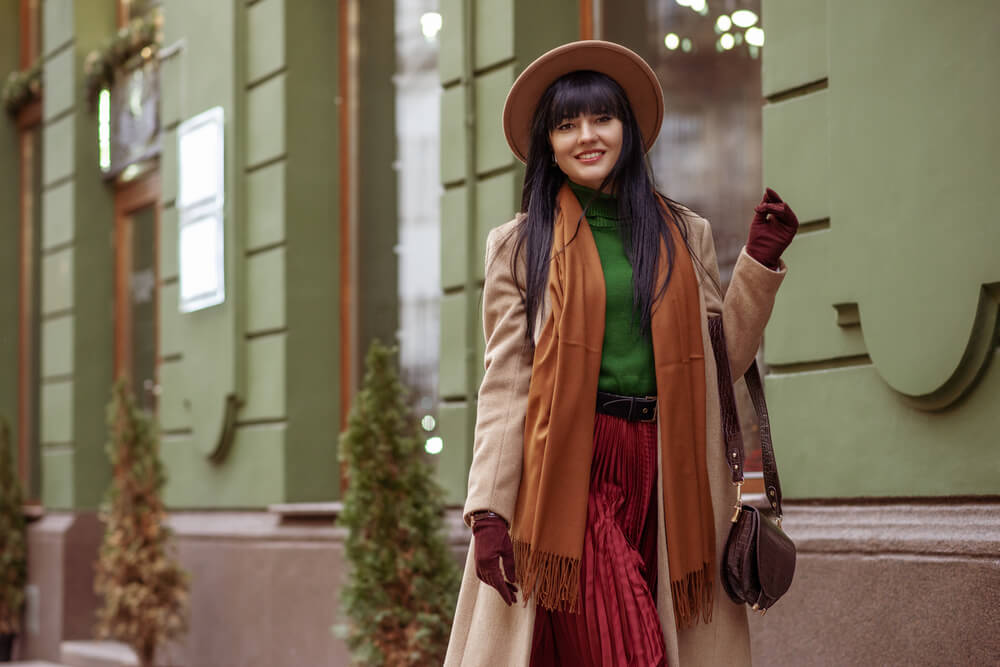 Oftentimes, curtain bangs fall perfectly on your face when you get them cut at the salon. But then when you get home and style them yourself the next day, they don't come out the same way anymore.
Curtain bangs need to be properly blown out with a hair dryer or else they'll look flat or matted. The key to good curtain bangs is to make sure they have volume and aren't super straight. Here's how you can do it yourself:
While your hair is still damp, section off your fringe into a triangle shape on the top of your head.

Blow-dry the roots first, going downwards to do the rest of your bangs.

Make sure you round your brush inwards so that it doesn't look completely straight and flat. This should add body and bounce to your bangs. This will ensure that they don't look like they're limp and sticking to the sides of your face and are instead framing your features well.

Add some waves or curls for a softer, more romantic look. Follow the steps in the previous section on how to make a curl, but remember to use a smaller brush for your fringe.
Things to Avoid When Creating Hair Dryer Styles
But wait! Before you go and create all the gorgeous hair dryer styles we know you're envisioning, make sure you know what you need to avoid when blow-drying your hair first. Here are a few things you should always keep in mind when creating hair dryer styles:
Don't blow-dry sopping wet locks: If your hair is way too wet from your morning shower, you'll have a hard time blow-drying it. It will take a lot longer to get it dry, leaving you more at risk for burning your hair because your hair dryer will be on for too long. Make sure your hair is around

65% dry before you start doing your hair dryer styles.

That way, it's easier to control and you won't have to keep your heat styler on your precious strands for longer than necessary. You get speed, ease, and less heat damage!
Don't use a setting that's too hot: It's easy to assume that the hotter your heat setting is, the faster you'll get your hair dryer styles done. But that's not the case at all, and it's a huge no-no if you want to keep your hair's health and integrity. Using the highest setting available on your hair dryer will make your hair more prone to heat damage and dehydration. Try to go for the low to medium heat setting when drying your hair. If you have thick and long hair that has trouble holding curls and waves, use the higher heat settings only when necessary.
Don't keep the hair dryer pointed in one area only: While sectioning off your hair makes dealing with a hair dryer easier, make sure you don't dwell on one lock of hair for too long when styling. This heightens your risk of damaging that particular area of hair. Instead, move your hair dryer across all sections so that they all dry at the same time. Make sure you keep at least 15cm of distance between your hair and the dryer too. This will minimize frizz and heat damage.
Conclusion
If you don't have a hair dryer in your current hairstyling arsenal, it would be in your best interest to invest in one today. With strategic angles, twists, and pulls with your round brush, the possibilities for different textures and hair dryer styles are endless!
Whether you're in the mood for sleek and straight locks, a fluffy fringe, or ultra-voluminous waves, your hair dryer can do the trick. Just make sure you towel-dry your hair first, apply a trusty heat protectant, and don't use a setting that's too hot. Do that and you'll be golden.
Want to treat yourself to some new styling tools while you're at it? Check out Nubi Hair's bestsellers here!