The new year has a way of making us reflect on our day-to-day practices. As one year ends and another begins, you might find yourself questioning how you could better prepare for the next twelve months. How can you improve your diet? How can you achieve a better work-life balance? What about your skincare? How often should you clean the house, and is there any way you could do so more effectively?
As you think about these different aspects of your life, Nubi Hair wants to take the opportunity to remind you about an often overlooked task: taking the time to sanitize/clean styling tool products. That's right: whether you use a hot styling brush, a curling iron, or just a good ol' blow dryer, regularly cleaning your hair styling tools deserves a place in your list of new year resolutions.
Why It's Important to Sanitize/Clean Styling Tool Products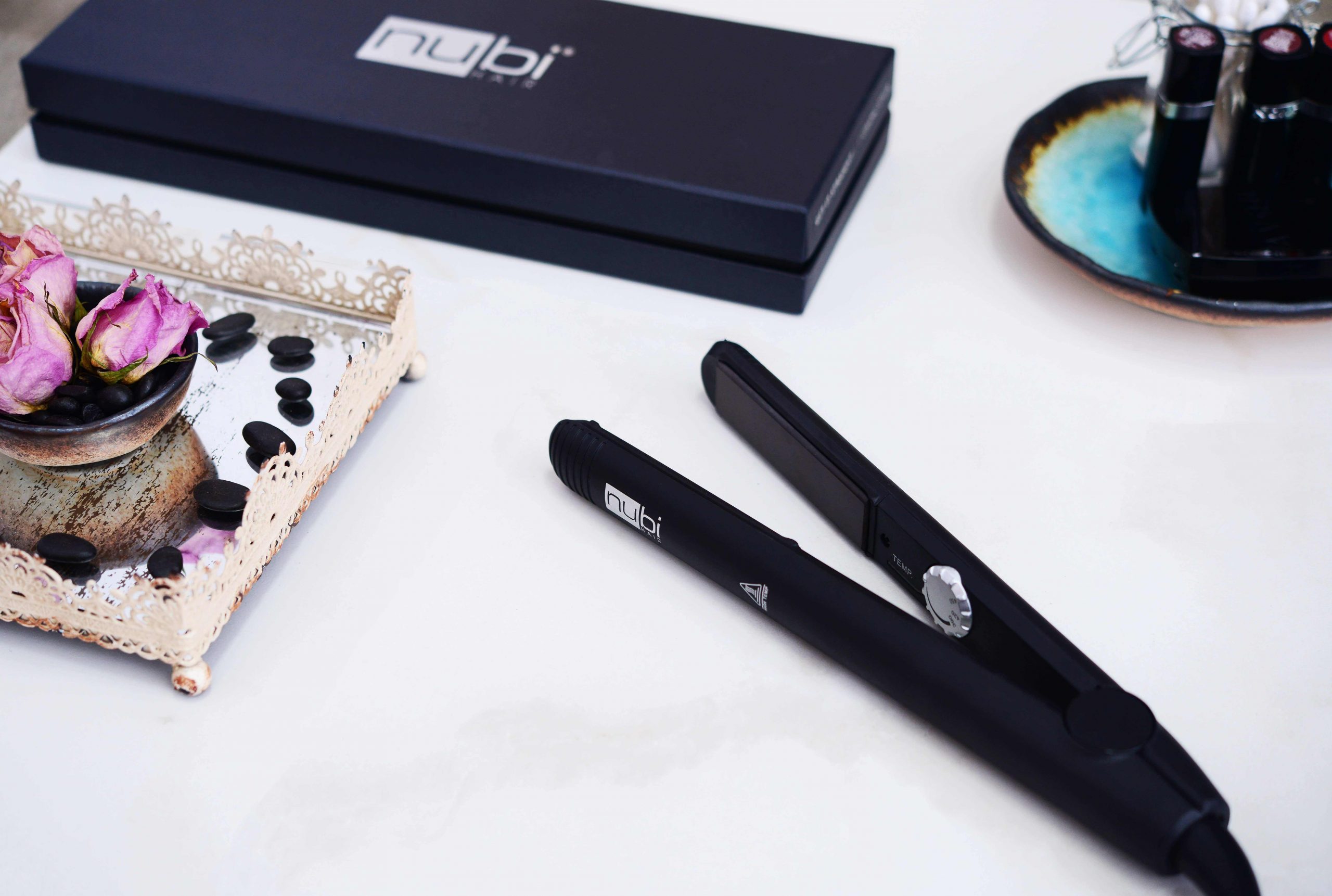 Think about your collection of styling tools in your bathroom or on your vanity. When was the last time you gave them a good wipe-down? What about something more thorough?
If you haven't sanitized your styling tools in a hot minute but find that they're working good as new, you might find yourself wondering why it's important to clean them at all. However, as unnecessary as this task might seem, there are a variety of reasons that support the regular maintenance of styling tools:
The styling product and scalp build-up on hair tools

not only affect the tool's life span but also how effectively they can manage your hair.

When left unsanitized, hairdryers can become prone to blockages, therefore rendering them less effective over time.

According to the American Academy of Dermatologists,

the average human loses anywhere between 50 to 100 hair strands per day.

These loose hair strands can get stuck in our hairbrushes, forming the ideal

breeding ground for bacteria.
This is especially true in the time of precarious worldwide health situations. For those who style but do not wash their hair daily, repeatedly using the same styling tools on days-old hair can reintroduce bacteria and allow it to propagate. If there's any time to be particularly cautious about sanitizing your beauty products — it's now.
How Often Should You Sanitize Heated Styling Tools?
All this begs the question, how often should one sanitize their heated hair styling tools in the space of a week, month, or year? The answer varies depending on the kind of heated styling tools you use and how often you use them:
When it comes to sanitizing a blow dryer, it would be a good practice to run a deep clean once or twice a month

. These products are prone to dirt build-up because of how reliant they are on

internal blades that can gather dust from the air.

However, if you use this tool on a daily basis, you may want to repeat this process at least once a week. 

Blow-dry brushes are a hybrid between a hairbrush and a blow dryer. While this two-in-one equation is definitely convenient, this makes these tools all the more difficult to sanitize. If you regularly use a blow dry brush to style your locks, consider sanitizing it once or twice a week.
What about heated styling irons? While straighteners and curling wands may not look like they collect much dirt and product, they are more prone to build-up than you might expect. If you use these styling tools a few times a week, cleaning them once or twice a month should suffice

. However, if they are a regular fixture in your hair routine, you may want to step up the frequency to once every week.
How to Sanitize/Clean Styling Tool Products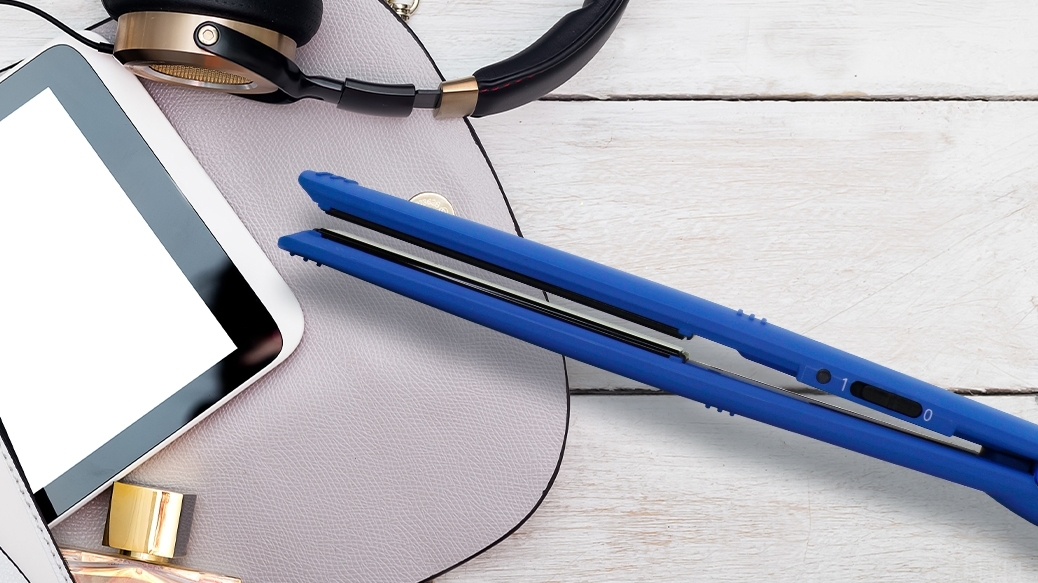 Now that we've established the frequency required to sanitize/clean styling tool products, let's get into the nitty-gritty. Like skincare and haircare products, each device has its own distinct set of instructions that you must keep in mind. However, if you can't quite locate your tools' care manuals, don't fret — we at Nubi Hair have you covered.
Here's a step-by-step guide to cleaning each kind of heated styling tool in your arsenal:
How to Sanitize a Hair Dryer
Hair dryers are among the most popular styling tools you'll find in a person's bathroom. A useful tool for men and women with both short or longer hairstyles, hair dryers are a tried and tested grooming essential. The figures speak for themselves: in 2018, 19.3 million hair dryers were sold in the United States alone. Despite most of us staying at home during the pandemic, this year, the global hair dryer market is valued at over 8,123 million dollars — and that statistic is only expected to grow over time. 
If you happen to have a hair dryer like Nubi's trusty Blow Me Away in need of a cleaning job, here's how to get the job done. First, gather your tools:
A pair of tweezers

A toothbrush or toothpicks

A washcloth or cleaning rag
To get started, pop off the rear vent of your dryer. Most models on the market easily allow you to click, twist, or lift a piece in the back to reveal the inner mechanism of the dryer. Take a pair of tweezers and manually loosen the dust, lint, or dirt that has gathered inside the dryer — carefully handling the rear vent, the dryer's cylinder, and fan. If you find that there are clumps of dust that are harder to remove from the rear vent, utilize a toothbrush or the sharp ends of a toothpick to precisely target the buildup. After clearing the entire dryer of small particles, carefully reassemble the device and wipe the entire unit with a cloth.
How to Sanitize a Hot Brush
An innovative tool that has been gaining traction online, hot styling brushes bring together the detangling bristles of a brush and the high temperatures of hair irons. Unlike a regular hairbrush that can be soaked in a mixture of shampoo or soap, this styling brush cannot be submerged in water. Instead, here's what you'll need to sanitize/clean styling tool products like this one:
A bobby pin, rat tail comb, or any narrow, pointed-edged object

Rubbing alcohol

Q-tips
If you don't like handling stray hairs with your bare hands, you may opt to wear gloves as you sanitize your hot brush. You could also clean over a trash can or use a sheet of newspaper to facilitate an easier clean-up process.
To start, take any pointed object that is long and narrow enough to fit between your brush's bristles. Use the pointed tip to slide beneath the tangled hair strands and lift them, loosening them enough to pull off the bristles with your hands. After all the hair strands have been removed, dampen the end of a Q-tip with alcohol and glide it along the spaces between the brush bristles to pick up any dirt or product build-up that may be left on the surface. Repeat this step until the brush is completely clean.
How to Sanitize Hot Styling Irons
When it comes to hot styling tools like straighteners and curling irons, you'll want to exercise the utmost care. To begin, you'll need the following tools:
Rubbing alcohol

A washcloth or cleaning rag
Start the job by plugging in your curling iron, wand, or hair straightener. Let it warm up for a few minutes then unplug it thereafter. Before the tool cools down, spritz your washcloth with alcohol. You may also use diluted white vinegar as a substitute. Using the damp washcloth, wipe down your warm styling tool. You'll find that cleaning up any product buildup becomes an easier job when the iron is warm.
Nubi Hair Styling Tools
Here at Nubi, we pride ourselves in creating safe, science-backed styling tools that allow you to recreate a salon-level experience from home. All of our heated styling tools — from our fan-favorite blow dryer to our curlers and straighteners — are lightweight and ergonomically designed with features that can upgrade your hair styling experience. Plus, it's easy to sanitize/clean styling tools from Nubi!
Whether you're looking to buy your first hair styling device or are simply looking for an upgrade, here is a rundown of some of our best-selling tools:
Blow Me Away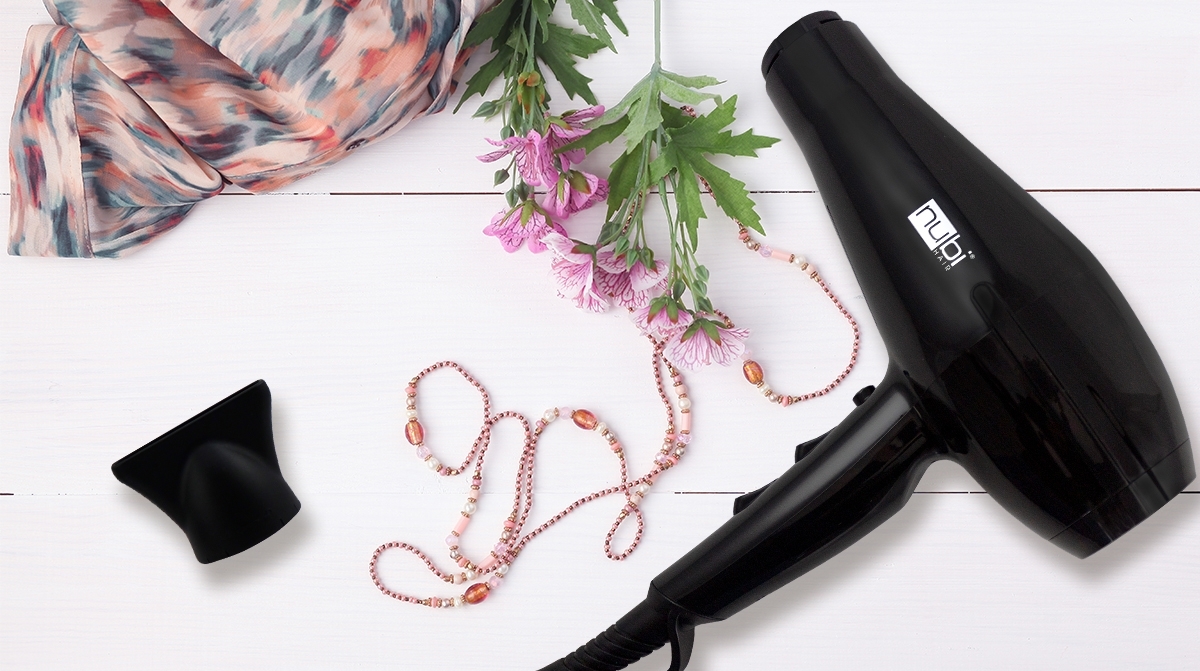 Not all hair dryers are made equal. Some are designed to handle thick or coarse hair, while others are great at handling finer hair types. The Nubi Blow Me Away covers all the bases: 
Designed to style all hair types with ease, the Blow Me Away comes with three heat settings and two adjustable speed settings. It also comes with a convenient cool shot button that releases cool wind to counteract the heat released by the dryer's high-performance fan. It also comes pre-packaged with two attachable concentrators that make it easy to direct heat to specific sections of hair for more precise styling. 
Flat Irons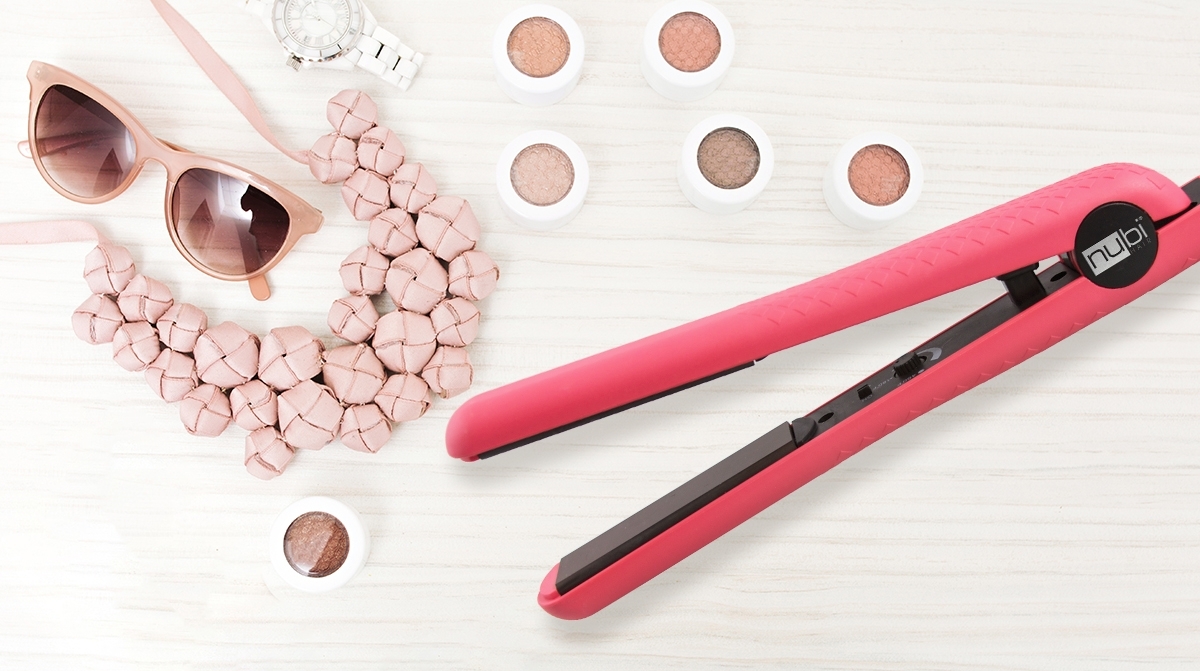 If you're looking for a versatile styling tool that can help you achieve both pin-straight hair or beach waves, opt for a flat iron. While these tools were once used only to straighten the hair, these days, they are used as an all-around tool to achieve various hairstyles.
Here at Nubi Hair, we have a variety of hair straighteners to choose from:
Smaller irons are great for handling shorter hair or creating tighter, more vintage-inspired curls. If you find yourself gravitating towards these styles, you may want to consider Nubi's Get It Straight or Sleek Control flat irons. Both of these have one-inch ceramic plates that allow snag-free styling. Both are also fitted with a 360-degree swivel cord.
If you're in need of a wider plate, Nubi has three flat iron options — all of which are fitted with 1.25-inch plates:
The three flat irons noted above also use infrared heat and negative ion technology. This helps lock moisture into the hair strands and reduce the look of frizz. 
Curling Wands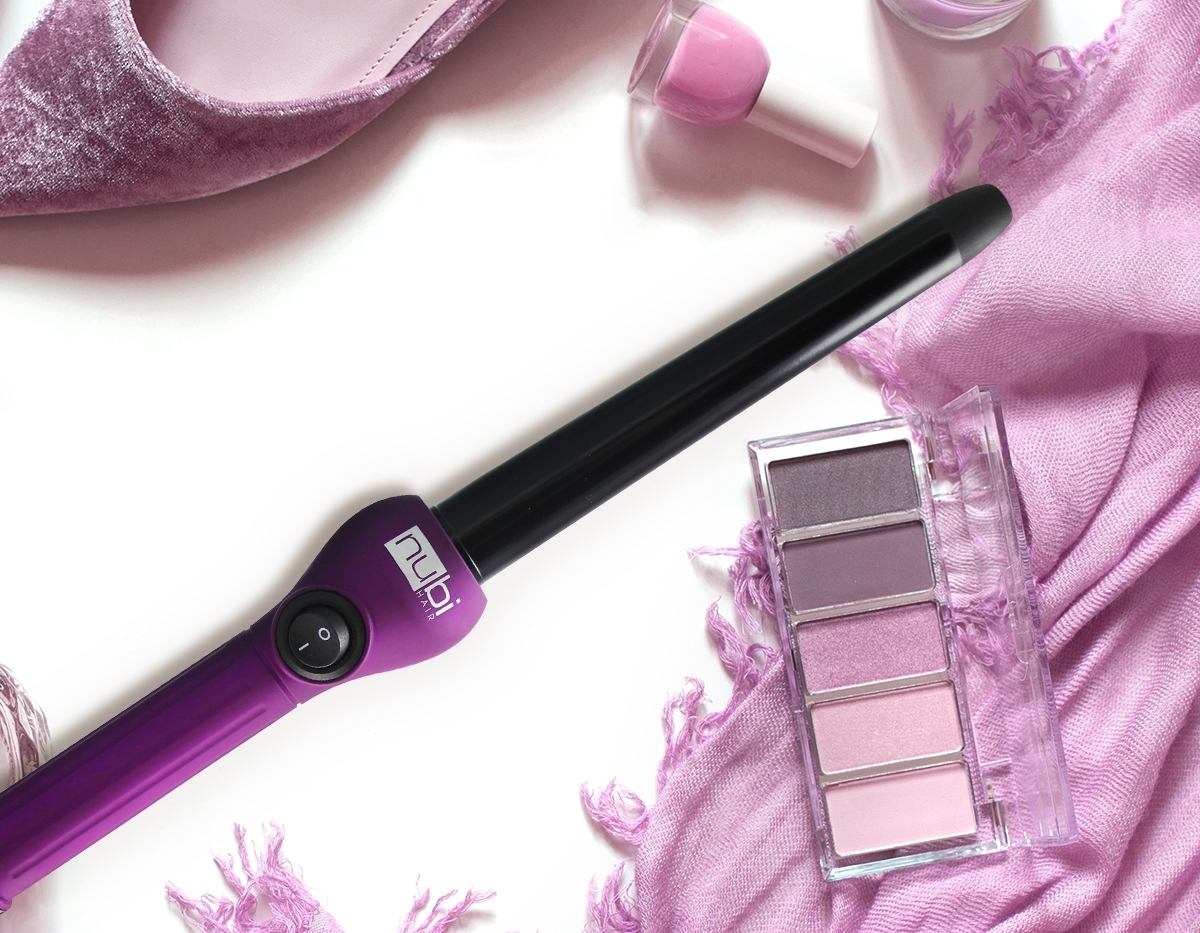 Nubi's curling devices may look a little different from the curling irons of yore. Here at Nubi, we utilize clipless curling wands instead of irons.
The Nubi Sleek Curl curling wand features a tapered barrel. It measures one inch at the base and three-quarters of an inch at the end of the barrel. This allows you to create a variety of curl and wave sizes. The barrel is also smooth and Teflon-coated. This, in tandem with the wand's clipless design, helps to prevent any snagging. Like our flat irons, the Sleek Curl is also equipped with negative ion technology.
Styling Brushes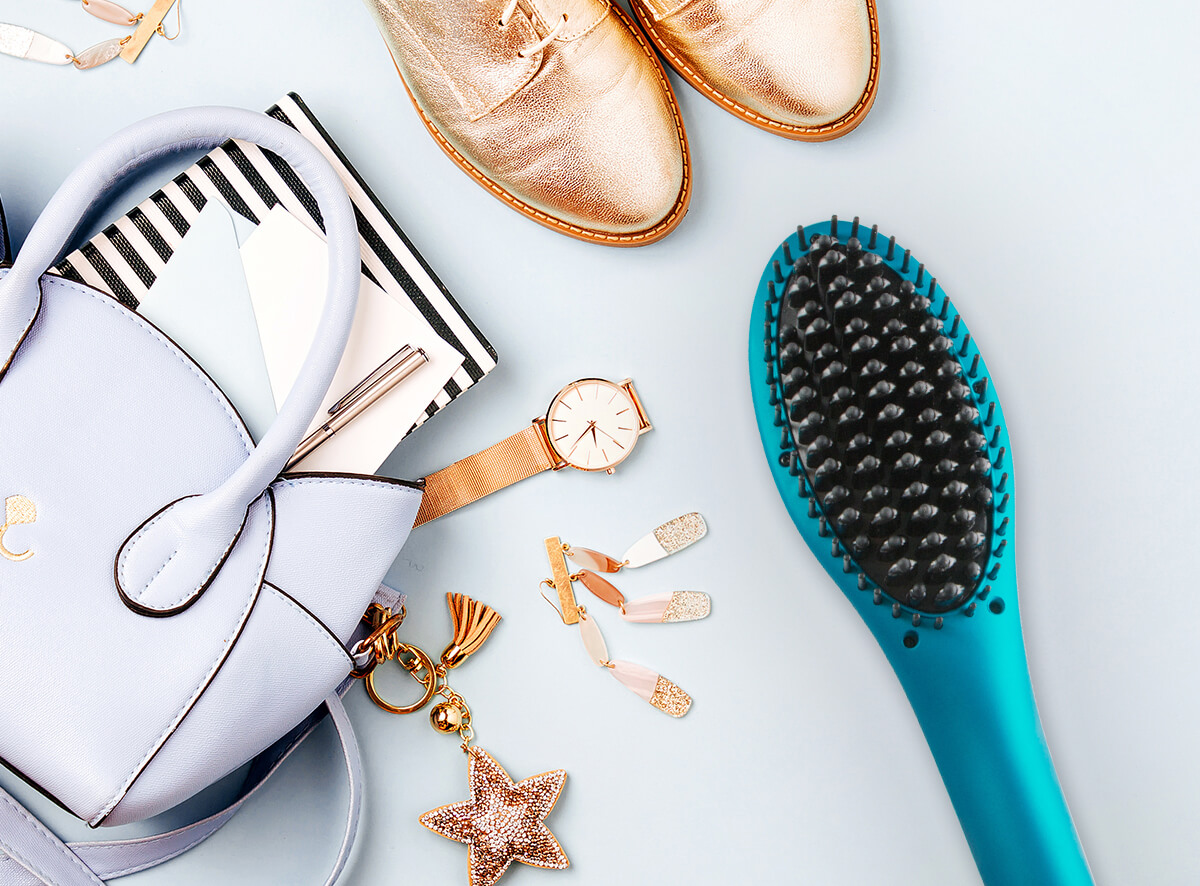 Get the most out of your hair brushing experience with Nubi's Simply Sleek Brush. A heated styling brush, this device features a ceramic surface that straightens the hair to sleek perfection. While the heat tempers your locks, the structured bristles on the brush's surface prevent tangles. The Simply Sleek Brush comes with five adjustable temperatures that range from 285 to 430 degrees. 
The Set Up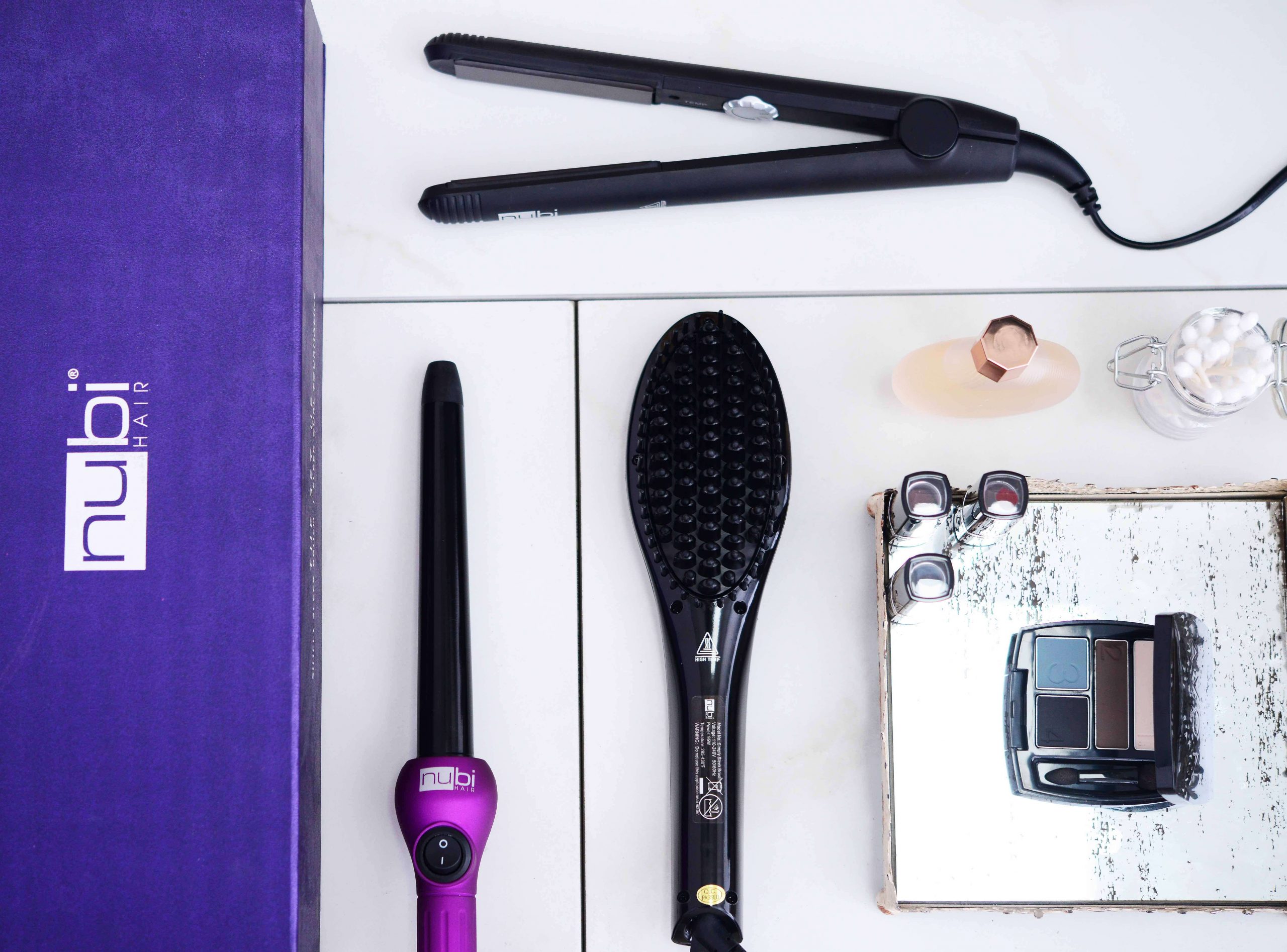 Our one and only hair styling bundle, Nubi's The Set Up bundle features two of our best-selling heated styling tools: the Simply Sleek Brush and the Sleek Curl. Whether you're looking to achieve a natural blowout, flawless ringlets, or undone, lived-in waves, The Set Up has the tools you need to make it happen. This combination is particularly ideal for those with naturally coarse, curly, or frizzy hair who may need to straighten out their locks before going for looser waves.
Get quality, protection, and ease of use with Nubi's wide selection of hot styling tools. The best part? It's easy to sanitize/clean styling tool products from Nubi, regardless of which device you gravitate towards.
If you're looking to step your hair game up this year, take on the challenge with Nubi Hair. Discover more ways to elevate your hair care and hairstyling routines today!