Maybe you've had bangs forever or perhaps you've just cut them in. Either way, we all know the struggle is real when it comes to styling them one specific way – let alone into multiple styles!
Well, no more. We here at Nubi Hair are about to show you all of the amazing ways you can style your bangs with a hair curler & straightener – and there's something for everyone! Whether your bangs are full or wispy, long or short, or somewhere in between, they're about to look the best they ever have. Your how-to guide is just a scroll away!
Hair Curler & Straightener Styles For Full Fringes
1. Thick, Gently Curved Bangs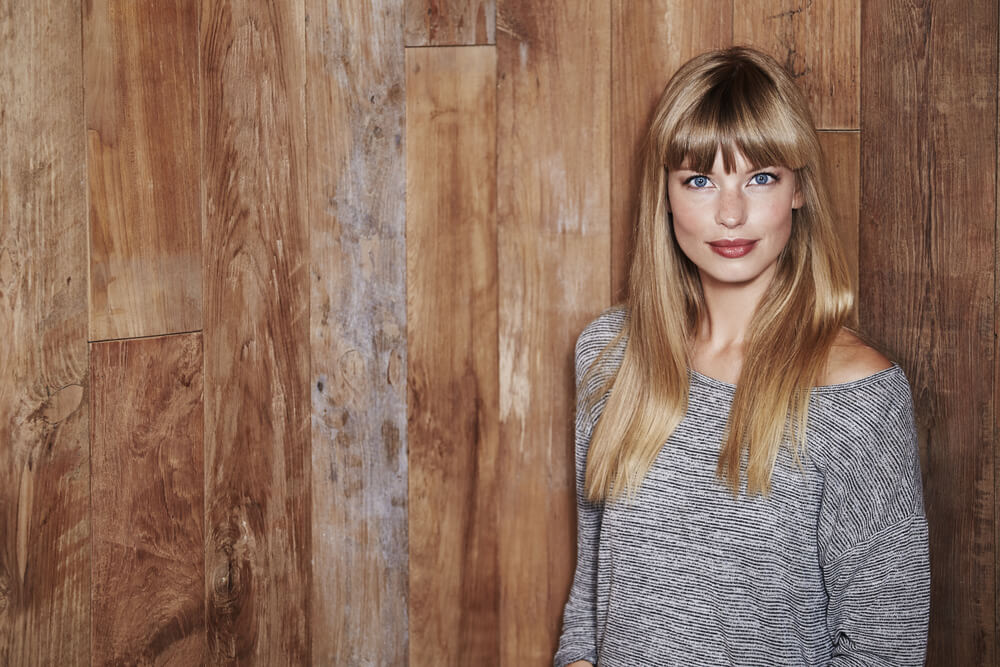 Starting off with a classic, and possibly the most requested/sought-after bangs style, thick, gently curved bangs are, for many, the holy grail of fringes. Think Zooey Deschanel, Taylor Swift, and Dakota Johnson and you'll see why they're so beloved! 
Luckily, this type of fringe will work for anyone with bob-length hair or longer. So, if you've recently taken the plunge (congrats!) and are now working with a full fringe that hits right around your brows, you're probably wondering how to achieve those glossy, full-looking bangs that lie smoothly against your forehead. Well, you're in the right place! And don't worry, there'll be no flat iron lines in your bangs when we're done teaching you!
Start with clean, conditioned hair fresh from the shower. We recommend using the irresistible Nubi Hair Nourishing & Moisturising Shampoo and Conditioner combo. They're enriched with proteins derived from plants and olive oil!
Comb your fringe through, then, using your blow dryer on low heat. Make sure your bangs are completely dry before you go in with your heat tools

Now, grab your straightener!

Set the dial to a medium temperature so you don't damage your bangs. Of course, to do this, you'll need a flat iron with adjustable temperature control like the Nubi Hair Soft N' Straight 1.25" ceramic styler, which we highly recommend!
Now, using a comb take small sections at a time and place them inside the flat iron but DON'T clamp down. The heat between the plates will be enough to treat the hair, trust us!

Rotate the straightener as you usually would and use the curved edge to help support the hair. This will help it to sit snugly to the curve of your forehead

Do this with each section then run your comb through for a silky smooth, blended finish

Spritz on a little of the Nubi Hair Styling Spray to gently hold your style and you're all set!
2. Full, Wispy Bangs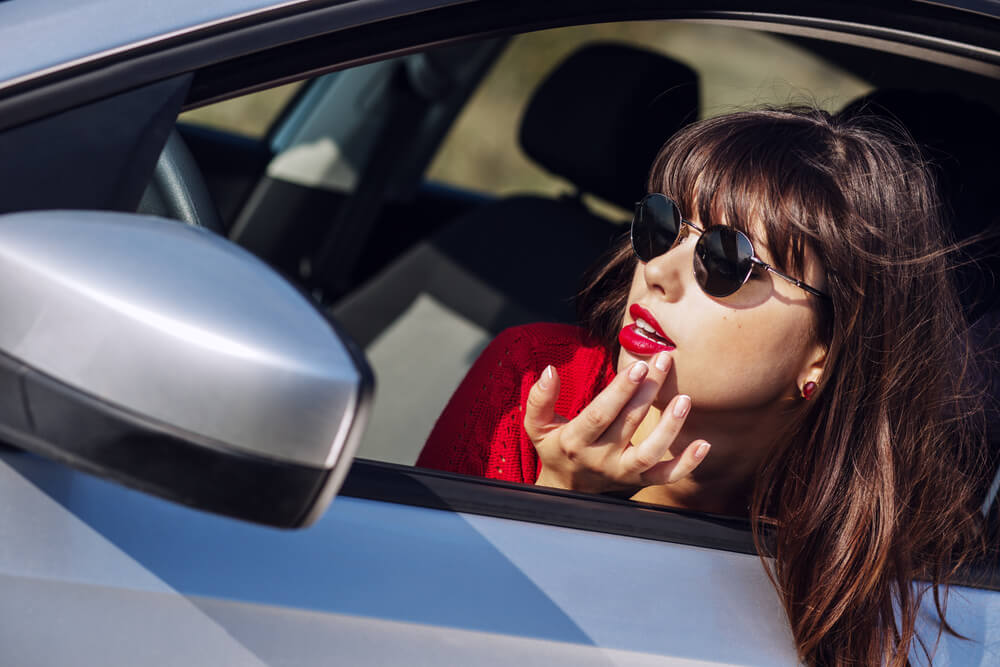 Long or short, wispy bangs are a great intro style to opt for if you're new to the whole bangs thing. Luckily, like the style above, it's an easy look to achieve with your go-to straightener!
Once again, make sure your hair is cleansed, conditioned, and completely dry before you begin. We recommend using the Nubi Blow Me Away professional hair dryer for this part!
Now, follow the same steps as above but make sure you have your straightener set to a much lower heat. This way, you avoid damaging the smaller amount of hair between the plates!
3. Soft Side Swept Bangs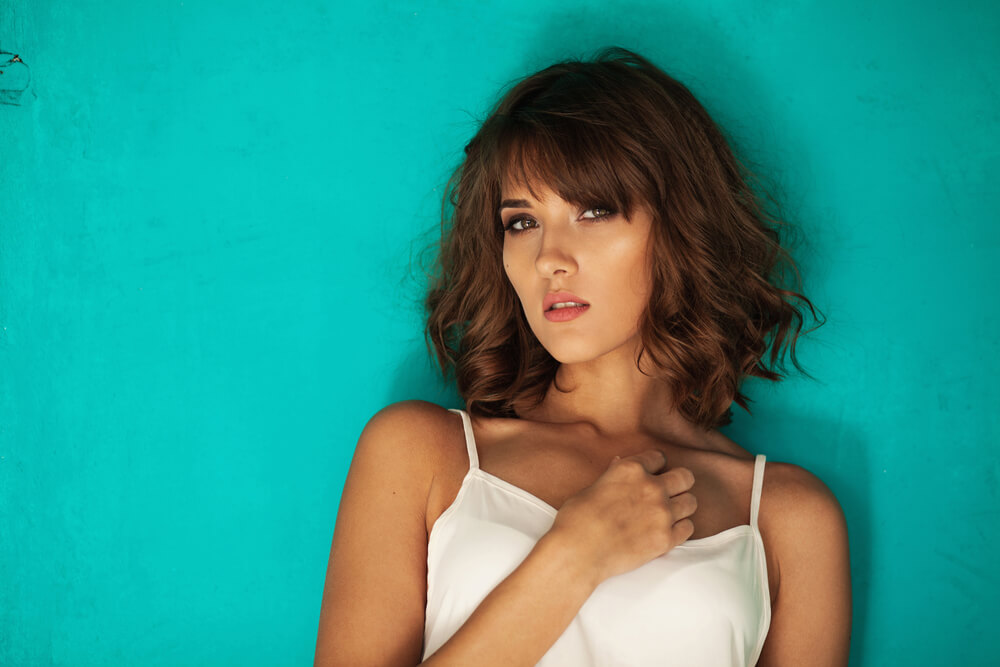 That's right, the go-to bangs look of the 2000s is back and we couldn't be happier about it! Side-swept bangs are super chic and look great on everyone. Not to mention, they're ideal for those who definitely want bangs but aren't feeling a full, bold fringe just yet.
To create this style you'll use a similar technique to the two styles above – with one major difference!

Instead of holding the straightener horizontally, hold it diagonally with the cord end in the air and the other end toward the floor

Make that curling motion without the plates touching, once again using the curved edge of your straightener to create that slight side-swept curve through your bangs

If you find the diagonal action is causing the hair to slip loose, turn the temperature dial right down. Clamp the straightener once or twice as you curl for a more defined finish
Hair Curler & Straightener Styles For Short Fringes
Now, it's no secret that when your fringe is on the shorter side it's going to be a little trickier to mix things up in terms of styling. That said, there are still a couple of ways you can alter your look with your hair curler & straightener. Perfect for when you're tired of letting it dry naturally or simply blow drying it flat. And yes, even shorter fringes can achieve the coveted curtain bangs look with a little help from their favorite heat tool!
Want to know how?
Keep scrolling!
4. Short Curtain Bangs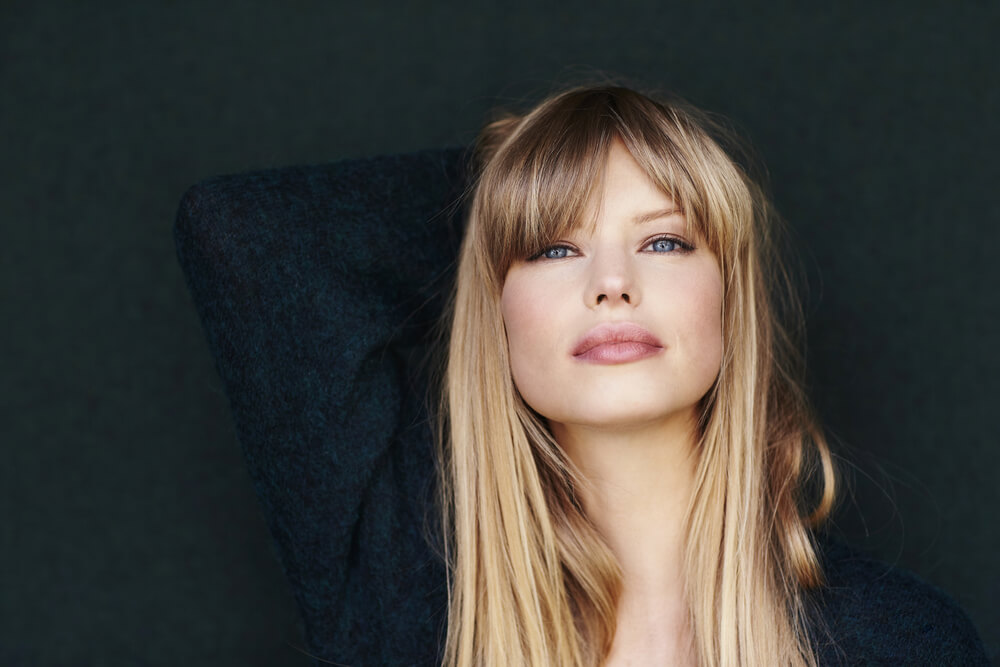 As long as your shorter fringe meets roughly where your eyebrows are, this look should be achievable for you! So, grab your flat iron, and let's get to it!
Divide your fringe into two sections straight down the middle, or slightly off-center if you'd prefer a less symmetrical look

Take your first section, comb it straight up and tilt it slightly to the side so it's on the diagonal

Then, making sure your straightener is set to a very, very low temperature, hold it diagonally to mirror your hair and clamp it gently by your hairline
In one fairly quick motion, utilize the curved edge of your Nubi Hair Straight Up 1.25" Ceramic Straighter

 to tease the hair towards the back/ side of your head

Do this a few times on each side. When your hair drops, you'll have a voluminous, gently curved curtain bang fringe!
5. Straight Blunt Cut Bangs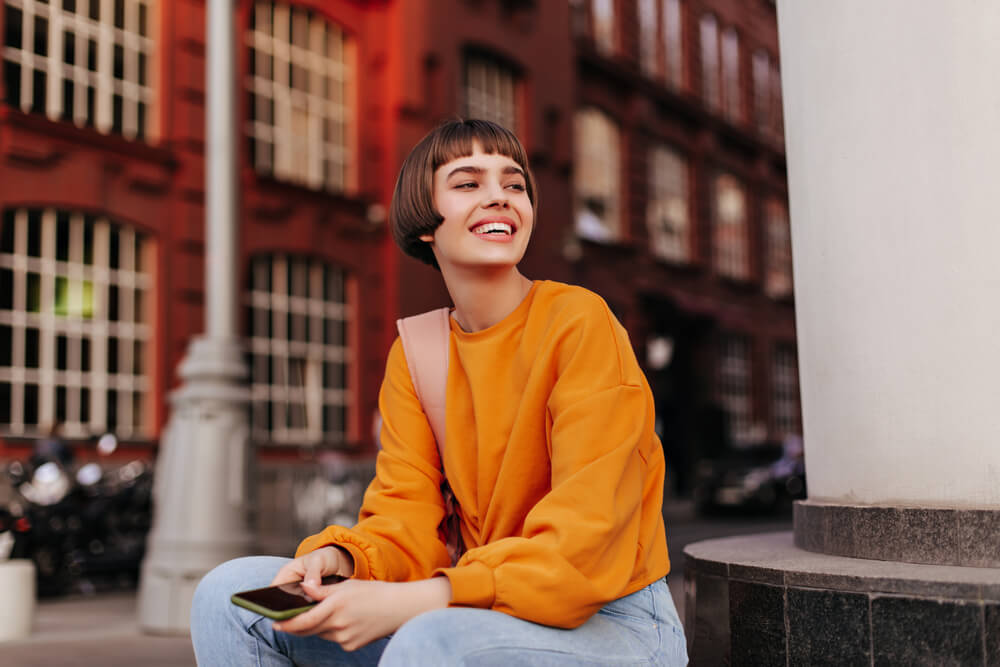 Blunt cut bangs are one of the edgiest hairstyles going and we're so here for them! 
The good news? 
You can style yours at home in just a few simple steps.
Start by separating your bangs from the rest of your hair and combing them straight down. Ideally, use your Nubi hair dryer

 to create a relatively straight look before reaching for your flat iron

Once you're ready to apply the heat, again, make sure your flat iron is on a low-temperature setting so as not to frazzle the hair (we'll need to clamp the plates together to control shorter bangs)

Divide the hair into three sections one on the left, one in the middle, one on the right

With each section, start at the top, and gently curve the straightener away from your face

About halfway down the section, simply move the straightener straight down

This way, your finished look won't have the ends curling under. Instead, it will sit snugly to your forehead, perfect!
6. Short & Chic French Girl Bangs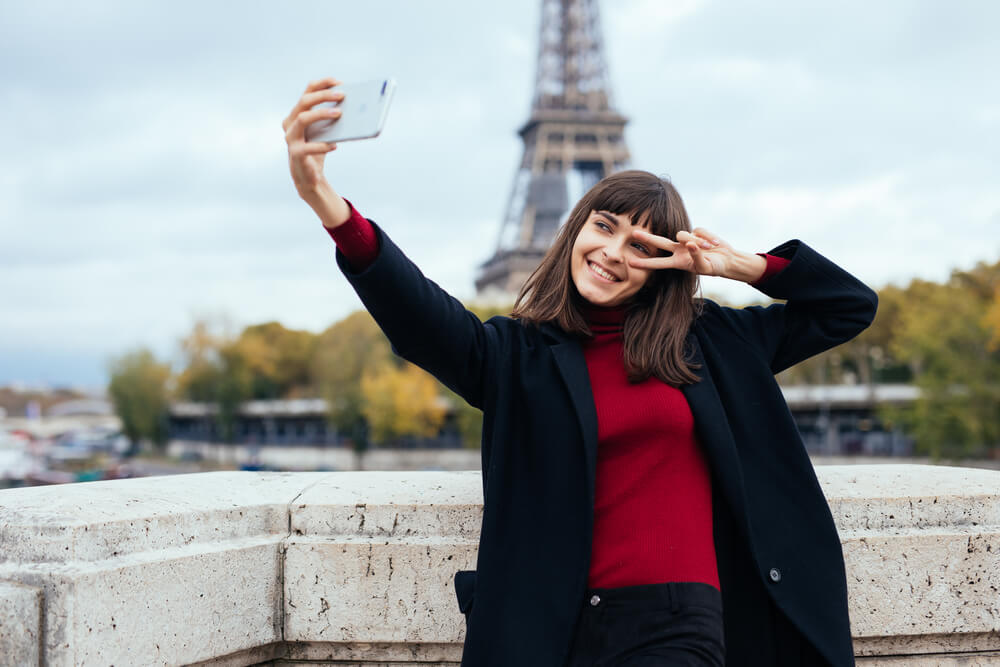 When we think of the chicest bangs out there, French girl fringes are always at the top of our list. Happily, this is one of the styles you can easily achieve with shorter bangs. Plus, it looks amazing whether you're rocking a super thick fringe or something a little wispier! 
To create this look, simply follow the steps above but don't be too precise with your straightener

Instead, you can angle your flat iron very slightly to create a little separation

Gently curve each piece for a more nonchalant appearance

Finally, run your fingers roughly through your fringe so it looks a little more laid back and gently windswept – not perfectly styled but effortlessly elegant!
Hair Curler & Straightener Styles For Curtain Bangs
As you'll know from our previous articles, curtain bangs are a firm favorite here at Nubi Hair! With that in mind, we just had to include a new section all about how you can create your own dream curtain bangs at home with your hair curler & straightener.
So, whether you specifically asked your stylist for curtain bangs or you've simply let your shorter fringe grow enough that it can now be considered as such, there are countless ways you can style them! From casual up-dos with straight sweeping bangs or gently curled ones to dramatic and voluminous curtain bangs that compliment a choppy layered down-do. No matter how you like to style your hair, there's a curtain bangs look that's perfect for you. 
Want to know more?
We thought so!
Grab your hair curler & straightener and keep scrolling to reveal six incredible styles that'll leave you feeling like you just left the salon!
7. Curly Flipped Over Bangs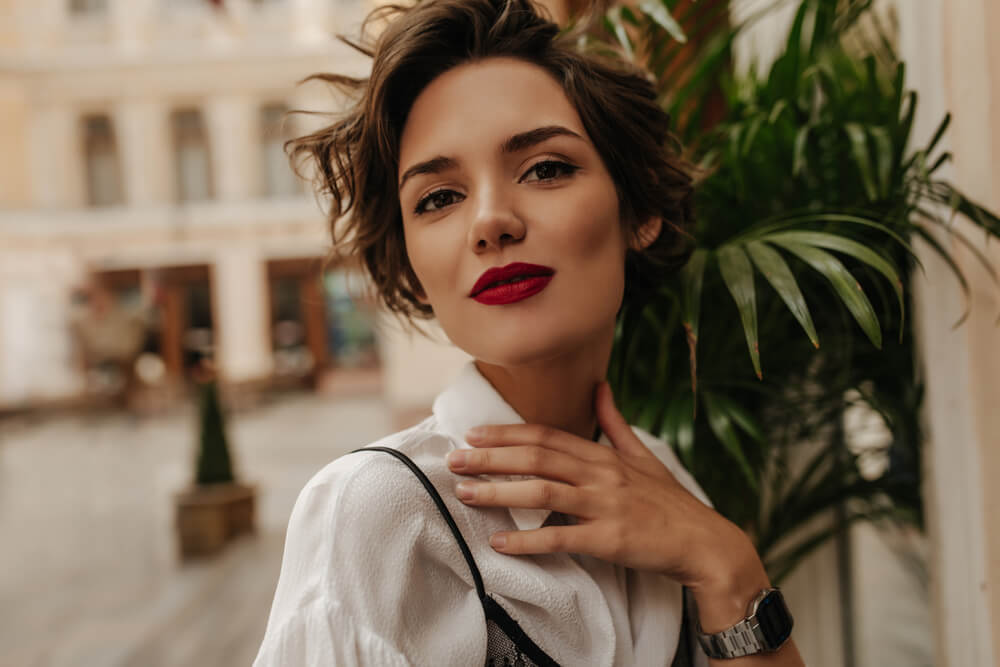 It's time to reach for the hair curler because this style is all about bounce and volume! What's more, though it can certainly work for all different hair lengths, it's particularly perfect for those with shorter hair and long fringes.
Divide your bangs from the rest of your curled hair and comb it through gently to remove any tangles

Next, create a center parting, and yes, we know this hairstyle involves more of a side part but, trust us, it'll work!

Now, take your favorite Sleek Curl Clipless Curling Wand 

and use it to gently curl small sections of your hair away from your face on either side. Two or three sections on each should do the trick!

Pro tip: start each curl roughly a couple of inches away from the root. This way, you'll have plenty of room to flip your bangs over at the end

Once your bangs are all curled, use your fingertips to swiftly flip them into a dramatic, deep side part (don't use a brush or you risk losing your curls!)
8. Sleek Curtain Bangs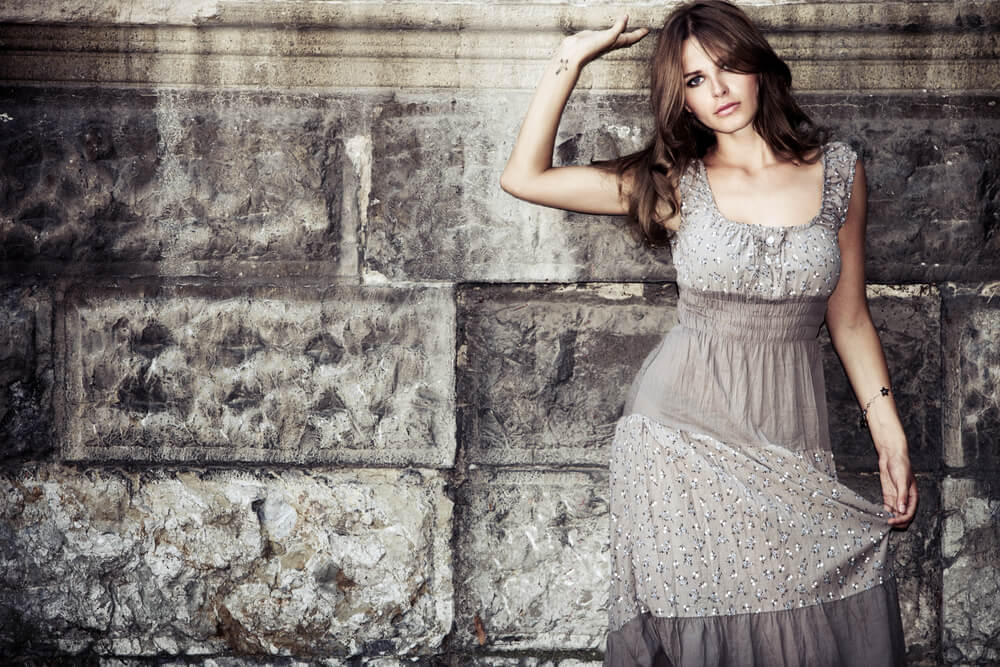 Though we definitely adore every look on our list, this particular bangs style sort of feels like the reason we're all here! 
Can't wait to show off your new, perfectly styled, sleek curtain bangs?
Let us show you how!
Begin with tangle free bangs, then create your center part

Take the entirety of the first section and use your straightener on a medium to low heat (depending on the thickness of your hair/bangs)

Hold it on the diagonal to pull the hair gently away from your face in a diagonal motion

Once you reach an inch or two from the ends, gently curve the straightener. Use the curved edge of the outer casing to create a slight outward bend in the hair

Once you let it drop, you should see that stunning, sleek curtain bang look!

Do the same on the other side and you're done – it really is that simple!

In the meantime, if you find you've over-curled the ends and they're looking a little too flicky, don't panic. Simply use your straightener to gently smooth over the ends until they lay a little flatter
9. Gently Curled Curtain Bangs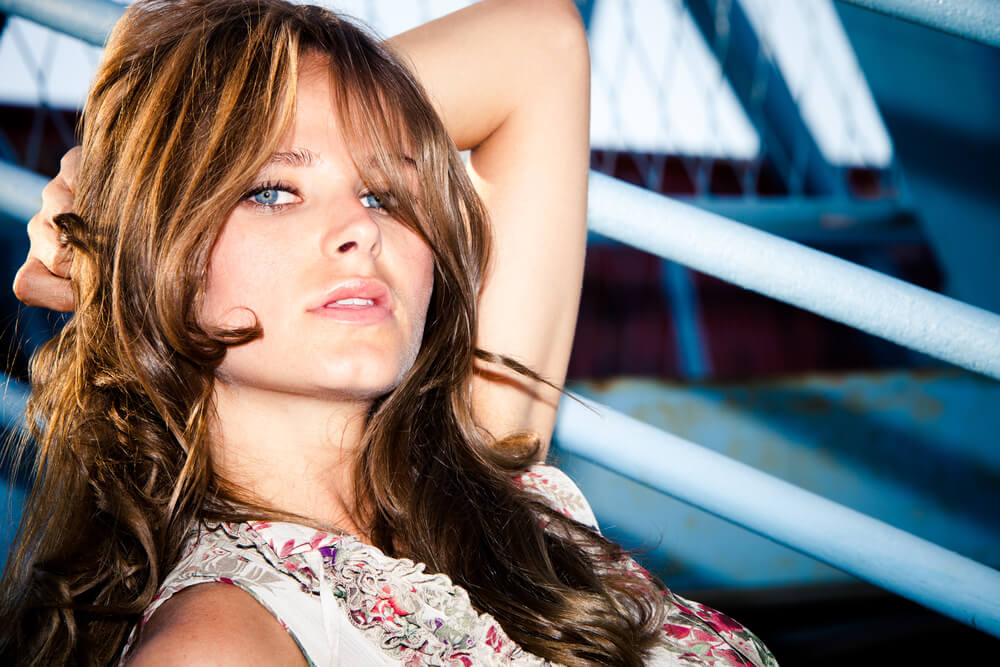 Want a similar look with slightly more curl for something a little more dramatic?
We've got you covered!
Follow the same steps as above. But, when it comes to the ends, start rotating your straightener roughly three inches from the end instead of two

Rotate the plates 360 degrees away from your face so you get a full curl. This will also ensure that it blends perfectly with the rest of the curls in your hair
Also, make sure to keep moving your hair through as you go so the curl is nice and gentle

Once that's done, use your fingers to softly separate the curl a little more 
10. Tightly Curled Bangs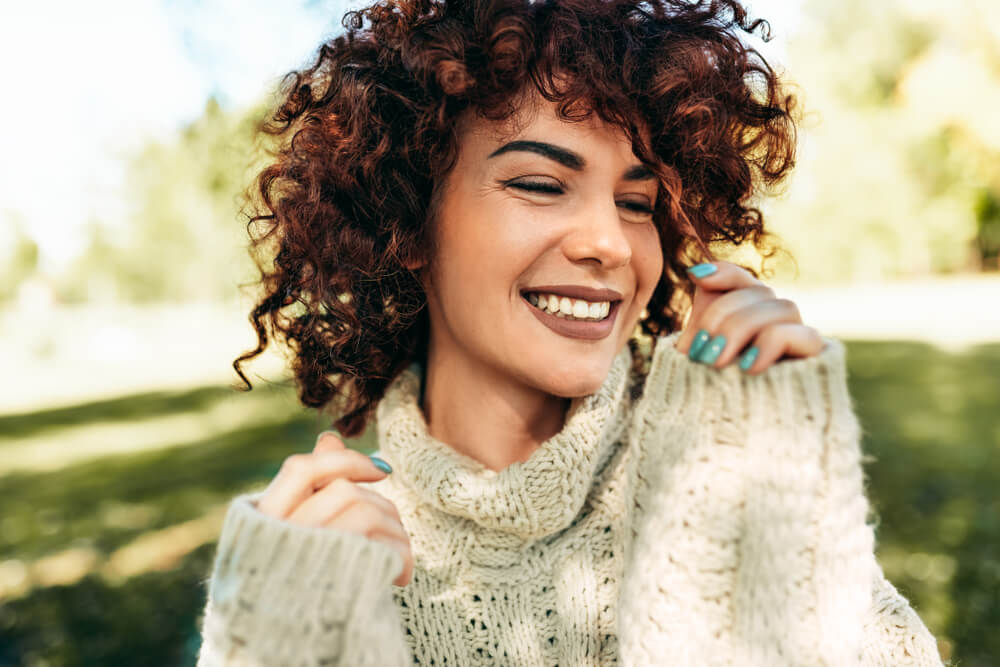 If you really want to go all out with your curls, consider tightly curling your bangs for a fresh new look! This will, of course, work best for those with longer bags. However, if you can manage to safely curl shorter bangs with a micro curling wand, you'll find it looks pretty adorable on shorter fringes too!
With the rest of your hair already tightly curled, move on to your fringe

Instead of treating it as a separate section, you'll want to curl it just as you have the rest of your hair so it looks like one complete style

To do this, alternate the direction you curl each section of your bangs in

Curl back and away from your face, then the toward it

Once all your bangs are totally curled, simply use your fingers to blend all of the hair together!
So, which bangs look is your new favorite to create with your hair curler & straightener?
Whichever you choose, we hope we've inspired you to try out not just one, but multiple new looks with your bangs this summer season – no matter their length! If you need a few new hair care products or styling tools to help you out with that, check out Nubi's bestsellers here.