Ahh, summer. The time of year you can finally kick back and relax without worrying about the unbearably chilly winter and fall or those pesky spring allergies. It's when you can finally let your hair down (literally!) and go on that well-deserved vacay at your favorite beach town.
But because summer is all about enjoying the great outdoors, you're bound to find that the elements aren't always good for you — or your hair. The sun can take a toll on your beautiful locks, leaving them dry, dull-looking, and damaged.
That's why it's important to have a solid hair care routine during the summer that can help protect your hair from visible sun damage. Ask yourself the important questions. What products can help protect your hair from danger? What's the safest way to style it? And can you still use your favorite hair styling tools?
Today, Nubi Hair will be covering our top hair tips for summer to help you care for your hair during the hottest season. 
What Happens to Your Hair During the Summer Months?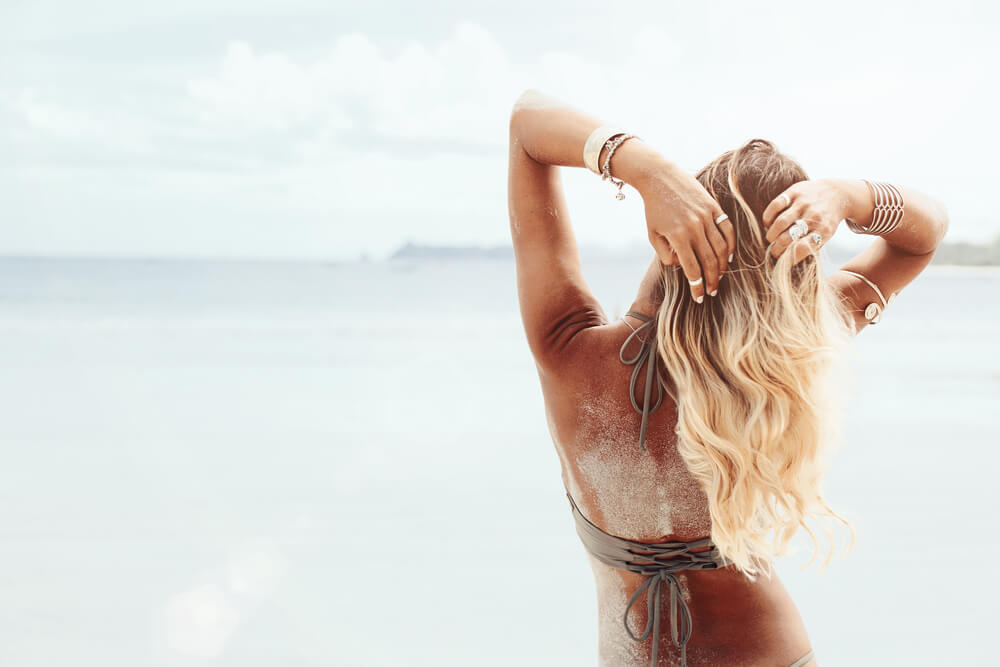 Hanging out under the sun is almost non-negotiable during the summer. But the longer you and your hair are exposed to the sun's harmful UV rays, the more detrimental the effects on your beautiful tresses.
The sun's UVA and UVB rays can wreak havoc and damage your hair in many ways, including weakening the proteins that keep your hair strong and fading your hair color. They can also make your hair extremely dry. This, in turn, also results in dull-looking hair with little to no shine.
Most beach towns are very humid as well, and any hair lover knows that high humidity equals frizzy hair. That is yet another thing you must watch out for during the summer months. And no one wants to be rocking their bikini and taking Instagram photos only for them to be ruined by a poofy, unruly mane!
So, what are the best things to do to care for your hair this season? Here are our best hair tips for summer to make sure you can enjoy the sun while boasting tresses that look healthy, happy, and beautiful.
1. Always Keep Your Hair Conditioned and Moisturized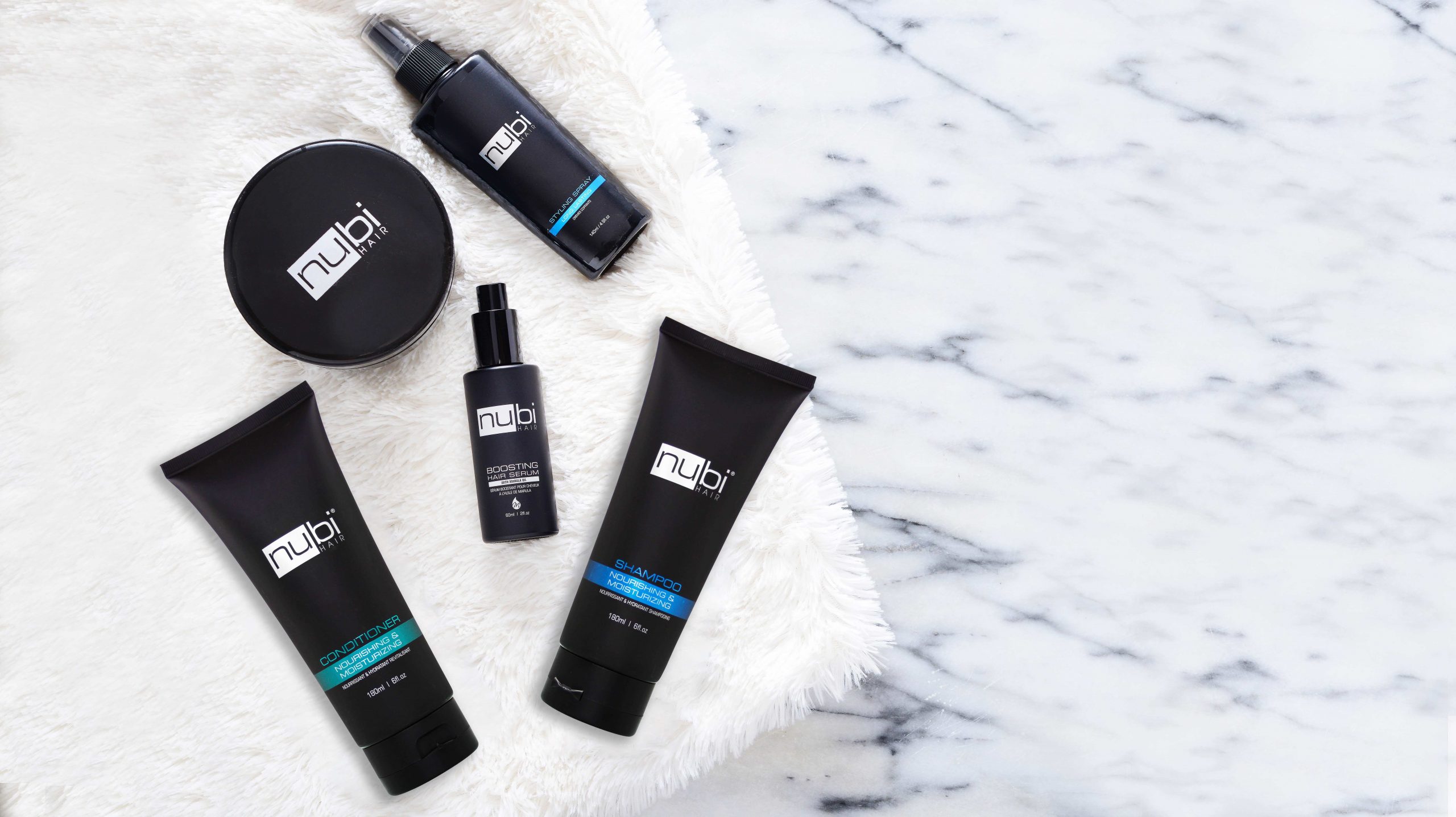 You can't talk about the best hair tips for summer without mentioning moisture. You might love the sun for giving you that glowy tan or perfect lighting for your photos, but the hot sun can also dry your hair out. So, it's important to incorporate moisturizing products into your daily hair routine.
Conditioning your hair in the shower is important year-round, but it's especially pertinent in the summer if you want to keep your locks looking healthily hydrated and shiny. Not only do conditioners moisturize the hair, but they also smoothen it out and keep it from getting overly frizzy.
Hydrate your hair every time you shower by conditioning it with the Nubi Nourishing & Moisturizing Conditioner. It's infused with olive oil and soy proteins to give it the hydration it needs, keeping your hair looking shiny, silky soft, and smooth all day.
Apply this conditioner to your mid-lengths and the ends of your hair — the driest areas of your mane. Of course, the sun also hits the crown of your head, so apply the tiniest amount in that area too. Careful though — using too much conditioner near your roots can lead to a greasy scalp.
And once a month, switch out your regular conditioner for a DIY deep-conditioning mask. One that we love is the combination of coconut oil, egg yolks, and yogurt. This helps give your hair the feeling of intense moisture and strength, thanks to the high protein and fatty acid content of those superfoods.
2. Protect Your Locks from the Sun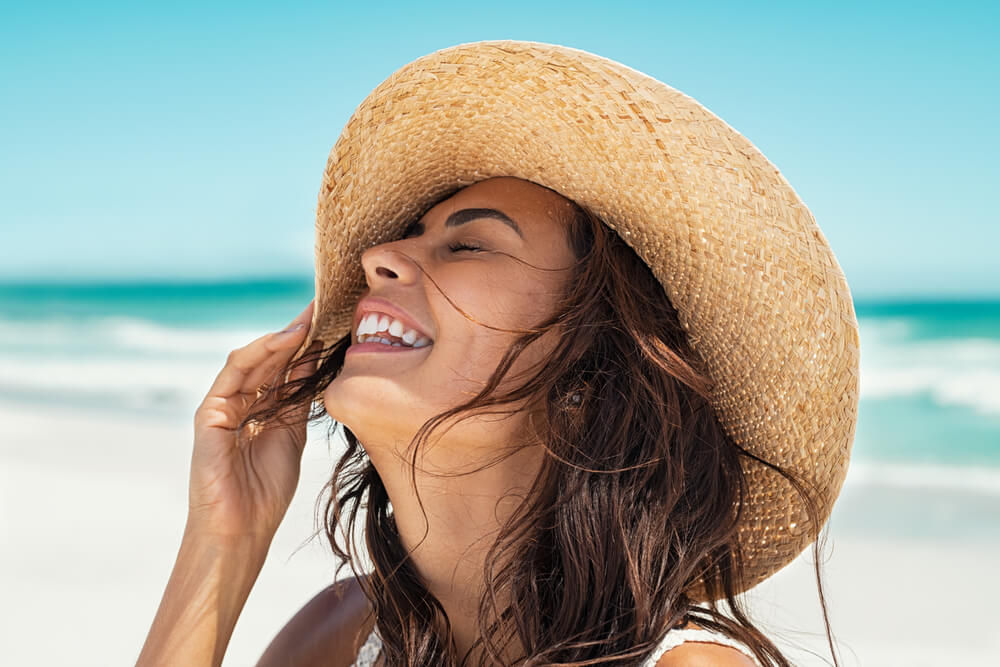 If you want to keep your hair strong and richly colored, one of the best hair tips for summer we can give you is to protect your locks from the sun at all costs.
That means busting out your favorite scarves and floppy hats — whatever you can use to cover your head from the glaring sun. These accessories make your summer outfits a little more charming, but also serve as a protective barrier between your hair and the sun's UV rays.
If you're not a hat or hair wrap kind of gal, you can always use a leave-in treatment or serum in your hair before you head out for the day. You'll want to use one that has dimethicone, which leaves a thin film on your locks to leave them feeling protected from the elements. 
3. Try to Wash Your Hair Less Often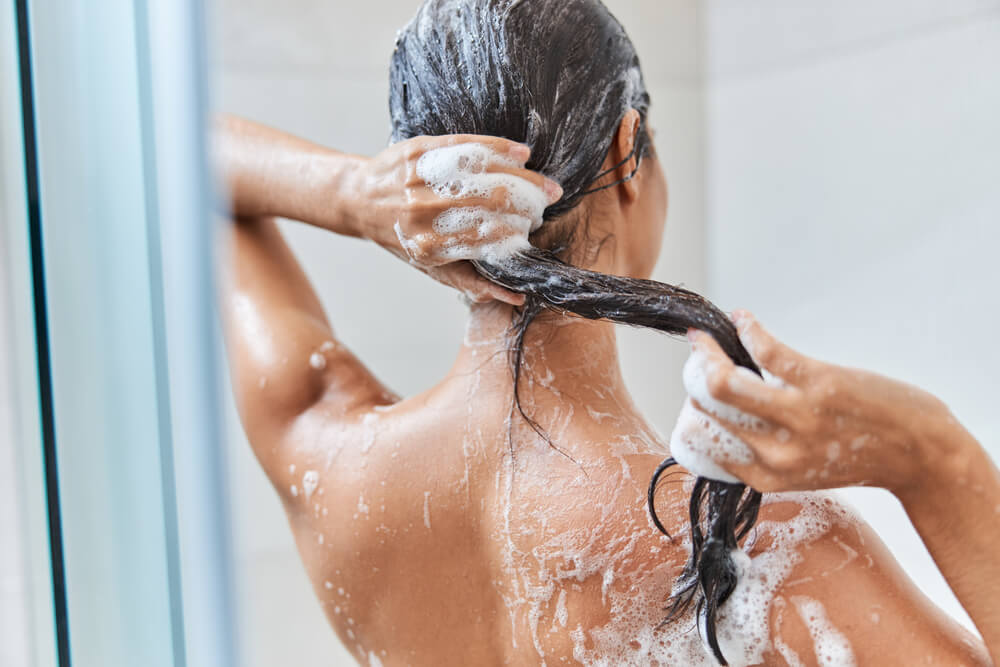 It's super tempting to shampoo your hair every day during the summer because of how sweaty you get at the end of the day. But one of our most important hair tips for summer for those with naturally dry hair is to wash your locks less often than you normally would.
When you shampoo your hair daily, you're stripping your hair of its natural sebum. This sebum is what gives your hair that radiant sheen and moisture that keeps it looking nice and healthy. If you wash it away every single day, you'll be left with extremely dry, dull hair.
Try washing your hair just two or three times a week. This gives your hair enough time to sit in the healthy oils on your scalp. At the same time, you'll protect your hair from dehydration and dullness.
Of course, there are some exceptions to the rule. For example, when you've taken a dip in the pool, you'll want to wash your hair right away to get rid of any chlorine that can end up drying your hair out even more than shampoo.
And when you do finally shampoo your hair in between wash days, make sure you use a moisturizing formula, like the Nubi Nourishing & Moisturizing Shampoo. Like its matching conditioner, it has soy proteins and olive oil to soften the feel of your strands and keep them feeling hydrated and touchable, never stripped and parched.
4. Style Your Tresses in Loose, Beachy Waves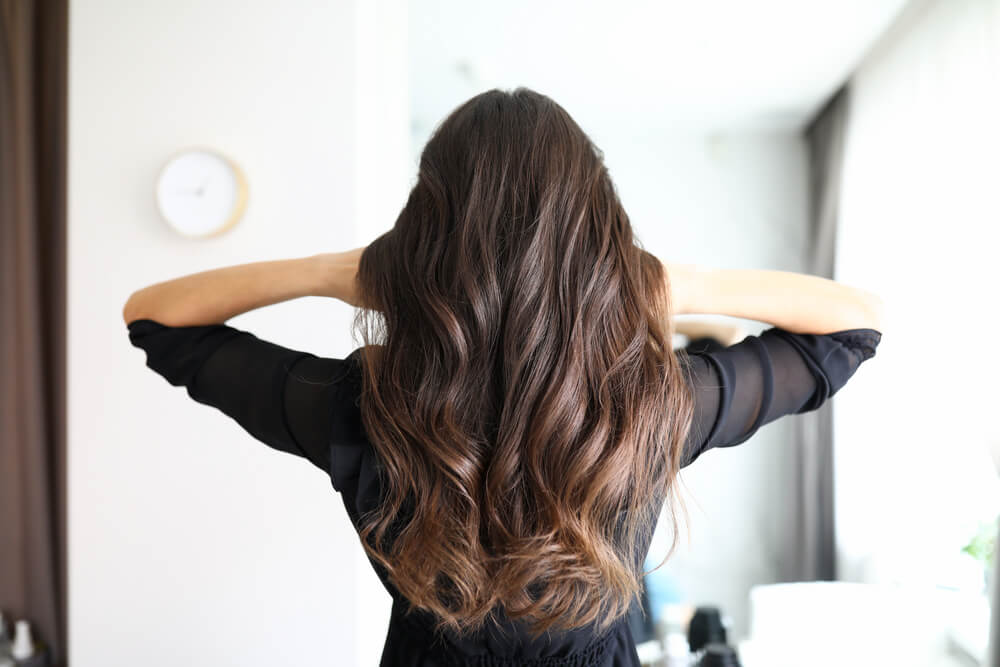 Not all our hair tips for summer have to do with hair health. We also love hairstyling, so we have a quick tip for how to do your hair during the next few months.
Loose, free-spirited hairstyles are all the rage every year during summer. You can do messy braids, lazy half-updos, and more. But the queen of all summer styles? Carefree, tousled, beachy waves! We'll teach you two ways to achieve this gorgeous wavy look.
Method 1: Using a Curling Wand
The first method involves using a curling wand to achieve your waves. We recommend using the Nubi Sleek Curl, which you can find in the Nubi "The Set Up" Duo. Because this curler is clipless, it's easier to control how loose you want your waves.
Simply wrap a thick lock of hair around the barrel, pointing downward. Leave an inch or so of your hair straight at the bottom for that full beach effect. After five seconds, gently unravel your hair from the curler and let it rest. Do your entire mane, et voila! Perfectly curled beachy waves.
Method 2: Using a Straightener
You can also create waves in your hair using a flat iron. For this, we recommend the Nubi Sleek Control. It comes in vibrant colors to match your tropical summer vibe!
It's made with floating tourmaline and ceramic plates that distribute heat across your hair evenly, making for an easier styling sesh. Ceramic plates are also known to be less damaging to the hair — a must since the sun is already a huge source of damage to your hair this season.
Take a one-inch lock of hair and clamp the straightener down on it at the top of your head. Then, twist the iron away from your face. Slide the iron down your hair while still holding that angled position. When you let go of your hair, you'll find gorgeous, relaxed, wavy locks.
When you're happy with your beachy waves, spritz some styling spray to lock them in. That way, they hold their shape all day long.
5. Combat Humidity by Sealing Your Hair with a Serum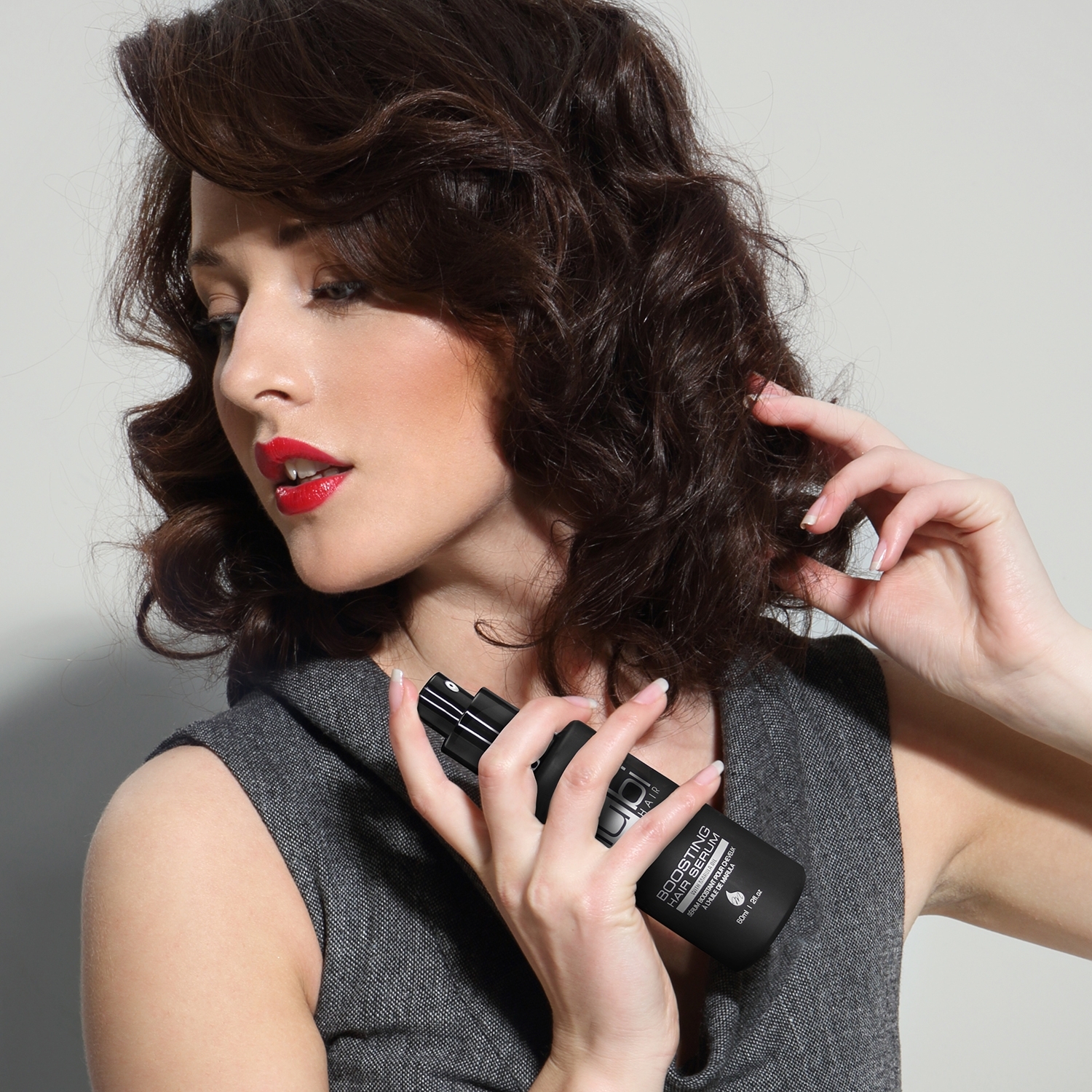 The air in tropical beach towns is usually very humid. That means there's a lot of moisture in the air. And when your hair absorbs that moisture, your hair cuticles will swell, resulting in thicker, frizzier, poofier-looking hair. Your hair will also feel rougher, since your cuticles are technically getting damaged.
This is a huge watch-out for high-porosity hair, aka hair that has been chemically processed and is now porous enough to absorb all the water it can. So, it might not be a good idea to go to the beach with your hair completely bare. You might want to apply a leave-in before heading there.
To keep your hair from sucking up all the moisture in the air when you visit your favorite beach, seal those cuticles with a smoothing hair serum. 
6. Get a Haircut That Can Help Prevent Frizz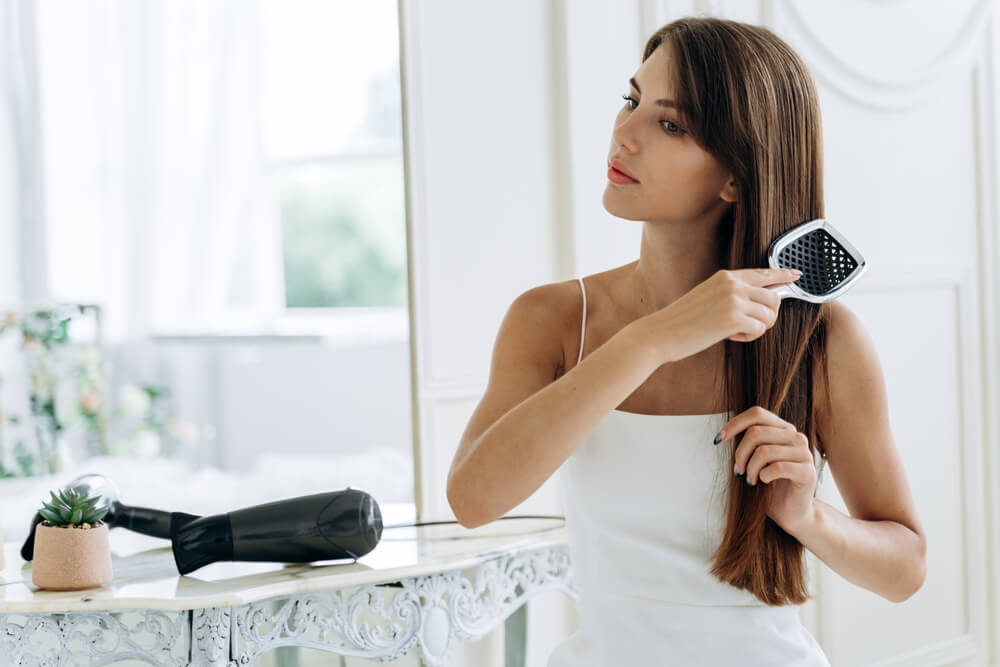 Another of our hair tips for summer related to styling is cutting your hair in a frizz-defying shape and length. This is a great idea for thick hair, which might need extra help holding down the frizz when the summer air is extra humid and sticky.
A workaround for keeping your hair tame when it's humid out is by keeping it long. This adds extra heaviness to your hair, which weighs it down instead of letting it poof sideways.
You might also want to consider getting layers for your hair if you want to show off your natural waves or curls this season. It gets rid of that bulky look that most women with thick hair have, while still enhancing your natural texture for that beachy, bohemian vibe.
7. Beat the Heat Through Hairstyles That Keep You Fresh and Cool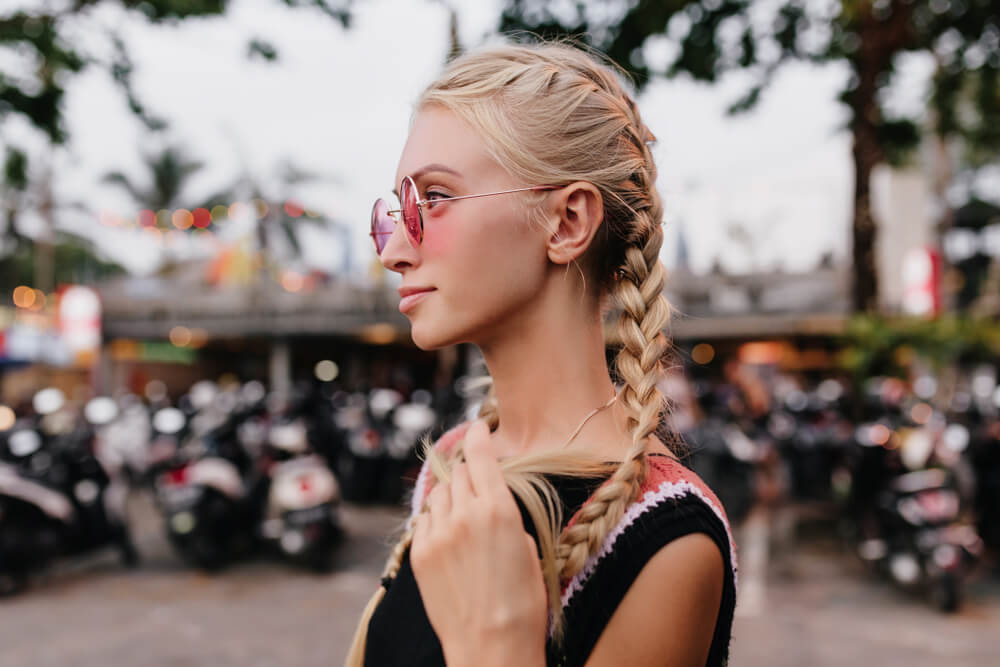 Our last hurrah in this list of hair tips for summer is to keep your hair in styles that will help you beat the heat. Sweat doesn't really have any detrimental effects on your hair, but it's still an annoying problem to deal with when you're just trying to have a good time on your vacation.
To avoid ruining your hair by sweating so much, tie your hair up! You can experiment with all kinds of updos to beat the heat. You can play around with braids, high ponytails, and the oh-so-trendy space buns. You'll look cute and keep yourself cool even when the weather is extremely hot.
Instead of doing a full fringe, try rocking curtain bangs instead. This will keep your forehead from sweating so much (and possibly breaking out).
Conclusion
And there you have it, our top hair tips for summer to help ensure that you'll have the healthiest-looking, most gorgeous locks ever even when you're more exposed than ever to the hot sun. Nothing should stop you from having the best summer ever, so keep these tips in mind to prevent sun-damaged locks.
To power up your summertime hair game even more, treat yourself to more of Nubi's bestsellers here.