Want locks that feel soft and luscious? With so many ingredients on the market, it can get pretty overwhelming when you're on the lookout for a hair product that will work.
However, whether you opt for hair mousses, leave-in conditioners, nourishing masks, or anything else, there's one ingredient that has withstood the test of time, making it a must-have ingredient in your hair care regimen.
Enter, marula oil…
What is Marula Oil?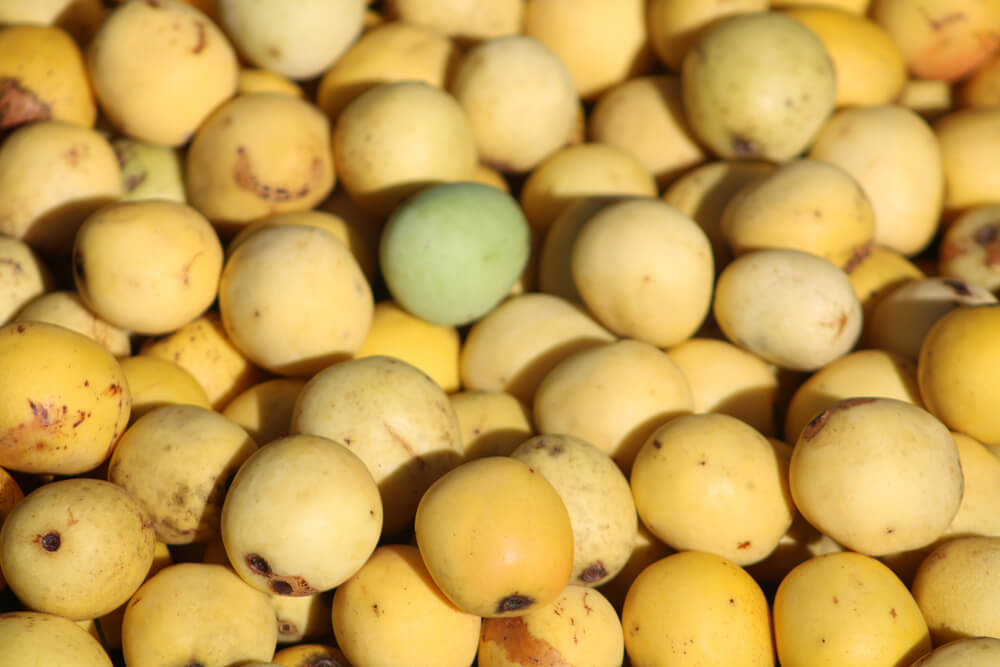 Marula oil isn't a newbie to the world of beauty oils. Its light texture and high moisture content have made it a popular skin, hair, and nail ingredient.
Parts of southern Africa are home to the marula fruit tree (Sclerocarya birrea). Marula oil is collected mostly from these nut kernels, but you can also get it from the husk of the nut.
It's been on the beauty industry's radar for the longest time, and with good reason too! This lightweight oil is full of antioxidants and makes a fantastic hair moisturizer, perfect for taming the appearance of your frizzy mane.
Marula oil is used as a base note in a variety of products, including fragrances, body lotions, and soaps. With a warm, nutty undertone and a delightful, floral scent, it is loved by everyone's noses.
Because of its myriad benefits, Nubi Hair infuses marula oil into some of our products to bring you the very best formulas. Keep reading to learn why this ingredient is so sought-after. 
Benefits Of Marula Oil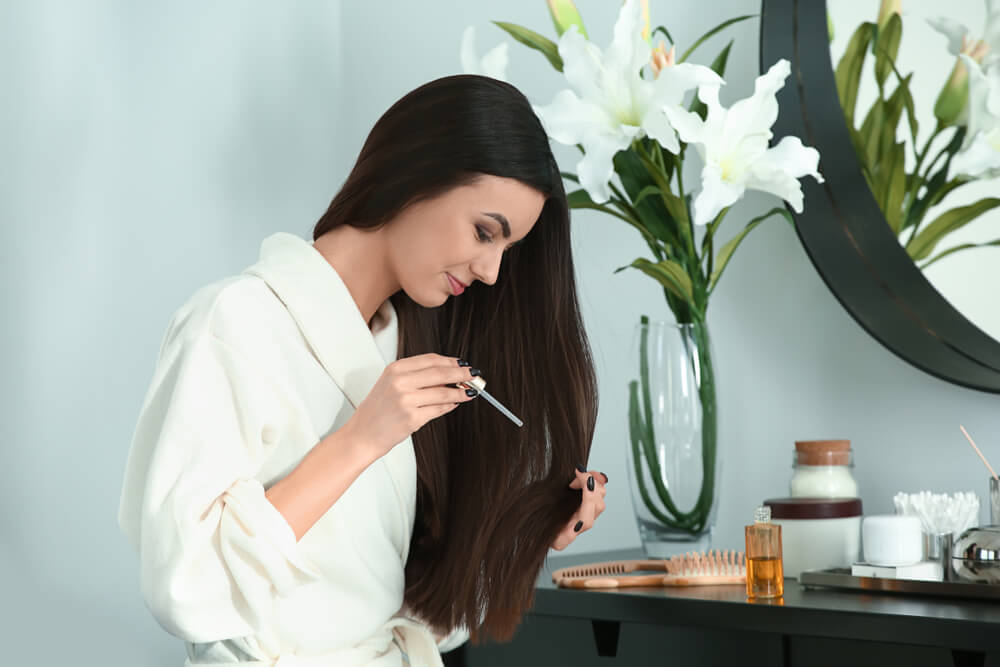 In a nutshell, marula oil is an occlusive ingredient. This means that it helps your hair retain moisture and stops any loss of moisture from taking place. Because marula oil has a light texture and absorbs quickly, it won't leave your hair looking oily or weighed down. This makes it great for styling. In addition, marula oil can immediately dissolve into the hair. This makes it great for dry hair and adding shine.
Besides that, Vitamins C and E are abundant in marula oil. They help to add moisture to hair follicles. 
Marula oil can also add shine to your hair and reduce the look of frizz. A few drops of this golden elixir can seal and coat your hair's cuticle, giving you lustrous locks.
Besides that, marula oil also contains 78% oleic acid, allowing it to penetrate the hair shaft and lock in moisture. 
A fatty acid from the Omega-6 family, linoleic acid can be found in marula oil as well. This compound keeps your hair looking moisturized and soothes the feeling of inflammation. 
How Do I Use Marula Oil in My Daily Hair Routine?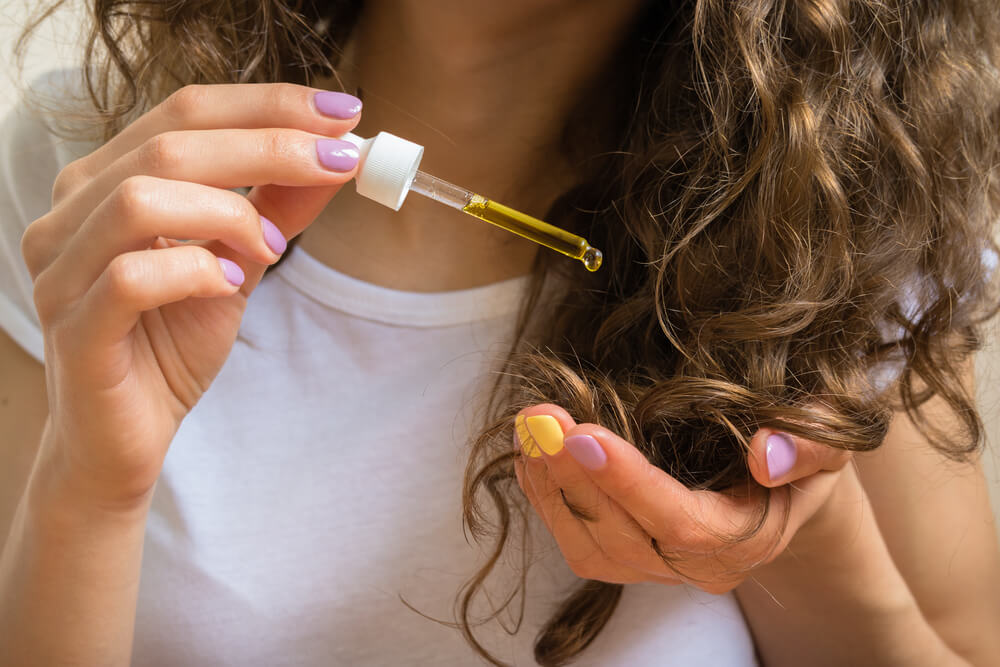 There are numerous ways you can incorporate marula oil into every aspect of your hair care routine! 
Dealing with split ends because of dehydrated strands? Marula oil can help. If your hair is on the fine side, just apply a few drops of marula oil, but you can add more if you have thick, curly locks.
Struggling with dandruff? Try rubbing marula oil into your scalp and massaging it for 15 minutes. Marula oil is non-comedogenic and will dissolve quickly, making it the perfect oil to treat your scalp, so don't worry about clogging your pores. 
Got coarse hair? If you have coarse hair, using marula oil as a thicker deep conditioner is an efficient way to deliver moisture to your strands. Put on a shower cap and sit under a hooded dryer or use your blow dryer to give yourself a DIY scalp massage to ensure that your hair fully absorbs the oil.
Pure marula oil is great, but you also have the option of purchasing hair care products that have been infused with marula oil, such as those that we have here at Nubi Hair. Read on to learn a little more about how you can use Nubi's products to add marula oil to your hair care routine:
First, Wash Away Grime, Sebum, and Sweat with This Shampoo
The key to a great head of hair starts with good hygiene. Shampooing removes the oils called sebum that accumulate on our scalp. Sebum, which comes from our sebaceous glands, can cause dandruff and clog the pores on our scalp. So, shampooing your hair is a fundamental step that you shouldn't miss out on.
That's why selecting the right shampoo is important when it comes to your beauty routine.
Nubi Hair's Nourishing & Moisturizing Shampoo makes it simpler to detangle hair after shampooing since your hair strands feel smooth, making your hair look silkier and shinier. In addition, proteins and oils from several plants are included in this concentrated formula, which hydrates from root to tip, preventing your locks from feeling dry.
Then, Pamper Your Hair From The Root To The Tips With This Conditioner
Shampooing is one thing, but conditioning is another. Applying conditioner to your hair is extremely important because, with conditioner, your hair's cuticle feels smoothed and your mane looks volumized. 
Nubi Hair's Nourishing & Moisturizing Conditioner makes an excellent pair with our shampoo. Because this product contains proteins produced from plants and olive oil, this unique blend of agents helps moisturize the scalp. As a result, your hair will look energized, frizz is reduced, fewer flyaways due to static, and your tresses will look glossier than ever.
Marula Oil Makes a Great Heat Protectant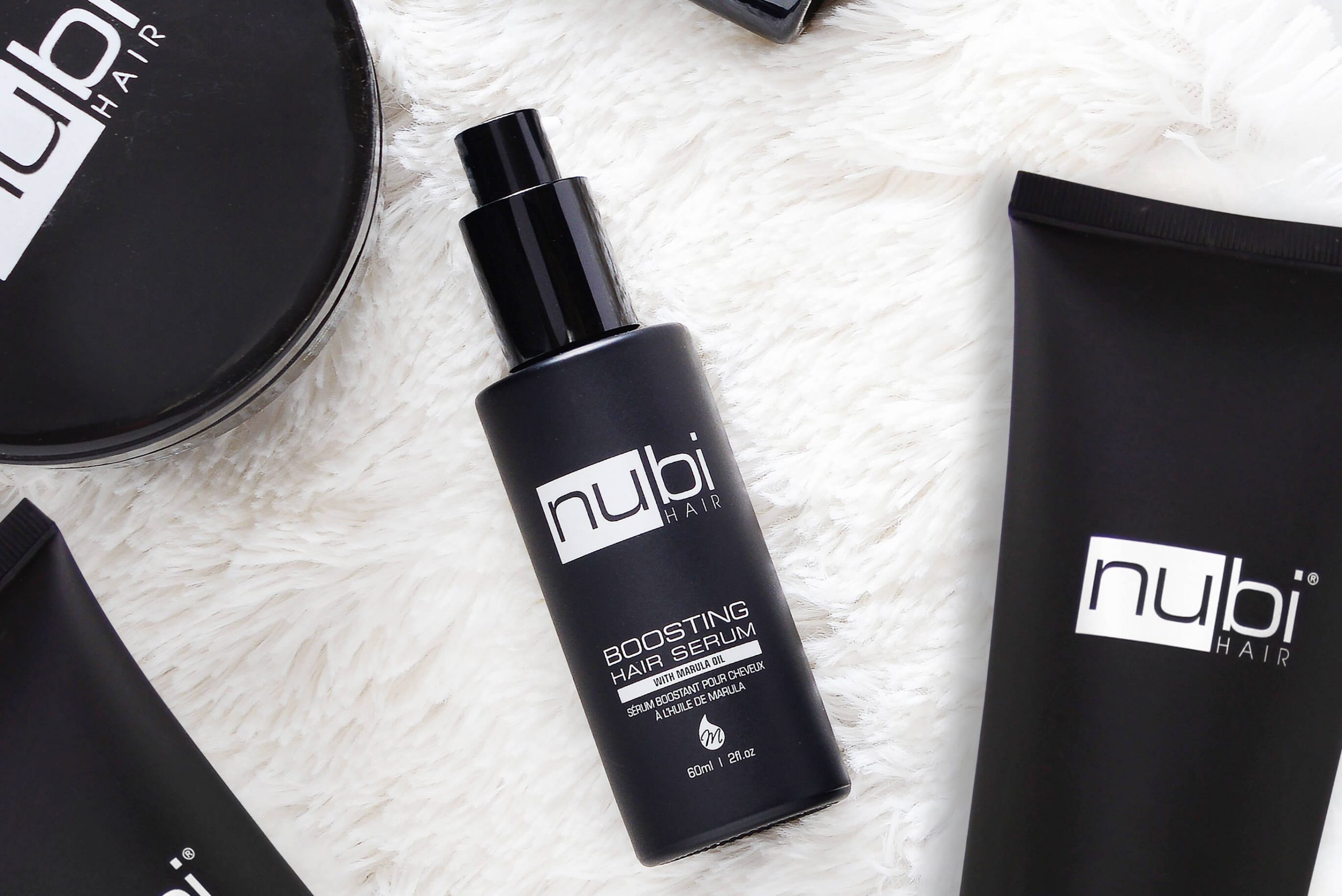 Heat styling has become ubiquitous in our daily lives, and our hair probably sees more heat than the scorching summer. That's why it's crucial to protect your hair from the heat, so you won't have to deal with brittle, damaged locks.
Marula oil is an excellent heat protector if you frequently use hot styling products like curling irons. 
Heat protectants act as a barrier between your hair and your styling tool.
The Nubi Boosting Hair Serum with Marula Oil makes your hair feel smooth and manageable by preventing frizz and moisturizing your strands.
If you're wondering how you can use this hair serum, it's simple! We'd recommend that you use it on freshly washed hair. Apply this serum from the roots to the ends of your hair to help prevent frizz, then run a blow dryer through your hair.
You'll enjoy hair that feels softer and smoother after incorporating this serum into your hair routine.
Can I Use Marula Oil on My Skin?
Because of its lightweight texture, your skin absorbs marula oil quickly. This property makes it work well as a moisturizer for dry or mature skin. It may help smooth and soften the look of fine wrinkles, reduce the appearance of stretch marks, and keep skin moisturized. It also has a moisturizing effect on the lips.
Marula oil is also a good moisturizer for oily skin and acne because it is non-greasy.
How Can I Use Marula Oil on My Skin?
It's quite simple to apply marula oil to your skincare routine. Because moisturizers and serums can't penetrate oily skin, face oil should be the last step in your skincare process. So, once you've cleansed, toned, and moisturized, take two or three drops of marula oil and gently dab it on your face. Tap it in, and this action will allow the oil to absorb quickly into your skin.
Summary
All in all, marula oil is a fantastic ingredient to incorporate into your daily hair routine. Touted as a potent antioxidant, using marula oil as a hydrating serum has loads of fantastic benefits.
When it comes to choosing the right beauty products, marula oil is an excellent choice for the upcoming cold weather months. It could be the answer to the skin and hair of your dreams.
So, there you have it! The wonders of marula oil and how great it is for your hair (and skin, too), all in the Nubi Hair range that's available on our website.