A new year signals a new wave of trends, from fashion to skincare to hairstyles. If the past year has been a tough one for you, 2022 is the perfect opportunity to shake off the negativity. It's a blank slate, an opportunity to reinvent yourself.
While it can be hard to change the circumstances around you, you can refresh the way you feel by changing up your look. Whether you are looking for a subtle change or a hairstyle that can pull you out of your comfort zone, Nubi Hair has listed down new year hair trends worth trying below.
Hair Care Basics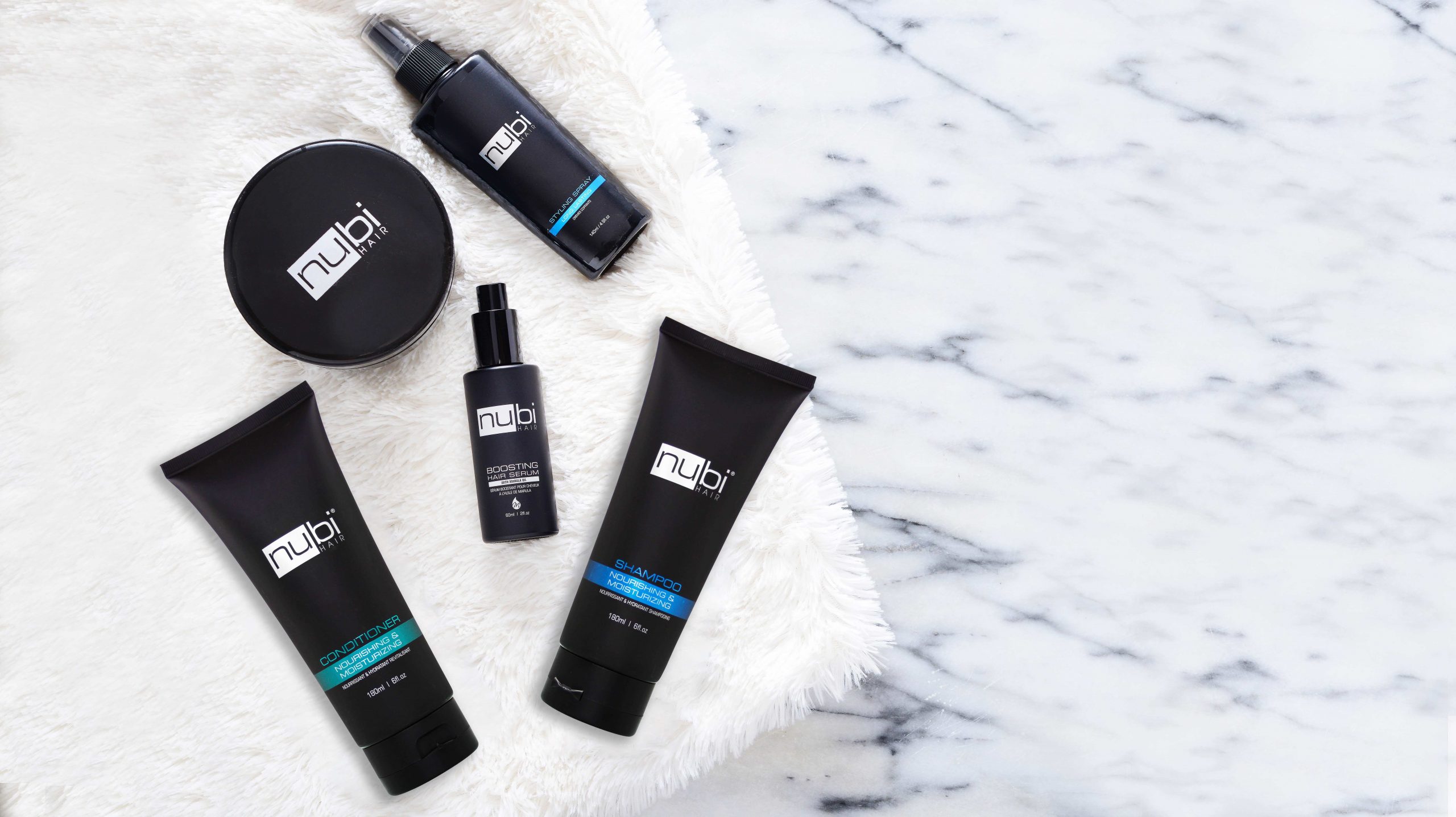 Before we discuss new year hair trends, it's important that we first cover the fundamentals. If we're talking about changing your hair and styling your locks, the fundamentals you need to master are the steps of a good haircare routine. Regardless of your hairstyle or hair color, the condition of your hair can make or break your look. Remember, if you're looking to change up your usual hair, your locks also need to be healthy enough to withstand styling.
Here are a few essentials to get you started:
Nourishing & Moisturizing Shampoo
A Nubi best-seller, the Nourishing & Moisturizing Shampoo is enriched with Hydrolyzed Soy Protein. By strengthening and repairing damaged hair fibers, this ingredient boosts the hair's moisture-locking capabilities. This results in improved shine. Olive oil, which has been used to improve hair conditions for thousands of years, is also present in the shampoo's formula. Beneficial for thick, dry, processed, or damaged hair, Olive Oil has deep moisturizing effects. It also improves moisture by working in two ways: penetrating the hair shaft and coating the cuticle of the hair.
Nourishing & Moisturizing Conditioner
The perfect follow-up to Nubi's signature shampoo, the Nourishing & Moisturizing Conditioner delivers unparalleled shine and smoothness. After cleansing the scalp and hair, this conditioner reduces frizz, prevents dehydration, and reduces breakage. Similar to the Nourishing & Moisturizing Shampoo, this product also hinges on the moisturizing properties of Olive Oil and Hydrolyzed Soy Protein. 
Hair Boosting Serum with Marula Oil
Whether you're looking to add a little moisture to your mane as it dries or protects it before styling, Nubi's Hair Boosting Serum is just what you need to get the job done. Marula Oil is the standout ingredient in this serum. A multitasking super ingredient in haircare, Marula Oil improves the hair by:
Locking in moisture

with fatty acids

Adding texture and shine, without a greasy finish

Repairing the damage and preventing split ends with abundant antioxidants
Styling Spray
While Styling Spray is a hairstyling product rather than a haircare essential, it comes highly recommended for achieving a variety of new year hair trends. Set your hair with just a few spritzes and you'll be good to go!
New Year Hair Trends
Hair has long been considered a form of self-expression. According to the Chertsey Museum, hair styling practices date back to the era of the Roman Empire. Today, expressing our personalities and moods with our hair has remained just as important. 
As we close out this year and embrace 2022 with open arms, pursue the chance to redefine yourself with a brand new look. Consider trying out these new year hair trends:
Impeccable Curls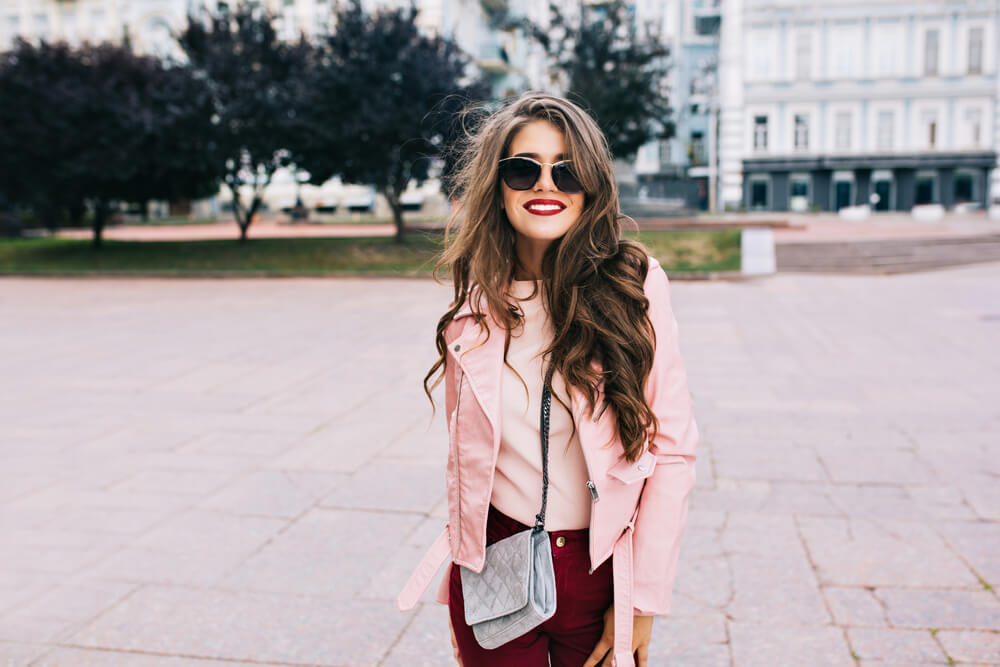 Trends come and go, but it seems that some hairstyles are forever. Case in point: these stylish pin-up-style curls. Effortlessly stylish yet flattering on almost every face shape, this look is a foolproof option for new year parties and every occasion thereafter. 
How to Get the Look:
Apply a couple of pumps of Nubi's

Hair Boosting Serum

to damp or dry, second-day hair. Distribute the product by dispensing it onto your hands and running your fingers through your hair, making sure to concentrate on the lower half of your strands. 

If working with damp hair, let it air dry completely before proceeding.

Use the

Simply Sleek Crush from Nubi's The Set-Up

to dry and straighten your hair. This will diminish any frizz while simultaneously brushing out your locks.

Part your hair into two pigtails. Working on one side at a time, take a two-inch section of hair and wind it outwards around the

Sleek Curl Wand from Nubi's The Set-Up.

Starting mid-way through the hair shaft, work your way to the ends of the hair. Keep your hair in place for a few seconds before letting it unfurl from the curling wand.

The Sleek Curl heats up quickly and evenly, distributing heat equally throughout its tapered barrel.

It measures one inch at the base and three-quarters of an inch at the top, making it a versatile styling tool.

Repeat the process for all remaining sections of hair, ensuring to curl in the same direction. Once the first side of your head is complete, move on to the next side and repeat the process.

Comb through your hair with a brush or your fingers to slightly loosen the curls.

Once you're satisfied with the look, spritz your hair with the Nubi

Styling Spray

to hold it in place.
Short Shag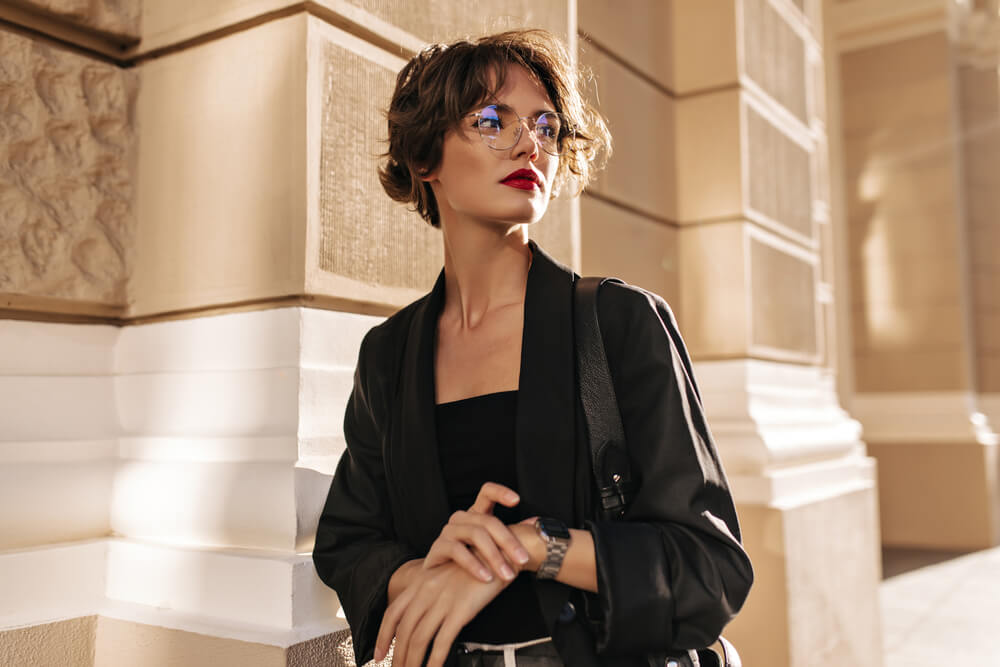 The world has a fixation with all things vintage, especially in the realms of pop culture, music, fashion, and beauty. We've seen retro-inspired aesthetics take over social media in the past few years and, according to 2022 trends, that isn't going to change anytime soon. If you want to achieve a '70s rock-and-roll look with a casual twist, consider opting for the short shag.
If you're drawn to this particular look, be sure to ask your hairdresser for piecey, razored layers that frame your face. Play around with the length: go with a jaw-grazer if you want to keep it universally flattering, or dare to go even shorter for an edgier look. Once you've got the haircut, here's what you need to do to style it…
Styling a Short Shag:
Start with dry second-day hair. Work a few pumps of Nubi's

Hair Boosting Serum

through your locks, making sure to distribute the product well from root to tip.

Choose a straightener depending on your hair length. If your shag is on the shorter side, right around the ears or shorter, you may want to choose a one-inch flat iron like Nubi's

Get It Straight 1" Ceramic Straightener. Otherwise, one with slightly larger plates like the Straight Up 1.25" Ceramic Straightener

should work just fine.

While ceramic flat irons take a longer time to heat up compared to those fitted with titanium plates, ceramic plates are safer for beginners and home use.

Compared to titanium, ceramic iron plates are also gentler because they use infrared technology. This makes them a better match for finer hair types overall.

Take a section of hair ranging from one to two inches in size. Clamp the flat iron down on the section, making sure to maintain at least a few inches of distance from the root. 

Clamping down on the section of hair, begin to turn your flat iron outwards. Let the hair travel through the iron until it has been fully curled. This should leave you with a curled tendril of hair. 

Continue curling the rest of your hair using your straightener, alternating the direction of the curl each time. To create a more natural look, change the size of the sections each time, alternating anywhere between one to two inches.

Once all your hair is curled, rustle your mane with your fingertips. Loosen the curls until you achieve a lived-in, effortless look. 
Strategic Layers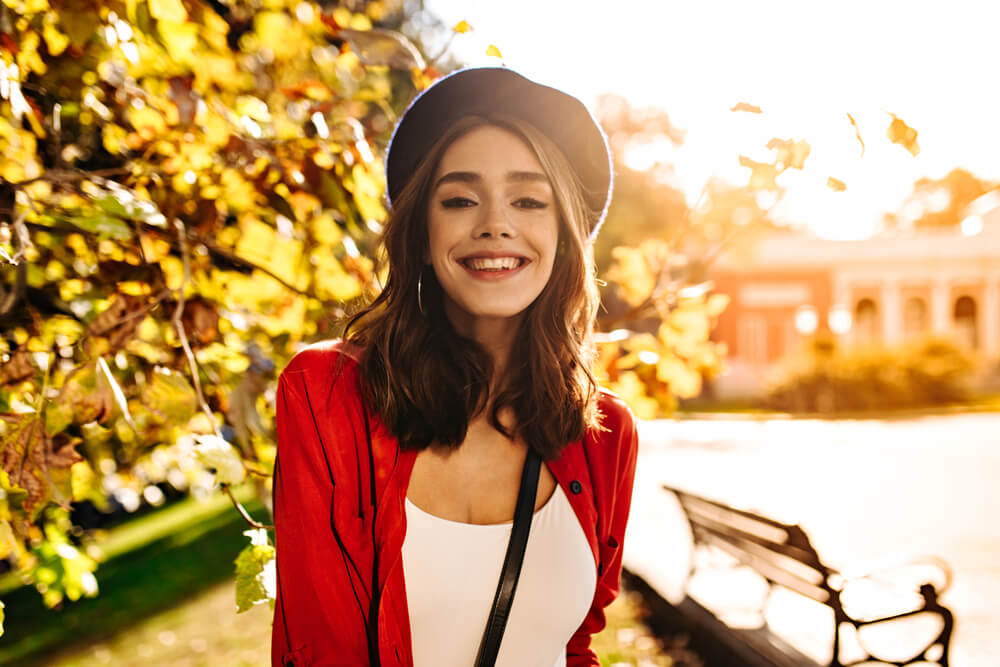 Another classic hairstyle that has stood the test of time is the shoulder-grazing lob cut. Perfect for those who want the versatility to straighten or curl their hair, this length is a safe zone that can accommodate every face shape. However, in 2022, we expect to see an upgrade by way of strategically snipped, face-framing layers. 
How to Style a Layered Lob:
Brush out your locks to eliminate tangles. Part your hair into four sections: two at the bottom of your head, and two at the top.

Take Nubi's

Simply Sleek Brush. Fitted with a ceramic surface and hair-smoothing bristles, this tool is a brush and a hot styling tool in one lightweight device.

While it comes with five adjustable heat settings, you'll want to stay on the lower end of the heat spectrum as you brush out each section until it is completely smooth.

Repeat this process for every section, brushing on low heat until the hair is smooth and bouncy. If you have fringe or curtain bangs, add a little volume by flicking the wrist while brushing away from the roots.
Voluminous Curls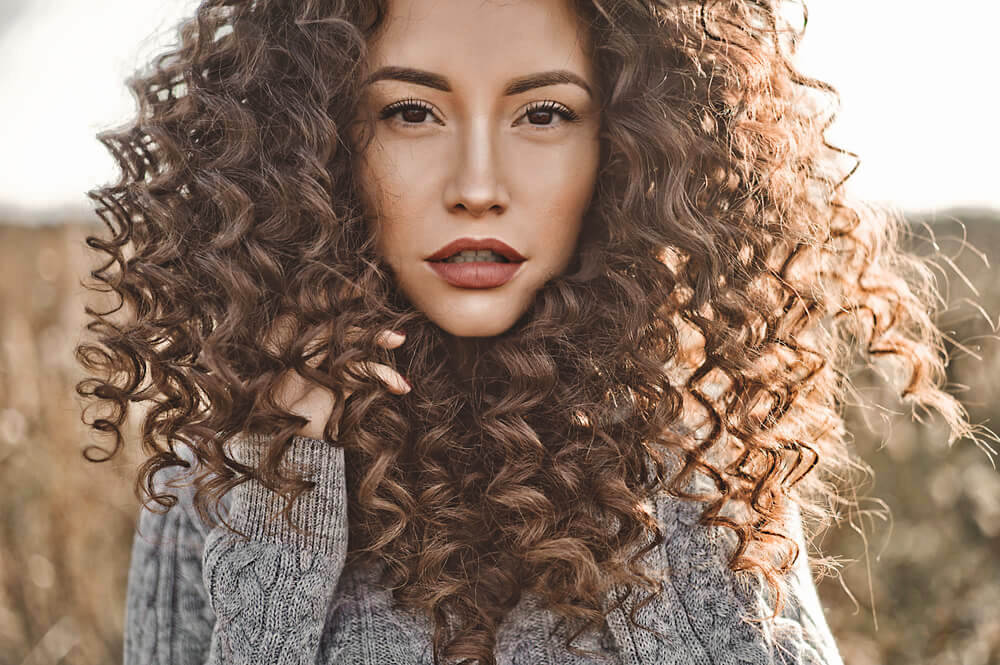 If you've always dreamt of being the life of the party, one of 2022's new year hair trends might help you attain that dynamic energy. Amplify your presence and turn heads with unapologetic, voluminous curls. 
How to Get the Look:
Generously protect your hair with the

Hair Boosting Serum

from Nubi. To effectively get the serum on your locks, you may want to section your hair before applying the product.

Clip up the top half of your hair. Using Nubi's

Sleek Curl

curling wand, start wrapping your hair around the tool. Start close to the base to get as wide a curl as possible.

Gently release your hair from the curling wand. Let it cool for a few seconds, and curl it once more around your finger. Bunch the curl up close to your scalp and pin it in place with a bobby pin. If your hair is thick or long, you may need more than one bobby pin to do this. 

Repeat the process of curling and pinning across your entire head. 

Once all your curls are pinned in place, spritz a generous amount of the Nubi

Styling Spray

. To prevent the curls from getting too stiff, make sure to hold the bottle roughly six inches away from the head as you spritz the product.

Unpin all your curls one by one. Start from the area closest to your neck, and work your way up to the crown of the head. You should be left with well-defined, bouncy, and long-lasting curls.
Blunt Bangs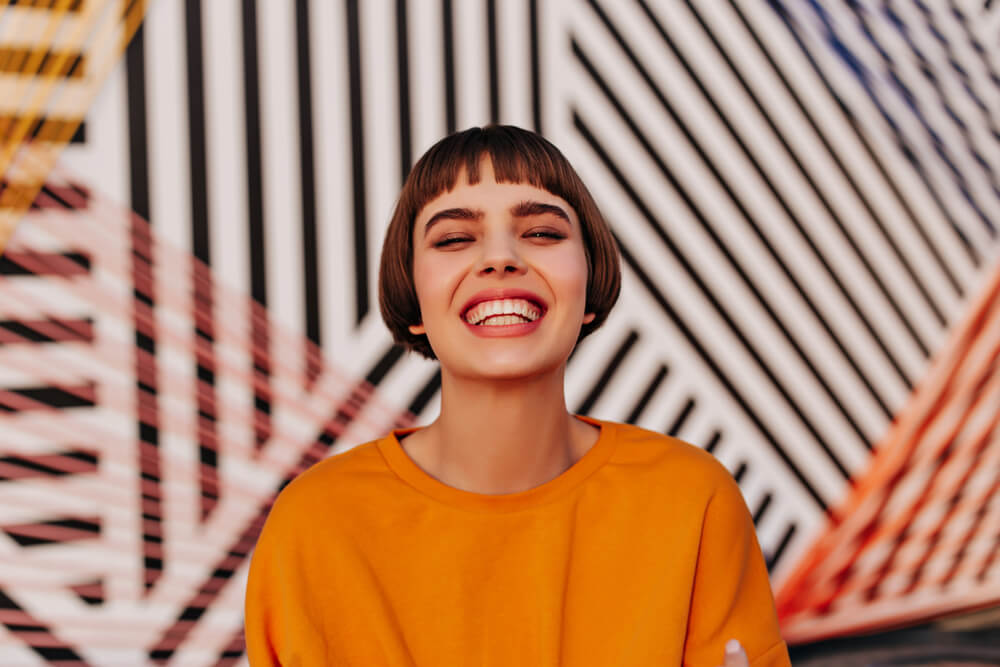 While curtain bangs and side-swept bangs had their moment in 2021, next year signals the comeback of the full fringe. Whether micro, brow-grazing, or eyelash-skimming, blunt bangs are best paired with a cropped bob for a chic yet youthful look.
This is one of the more intimidating new year hair trends, as a fringe takes time to grow out. But there's no time like the new year to jump the gun and try something different, so why not give it a go? 
How to Style Blunt Bangs:
Work a couple of pumps of Nubi's

Hair Boosting Serum

through your locks. 

Using a small round brush and Nubi's

Blow Me Away

blow dryer, dry your locks one section at a time.

Designed to work well with even the most fragile hair types, the Nubi Blow Me Away is fitted with a high-performing fan and comes with three temperature settings.

Start at the root, working your way away from the head. Rotate the brush outwards as you approach the tips of your hair to achieve a soft, springy effect.

Repeat this process until all your hair has been brushed and dried. 

Adjust the Blow Me Away dryer to the lowest heat setting and carefully dry your bangs. Maintain volume by running your fingers through your fringe while drying.
How do you plan on welcoming the new year? Let 2022 be a year of fresh beginnings and unfamiliar experiences. Whether you feel like you've been holding back on expressing yourself or simply want a change of scenery, switching up your hairstyle for the year can be more invigorating than you might expect.
Are you ready for a change? Breathe life into these new year hair trends with Nubi.