In case you missed the memo, bangs are back. And believe it or not, we couldn't be happier about it!
From beautiful blunt-cut bangs to chic curtain styles, here at Nubi Hair, we love them all. What we don't love is spending tons of time styling our bangs every morning, only for them to look a complete mess moments later. The solution? We need the perfect bang curler to keep our style in check. After all, with wind, humidity, AC, rain, and every other element out there to contend with, the struggle is real!
Luckily, we've found not only the best bang curler out there but some straighteners and blowdryers that do a flawless job too. We're also ready to reveal the tips and tricks we've learned to live by when it comes to styling your bangs, no matter your plans or the forecast. Keep scrolling, better bangs await…
What are Curled Bangs?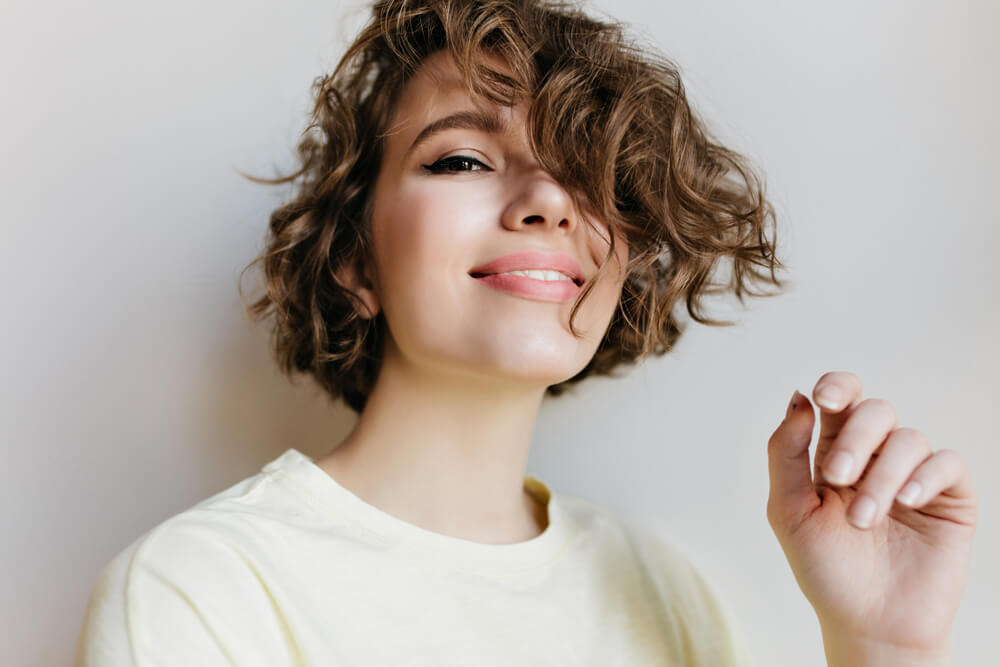 When we talk about curling our bangs, what exactly do we mean?
Well, it could be one of two things. Firstly, if you're looking for a fun, fresh, natural look that works perfectly with your natural curls or with your heat-created ones, you can quite literally curl your bangs as you would your hair. The result? Playful spirals throughout your bangs that create tons of texture and dimension within your hairstyle. At the same time, they'll draw plenty of attention to your facial features too. 
Secondly, when we talk about a bang curler, we often mean a tool that allows us to create that one consistent, subtle curl/curve throughout our bangs. This gives them bounce, volume, and shape. It makes sure they sit just as we'd like them to throughout the day. This technique is perfect for pretty much any fringe, whether you're working with super chic trending curtain bangs or cute baby bangs for a 90s twist to your look! 
Whichever bangs style you're trying to create, the bang curler tools we're about to talk about will definitely be able to help you create the look you're coveting. Now, without further ado…
Which is the Best Bang Curler?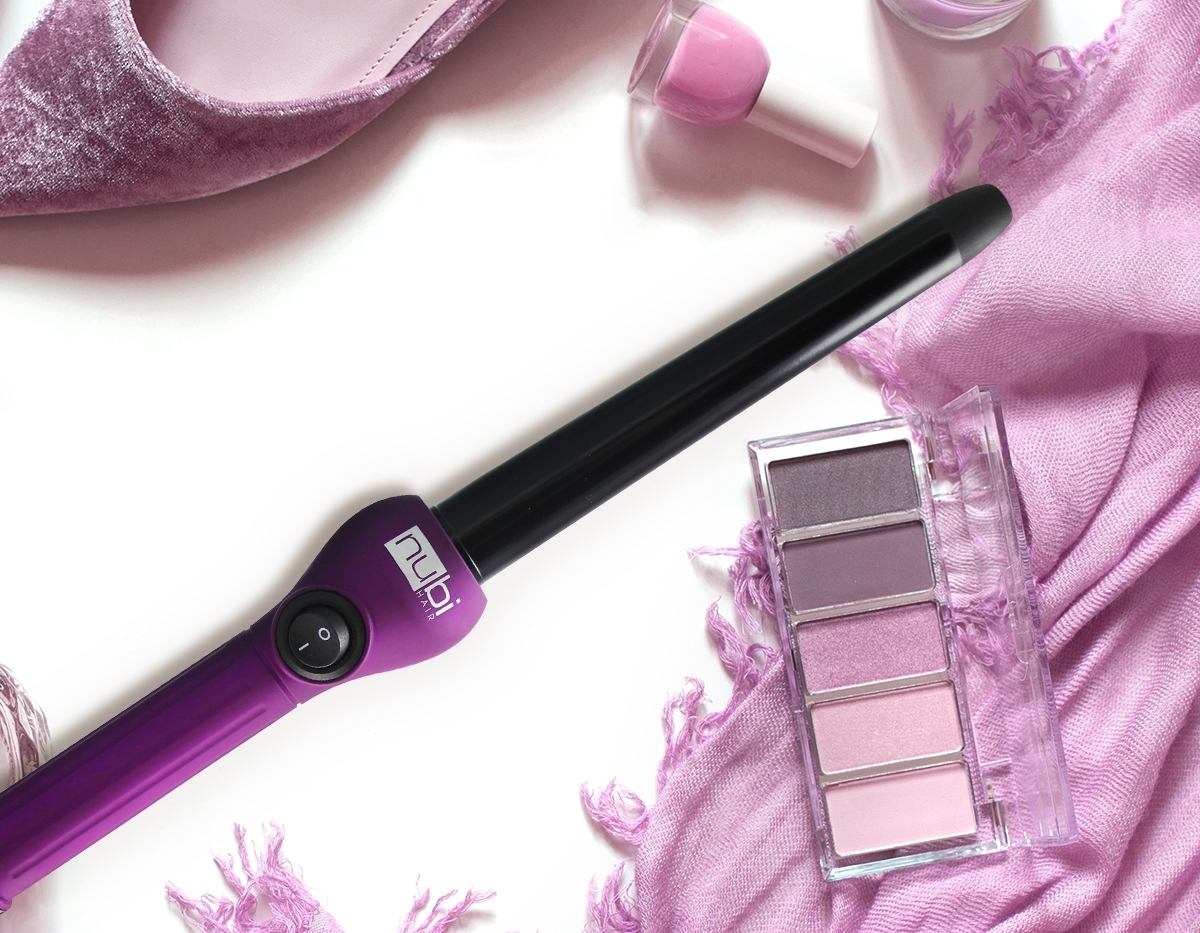 When it comes to the perfect bang curler, we can't recommend The Set Up kit enough! Reach for the amazing Sleek Curl Clipless Wand whenever you need to create smooth, shiny, long-lasting, salon-quality curls. 
And, whether you're pining for ultra-fine, bouncy lightweight curls that softly frame your face and draw attention to your features or some heavy spiral-type curls to make a real statement with your bangs, this bang curler is the best! 
Why?
Firstly, this wand is, as you might have guessed from the name, clipless. Therefore, it's easy to simply wrap your bangs around the barrel and hold them in place with your fingertips, no matter how long or short they happen to be. This also means you won't ever develop that unsightly clip line synonymous with hair curling tongs. Especially great as those lines can be super noticeable when they're so close to your face!
Secondly, our amazing wand is incredibly lightweight. Now, that might not sound particularly exciting or important. However, when you start thinking back to all those times your arm started to ache and you needed the support of both hands just to keep holding your curling wand in place, you realize what an essential feature this really is! Also, its slick, Teflon-coated 3/4" – 1" barrel allows you to wrap, set, and release bangs of pretty much any length or thickness. 
Lastly, if your hair needs a little taming to get that silky-smooth finish before you start curling your bangs, the Simply Sleek Brush can definitely help! This brush is designed to deliver heat evenly and gently to the hair as your strands simply pass through the prongs. This means they're only sweeping past the heat rather than being clamped down in between two plates which over time can be seriously damaging to your hair. No, instead, this brush will tame unruly treses giving you the perfect soft, smooth base you need to start creating your curls throughout your bangs. 
Can I Use a Straightener as a Bang Curler?
Wondering if your beloved straightener could work overtime to curl your bangs? The answer is yes! Though you may have never realized it before, your straightener is the perfect bang curler, no matter the thickness of your hair or how long/short your bangs are (within reason of course!).
And yes, in case you were wondering, they can create literal curls throughout your bangs (again, provided you have enough length). They can also be used to create that one smooth curl/curve if you're looking to wear your bangs more traditionally with a soft shape and volume. 
So, which straightener do we recommend using both for straightening and as a bang curler?
The Nubi Hair Soft N' Straight 1.25" Ceramic Pink Styler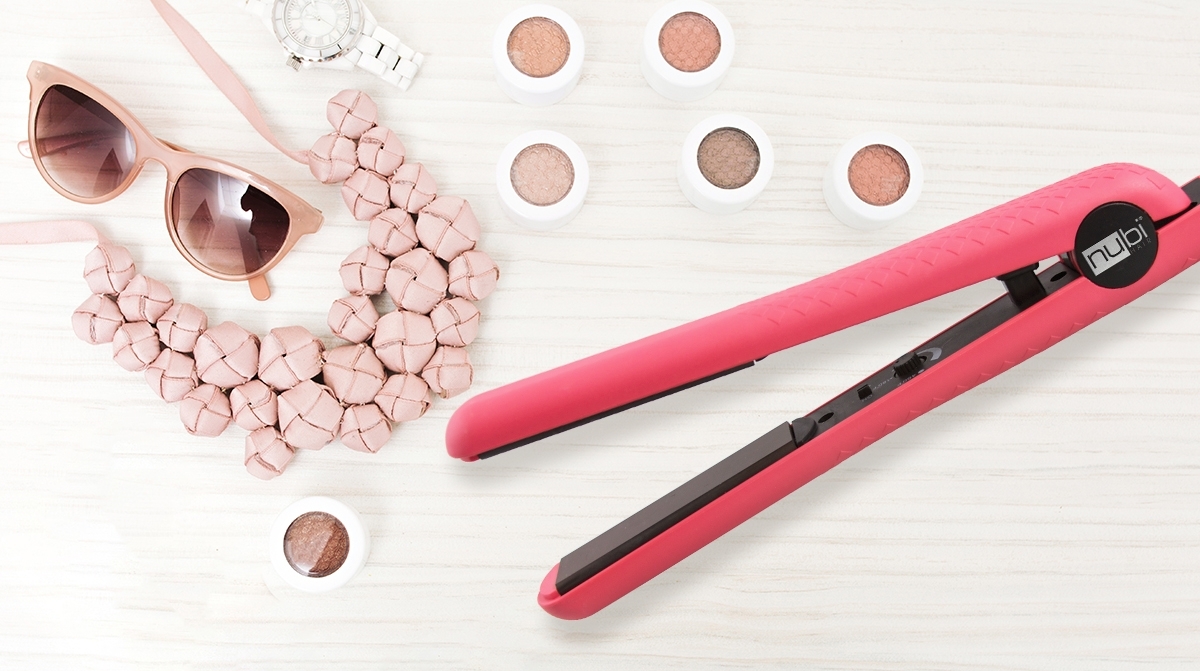 For so many reasons, this amazing straightener is always top of our list when it comes to creating pretty much any heat style.
It works perfectly for all hair lengths and types – therefore, this is the perfect straightener to use. This applies no matter which length or style of bangs you're rocking
It has perfectly sized 1.25" ceramic floating plates – floating plates mean easy movement and minimal snagging. Essential when we're styling the sections of hair that are most noticeable and nearest to our faces
They have a rounded edge – this curved outside edge makes creating that fluid curl or curves through your fringe so much easier than if the edges were straight. Nobody needs accidental crimping!
Reaches temperatures from and to 180-450 degrees Fahrenheit and has an adjustable temperature setting – being able to control the temperature of any heat tools you use to style your bangs is an absolute necessity. Very high temperatures are not recommended for styling bangs as they can be quite fragile. Therefore, being able to lower the heat to a low or medium setting means you can happily style and re-style your bangs with your chosen bang curler without worrying you'll cause any damage!
Negative Ion technology – this technology will prevent frizzy, flyaway strands throughout your bangs. It'll leave them looking and feeling soft, smooth, and shiny.
Satin coating for comfortable grip – though the way your bang curler feels in your hand might not be the most important thing, it sure does help. Especially when you're reaching for this heat tool on repeat, then comfort is key!
360-degree swivel cord – as we all know, effectively curling and styling your bangs is no mean feat, It often means we're getting our hands and arms into the strangest angles and configurations to make it work! With that in mind, having a cord that's able to swivel right the way around will make things a whole lot easier!
Remember – Ceramic Plates are Perfect for Bangs!
Also, as we mentioned earlier, this straightener has ceramic plates. This means they're gentle on your hair. This is essential when it comes to heat styling hair anywhere on your head but is especially important when it comes to your bangs. Not only is this section of hair a lot more fragile since it's usually shorter and finer than the other sections of hair, but it's also going to be a lot more noticeable should you accidentally damage the hair in any way. Frazzled ends and frizzy, flyaway strands are a friend to nobody's bangs!
There's No Way I Can Use My Hair Dryer as a Bang Curler…Right?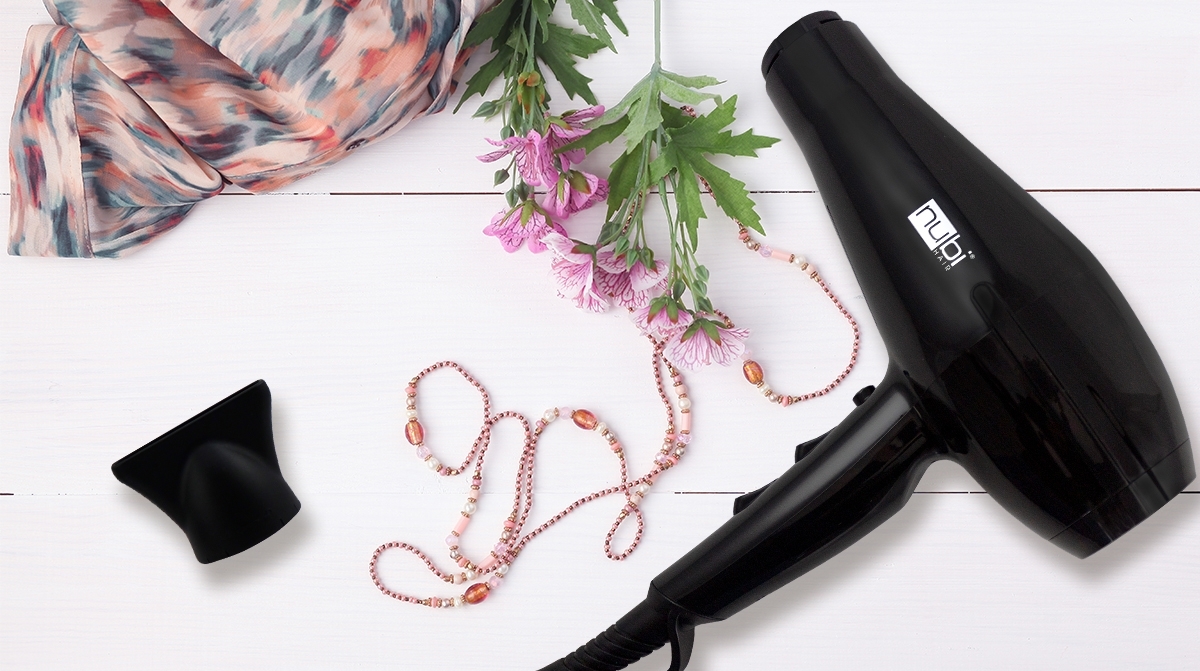 Wrong! You can totally use your hair dryer as a bang curler! In fact, it's one of our fave ways to curl our bangs as we can get it done at the same time as we're styling the rest of our freshly washed hair. It also stays put all day long. This means we don't need to invest in new heat tools – especially if this is the only time we'll use them. 
First things first. If you need a great blowdryer to curl your bangs with, we highly recommend getting your hands on the Nubi Hair Blow Me Away model. This professional blow dryer is designed to help you achieve the salon-quality hairstyle of your dreams in your very own home. And yes, that includes curling your bangs.
And, whilst we don't recommend using this method for spiral curls, it works perfectly for curtain bangs and blunt cut styles.
How to Get Curly Bangs
Now that you've picked out your ideal bang curler it's time to move on to the fun part – the curling! Nervous? Don't be! We understand that curling and styling the hair nearest to your face can be challenging and can feel daunting. After all, if you get it wrong, it could be tricky to cover up! However, we here at Nubi Hair have the ideal tips and tricks for you to follow. You'll be an instant pro, you'll see! 
First, remember that this particular curling technique will only really work on slightly longer fringes. You'll need to be able to wrap each section of hair at least 2-2.5 times around the barrel to get a proper curl. If that's not possible yet, wait until your bangs are a little longer first

Next, rather than sectioning out your bangs, leave the rest of your already curled hair down. This will help you to create a more fluid look between your longer curls and your bangs

Section off small pieces of hair from your bangs. They should be roughly 1-1.5 cm wide depending on the thickness of your hair. Wrap them gently around the smallest section of the barrel from the thickest to the thinnest part. Make sure the temperature setting is relatively low too
Hold the hair in place for a couple of seconds only so you don't create any heat damage. Then, release and continue to the next section

Pro tip: take it in turns to curl to the left and then to the right. This sporadic curling will create a much more natural look. It will prevent the curls from falling into each other and becoming one large curl!
How to Curl/Curve Your Bangs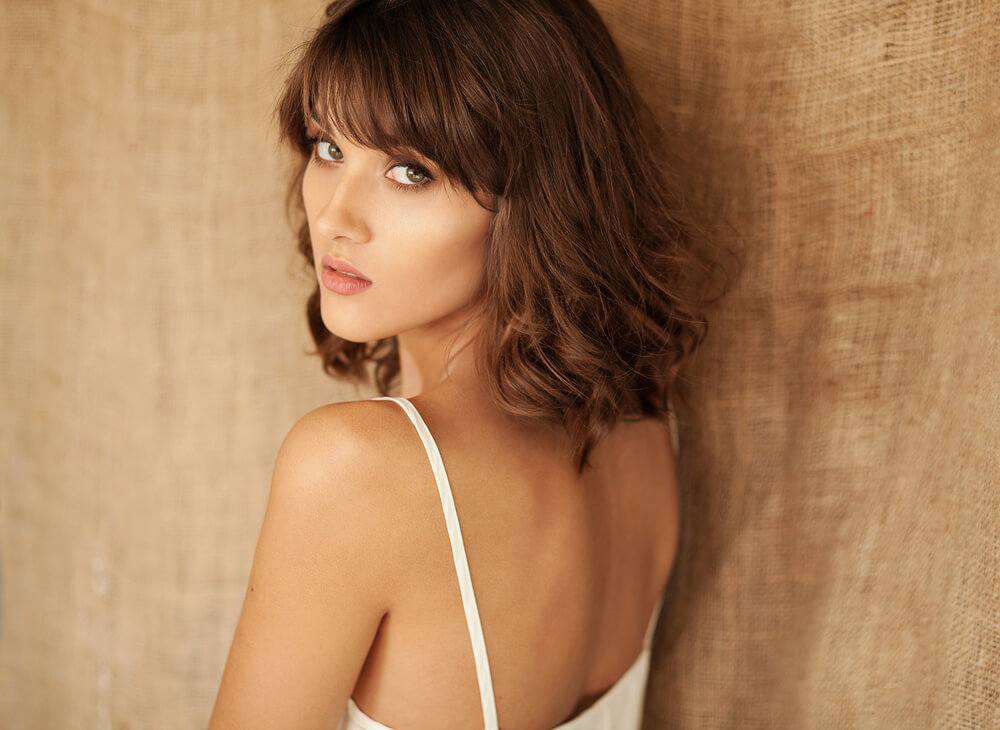 Curling your bangs might sound difficult but it's actually pretty simple as you'll see from our tick list below!
Make sure your hair is clean and dry and free of knots before you start

Then, simply take your bangs and pass them gently through the plates of your straightener making sure to curve the hair against the curved outer edge as you reach the ends. You can do this in a couple of sections if that's easier or you have particularly thick bangs

If it looks a little too bouncy, don't worry, this will drop out in a minute or two

If not, simply repeat the action (no more than a few times) and make sure to curl less towards the ends next time
How to Curl Your Curtain Bangs
Arguably the chicest bang style of them all, there's no denying that curtain bangs look incredible on everyone who wears them. They're also a great bang style to try if you know you want some shorter pieces near the front of your hairstyle but don't want to go the whole way with blunt-cut bangs just yet. Yes, we totally adore this style on every hair length, from beautiful bobs to super-long tresses.
The only problem?
Styling them can be a pretty tricky skill to master!
Fear not. We here at Nubi Hair have picked up more than our fair share of curtain bang styling tips over the years. And we are ready to help you get your styling routine down pat! 
Our top tip? Skip the straightener and pick up your blow dryer instead! 
Start with freshly washed, damp hair from the shower. Make sure it's tangle free

Then, take a round brush, and with your bangs parted, start to brush one side of the hair over to the opposite side 

As you reach the ends of the section stop and curl the brush in place back towards the side the hair came from

Then, with your blow dryer on the lowest setting, keep repeating this action as you dry the hair. Then, repeat it on the other side

This technique creates so much volume. It will leave your curtain bangs sitting perfectly from morning until night!
Conclusion
So, there you have it! Our complete guide to finding the perfect bang curler and making sure you get the right one to suit you, your bangs style, and your styling skills! Will you be opting for fun curled bangs this season? Or can you not wait to finally master those super-chic curtain bangs of your dreams? The options are endless and we guarantee, your bangs will have never looked better!
Click here to browse more bestselling styling tools from Nubi Hair.