Do you want to show a warm, loving sentiment to a loved one in your life? Hair is a very important matter, especially for women. The right look can give you all the confidence you need to take on the world! With the new year right around the corner, Nubi Hair invites you to a fresh, new start with our gift sets 2023!
If you don't know much about Nubi, our brand focuses on the old-school style of beauty but with a modern twist! We have some amazing skincare and hair care formulas and tools to give you an unparalleled experience. We've combined some of the gems from our extensive collection to give you the best gift sets 2023 has to offer!
So, let's take a closer look at these sensational packages.
1. The Master Set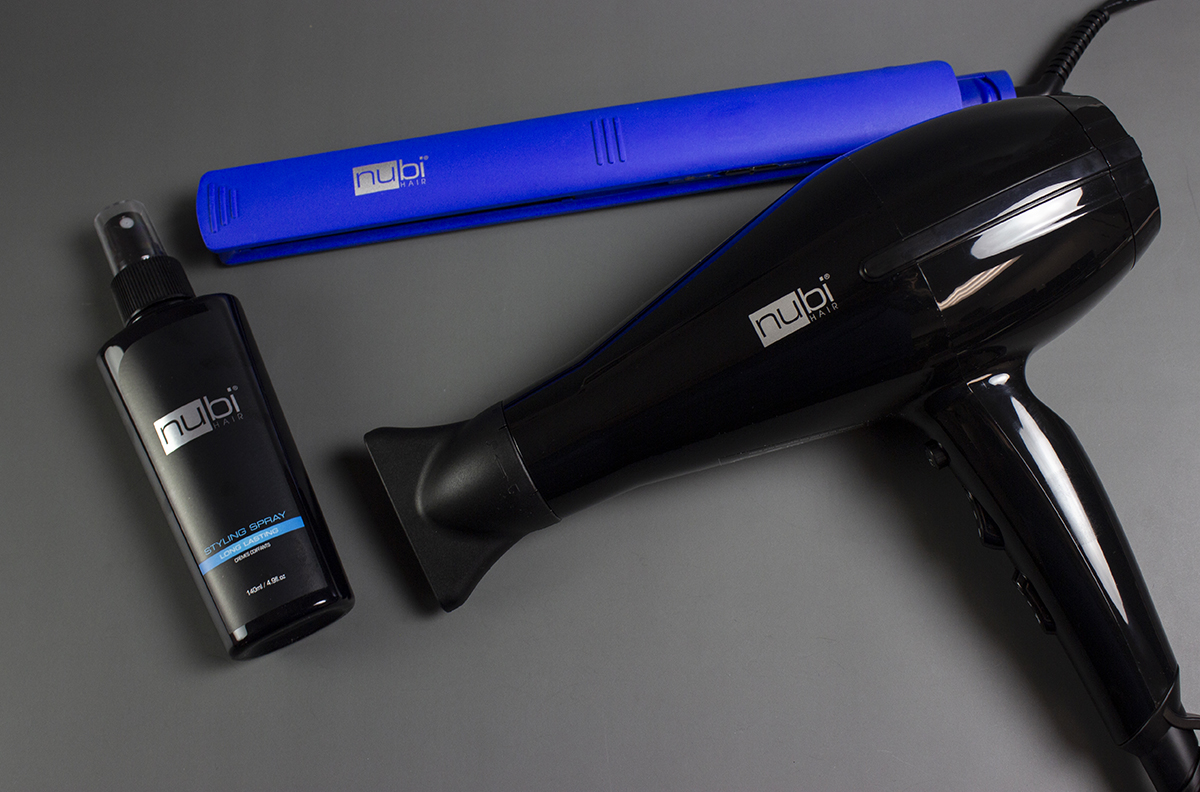 The Master Set brings you the perfect solution to add style and versatility to your hair care regimen. It doesn't matter what style you're looking for — silky-smooth, sleek and straight, or a more pronounced hairdo — because this exquisite collection of hair care tools and formulas will leave you speechless!
The Master Set includes the Sleek Control Straightener and our ultra-advanced Blow Me Away Hair Dryer to take care of all your hairstyling needs! But that's not all there is to a complete hairdo…you need something to put a pin in it! The Nubi Hair Styling Spray has you covered. Flaunt the ultimate, salon-like professional hairstyle you want with this exceptional Master Set. Let's take a closer look at each product:
Sleek Control Straightener
The Sleek Control Hair Straightener is very easy to use and gets your hair straightened just the way you want it! But it's not limited to straightening; you can also flaunt some breathtaking beachy waves and even flawless-looking curls.
The straightener incorporates 1" floating tourmaline ceramic plates to hold your hair properly and distribute heat evenly. Floating plates ensure that your hair is held at an optimal grip and doesn't get tangled while straightening, giving you an effortless frizz-free look!
The combination of tourmaline and ceramic is perfect for locking in moisture. When heated, it emits negative ions to counter positive ions in your hair, effectively reducing the look of frizz and hair damage. It has a maximum temperature of 450ºF and suits all hair types perfectly!
This straightener also supports dual voltage and incorporates a 360° swivel cord for flexible hand movement. Straighten, flip, and curl your hair with the Sleek Control Straightener and elevate your haircare game!
Blow Me Away Hair Dryer
The right hair dryer can be a complete game-changer for your look. And Nubi Hair has just what you're looking for! Our Blow Me Away Hair Dryer is a professional hair styling tool that can help you achieve your desired hairstyle effortlessly. It features three temperature settings and two concentrators, focusing on precision and inclusivity for all hair types! The directed, steady streams of air flow allow you to dry specific sections of your hair to a heat setting of your liking.
This custom styling experience can give you a range of hairstyling options, including corkscrew curls, loose waves, and even sleek-straight hair. You can also treat your hair to a simple blow-drying experience with the two adjustable speed settings. It allows you to dry your hair without having it stripped of its vital oils. Use the "cool shot" button at the end of your drying session to achieve a final glossy look!
Styling Spray
Once you're all set with the hairstyle of your choice, it's time to fix it in place with the Nubi Styling Spray! It's a great addition to give your hair the final look you want before stepping out.
To use it, get your hairstyle all set and spray evenly from a distance of about six inches. Get the perfect finish and slay your whole look with this exceptional styling formula!
2. The Deluxe Styling Set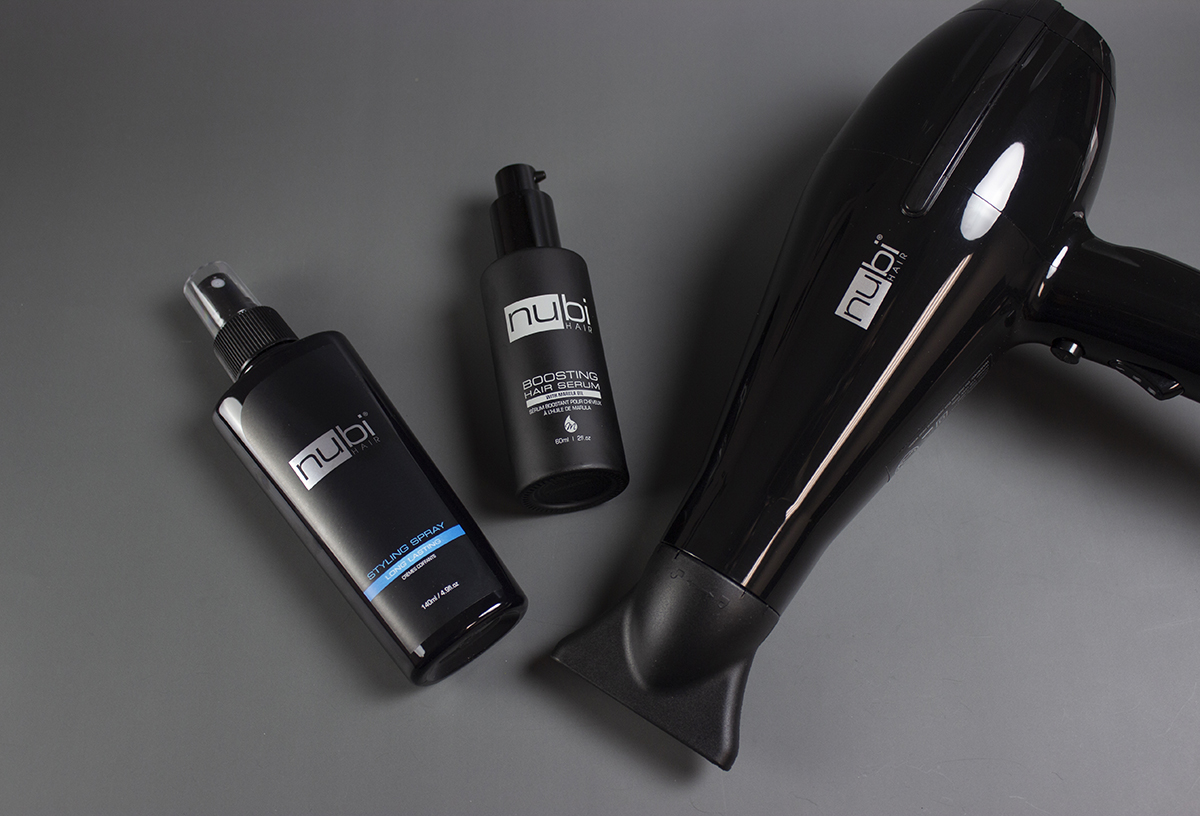 Just when you thought the Nubi Gift Sets 2023 couldn't get any better, we spring out our Deluxe Styling Set! If you want to treat your hair to some premium-grade haircare formulas and advanced hair styling tools, this set is a perfect choice. It incorporates the Nubi Boosting Hair Serum enriched with Marula Oil to give you wonderful-looking hair.
But to help you get the perfect, stylish blow-out, the set also includes our Blow Me Away Hair Dryer and Styling Spray. The blow dryer delivers consistent heat, perfect for curling and straightening. Once you're done, use the Styling Spray to lock in your hairstyle!
Let's take a closer look at what the Boosting Hair Serum is all about:
Nubi Boosting Hair Serum with Marula Oil
If you're struggling with frizzy and damaged-looking hair, our hair serum is a great pick! It's infused with marula oil, an extremely beneficial oil to revive the look of dull hair. Marula oil exhibits strong hydrating and moisturizing properties, helping to strengthen the feel of your hair.
This hair serum also includes aloe vera and vitamin E to tame the look of frizzy hair and give you silky, smooth-feeling tresses. These two ingredients are also wonderful for fading visible signs of damage and keeping your hair feeling protected. Experience hair that feels super-smooth and easily manageable with this exceptional hair serum for all hair types.
For great results, we recommend using it on slightly damp hair. Take 1-2 pumps into your palms and massage your hair from the tips, working your way up to the mid shafts. It's especially useful to apply before using heat styling tools as it can minimize the appearance of damage. But make sure it's properly absorbed before doing so!
Get your hair ready for the next year with one of the best gift sets 2023 has to offer — the Deluxe Styling Set!
3. The Styling Set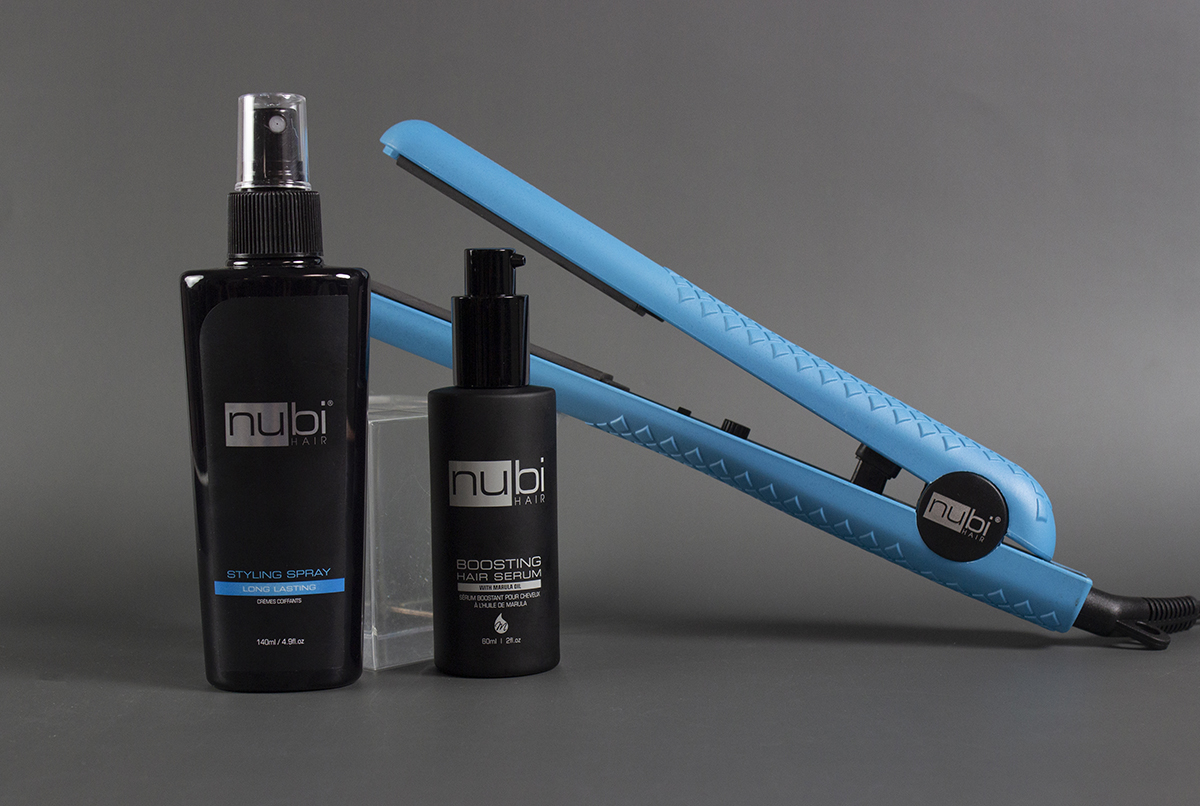 The Styling Set is just what you need to kick off the new year with a bang! It's the ideal hair styling set that comes with the Nubi Boosting Hair Serum with Marula Oil to revive the look of dull, damaged, frizzy hair and get it ready for styling. It also includes one of our bestsellers, the 1.25" Ceramic Straightener. You can't have a flashy hairstyle without this advanced flat iron to give you the look you want!
And of course, we can't have a complete hair styling gift set without our signature Styling Spray to lock in your look. We've told you all about our Boosting Hair Serum and Styling Spray, so let's get into the details of our 1.25" Ceramic Straightener!
Soft N' Straight 1.25" Ceramic Styler
The Soft N' Straight 1.25″ flat iron is one of Nubi's classic styling tools. It features an ergonomic, satin-grip handle and a 360º swivel cord to make styling a cinch!
This simple yet powerful straightener incorporates snag-resistant ceramic floating plates to reduce the appearance of damage and spread heat evenly across your hair. It has a versatile temperature range of 180-450ºF and delivers gentle infrared heat and negative ions to each hair strand. It also locks in moisture, making your hair feel smooth and soft.
This flat iron can straighten, flip, and curl any hair type. Witness a professional look that's destined to last with the Soft N' Straight 1.25" Hair Straightener!
4. The Body Care Set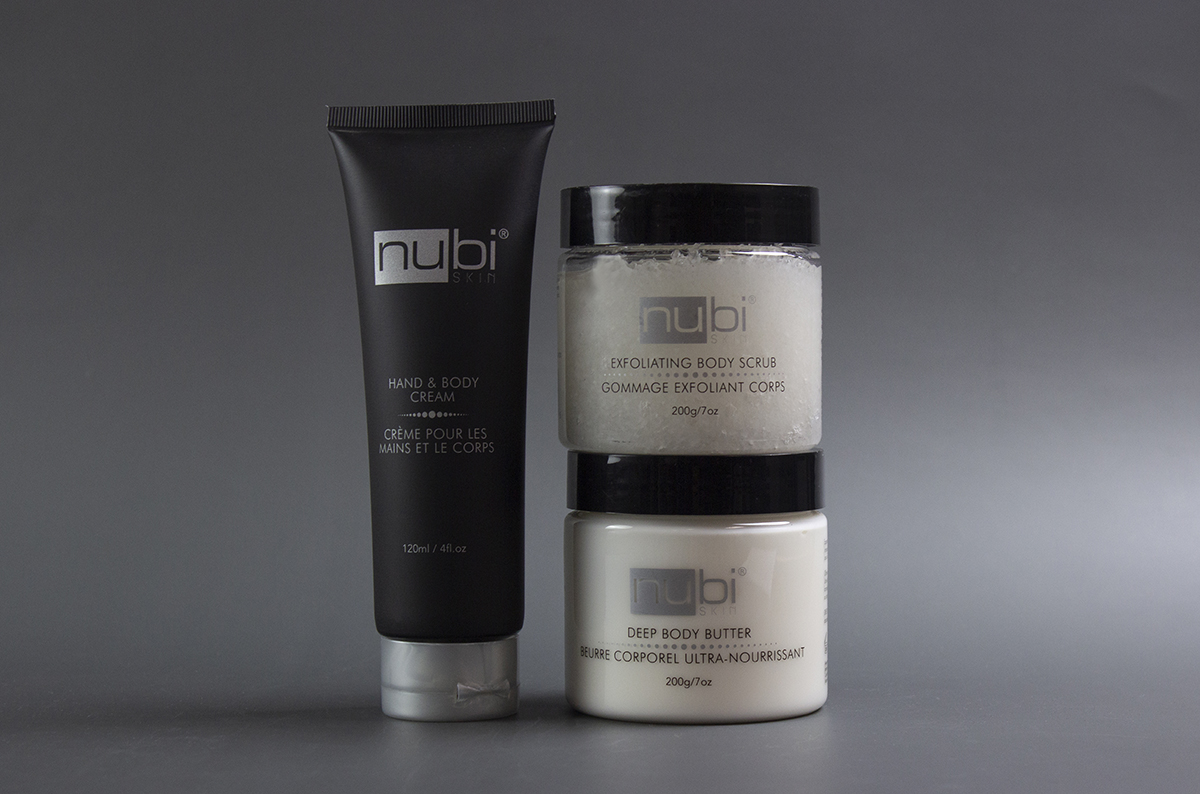 Nubi isn't all about hair care, we're also about pampering the skin with the best ingredients in the skincare world. Unlock your skin's true inner radiance with our exceptional Body Care Set!
Get started with the Exfoliating Body Scrub to remove dead cells and debris and reveal a layer of fresh, new skin. Then, ramp up the moisture with our Deep Body Butter and the Hand & Body cream. Here's what you can expect from these wonderful body care products:
Exfoliating Body Scrub
The Nubi Exfoliating Body Scrub is a luxurious formula to help you get rid of dead cells and impurities. It incorporates sea salt, one of nature's finest exfoliants, to buff away dry, dull, dead skin, revealing a new layer that feels smooth and supple to the touch. 
Achieve youthful radiance from head to toe with our superb Exfoliating Body Scrub. You can use it up to three times a week if you have oily skin and once a week for dry skin. Apply liberally to clean, wet skin and massage in gentle motions until the salt crystals dissolve.
Deep Body Butter
After scrubbing, it's very important to moisturize your vulnerable skin. The Nubi Deep Body Butter is the perfect, rich formula to give you skin that feels exceptionally soft and supple. This intense moisturizing blend incorporates shea butter and mineral oil to ease the look of irritation and elevate the skin's natural moisture levels.
It's a wonderful way to restore the skin's vital feel and keep it moisturized all day long!
Hand & Body Cream
A little on-the-go lotion is another important step after exfoliation. If you have oily skin, you might not want to use a thick butter. So, our Hand & Body Cream would be a perfect choice!
Indulge your skin in silky goodness with this amazing blend of botanicals and minerals. The formula is perfect to help alleviate dryness and give your skin a refreshing, supple sensation!
5. The Skin Care Set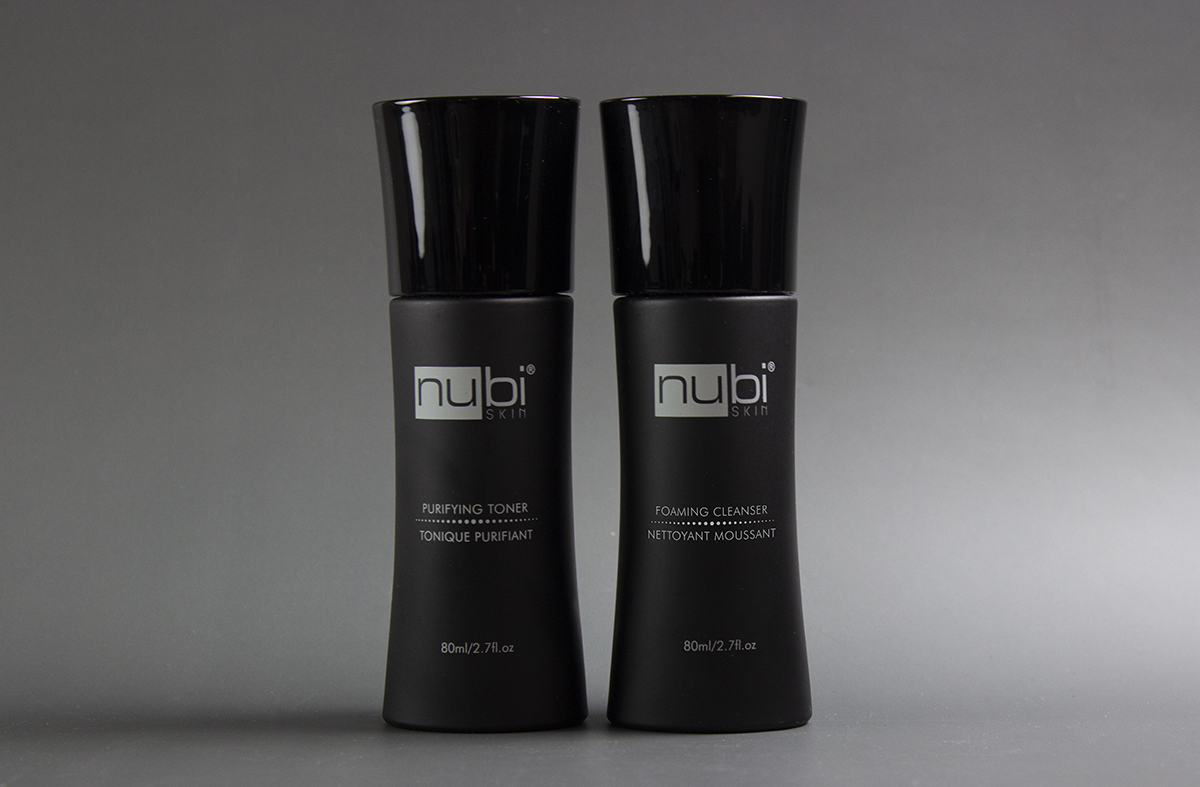 Our Skin Care Set is another one of the greatest gift sets 2023 has to offer! It serves as the perfect starting point for any routine. The set includes our mild yet effective Foaming Cleanser to remove impurities and clarify the look of your skin. And the Purifying Toner to treat your skin to the natural goodness of botanicals and skin-enhancing minerals.
Here's what these products are packing:
Foaming Cleanser
The Nubi Foaming Cleanser is a mild yet effective cleansing formula to gently whisk away impurities. It incorporates orange peel oil to help freshen up the look of your skin and reveal an undeniable radiance!
Purifying Toner
With the power of niacinamide and hyaluronic acid, the Nubi Purifying Toner will give you a balanced, youthful look. These two ingredients help to fade the look of aging and dark spots, giving the skin a supple, clear finish!
This crisp skin-prepping tonic rids your skin of excess oils and debris. It's the perfect way to get your skin ready for any finishing cream or serum.
Nubi Gift Sets 2023 — The Gift of Luxury!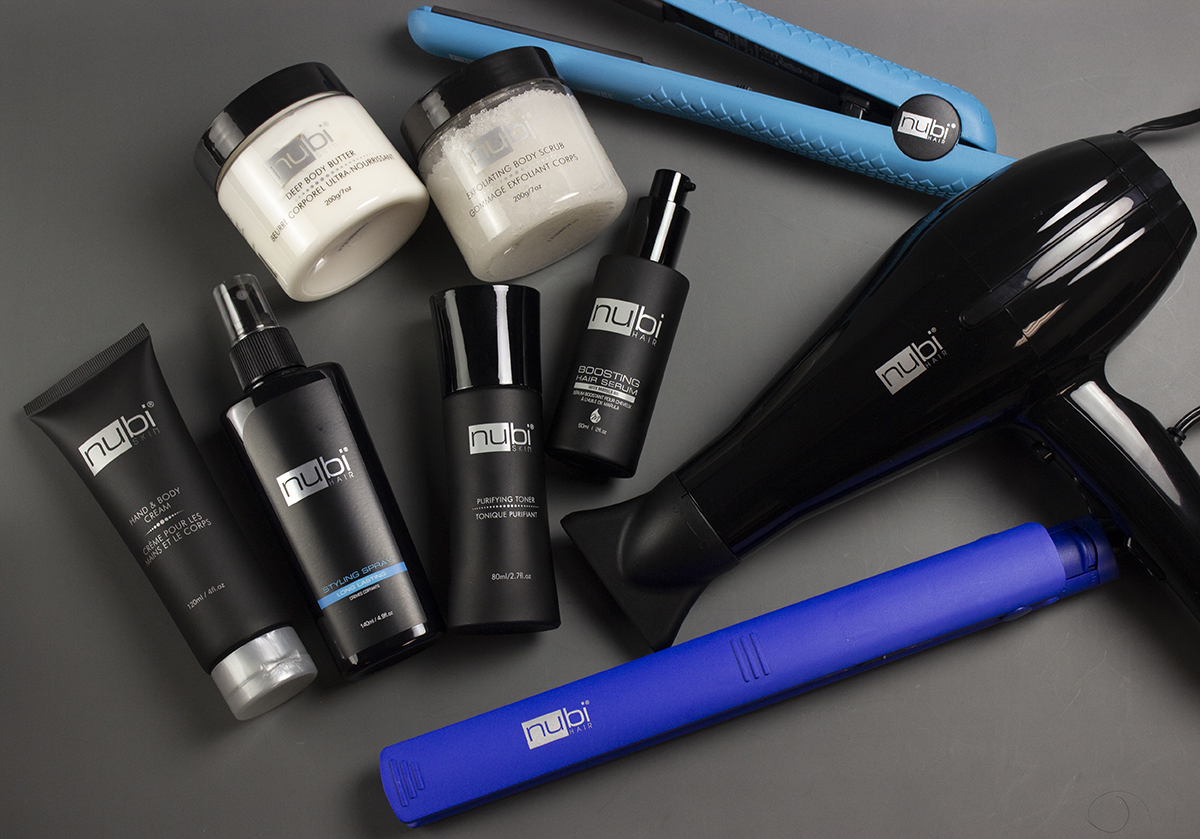 Express your love and gratitude to those nearest to your heart with the Nubi Gift Sets 2023. Each set is packed in a deluxe bag tied lovingly with a bow. It also includes a card that you can personalize to add your own touch. Get your hands on these gift sets at discounted prices today!
Click here to browse more exquisite products in Nubi's online shop.