Haircare isn't solely about topical products. Sure, shampoos, conditioners, masks, and more form the foundations of any good haircare routine. However, the styling tools that you use should also be geared toward contributing to healthy-looking locks, rather than damaging your strands while they style.
Fortunately, innovation has been rife lately, and there are now some truly fantastic hair tools out there that have the potential to revolutionize how you care for your locks. Read on as Nubi shares a few of these must-try cutting-edge hair tools.
The Blow Me Away Blow Dryer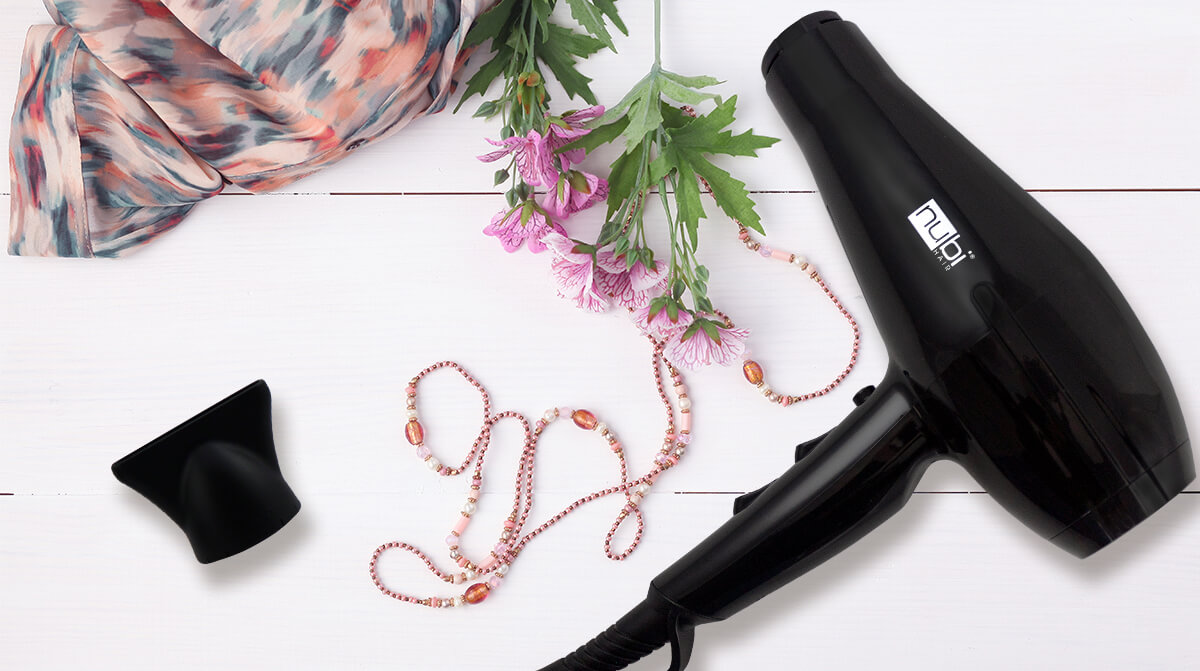 There have been so many advancements over the past few years when it comes to the design of blow dryers, and Nubi's Blow Me Away blow dryer exemplifies that. 
This is a professional-quality model that can be used on all hair types. It offers three temperature settings and two speed settings, allowing you to fine-tune things to provide perfection for your locks. If you have thin, dry, or damaged hair, a low temperature coupled with a slower speed will dry and style your strands without subjecting them to more damage. On the other hand, if you have thick and coarse hair, you'll be able to pick a faster speed and a higher temperature. You'll get the job done so much faster than you would with other blow dryers!
At Nubi, we're all about helping people to customize their styling process. This is why we've included two concentrator attachments with this blow dryer. You'll be able to precisely focus the air flow, enabling you to target specific sections of hair at a time.
Adding the Blow Me Away Blow Dryer to Your Haircare Routine
Ideally, you want to minimize the amount of time that your hair spends subjected to heat, so always begin by towel drying your hair before you turn to your blow dryer. Use a lightweight microfiber towel and it will only take a few minutes for soaking wet hair to be blow dryer-ready. You'll also create a lot less friction, and therefore damage, if you use a microfiber towel as opposed to other towel materials. It's a win-win!
Once it is, section off the top half of your hair and use a clip to secure it. It's always best to start drying the lower layers first. Attach a concentrator and do this in sections, using a brush to keep your strands smooth and straight. Make sure that you're pointing your blow dryer downwards as you work. This will give you some extra shine and gloss.
Once the lower half of your hair is dry, clip it back and release the top half. As you blow dry this section, use a large round brush to give your hair some shape and volume. Start by aiming your nozzle at the roots of each section before moving outwards, following your brush as you go. 
Once you're done, hit the cool shot function button and go over your hair one more time with cool air. This will smooth your locks down even more, preventing them from looking frizzy after a while.
The Soft N' Straight 1.25" Ceramic Purple Styler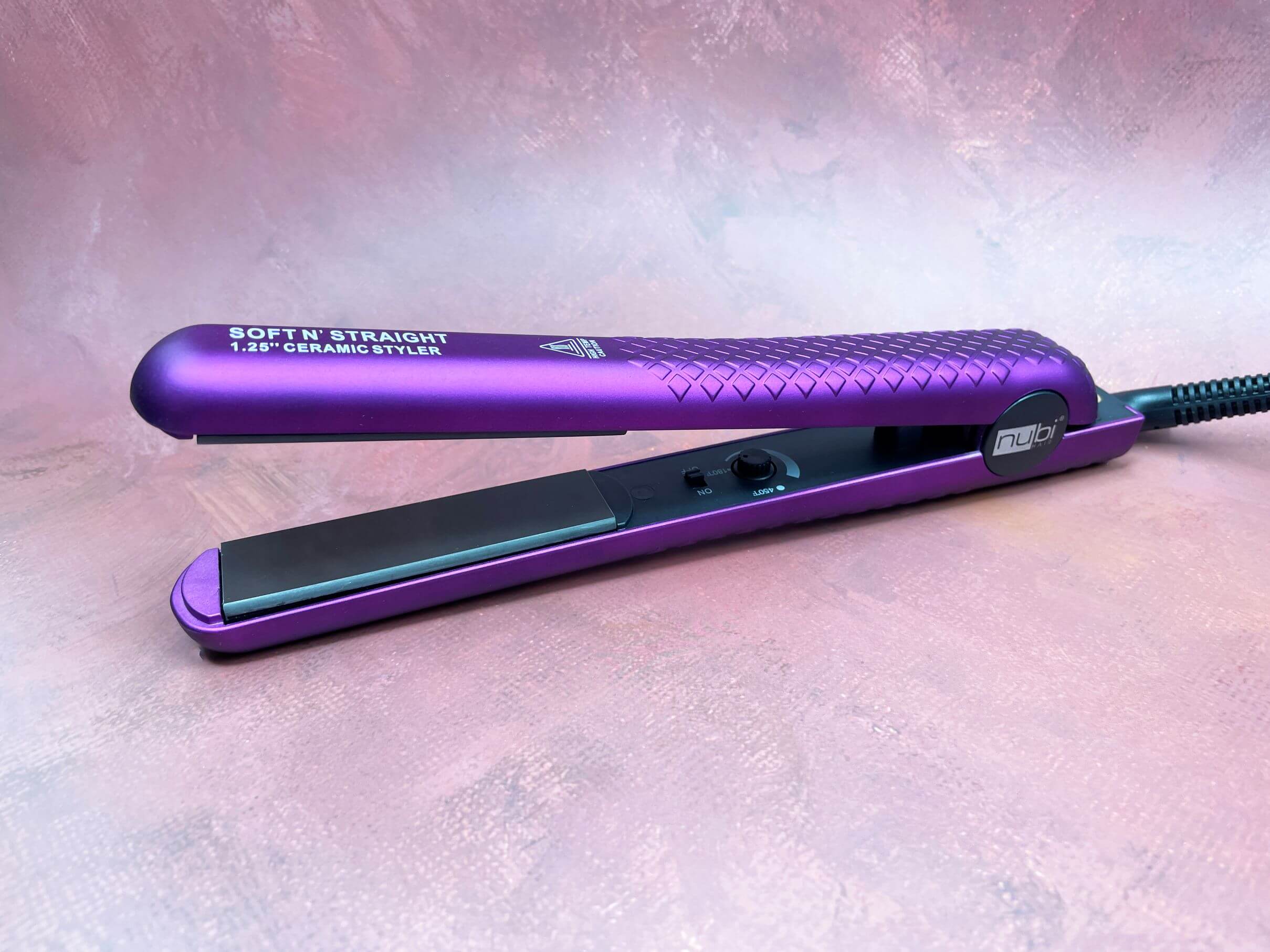 Ever find that you have to run your hair straightener over your hair several times before it will fully straighten your strands? With the Soft N' Straight 1.25" Ceramic Purple Styler, you won't have to worry about that anymore. It will speed up your haircare routine while also giving you healthy-looking locks.
This hair straightener offers an adjustable temperature range of 180º-450ºF. This makes it suitable for all hair types – the thicker and coarser your hair, the higher the temperature to use.
When it comes to caring for your hair, this flat iron excels with its negative ion technology. This is a feature that makes use of infrared heat to emit negative ions as the hair is being straightened. This helps to keep the natural oils in the hair feeling protected and preserved, which will prevent the appearance of hair damage and frizz.
Adding the Soft N' Straight Styler to Your Haircare Routine
It goes without saying that hair needs to be completely dry before a flat iron is used on it. Any moisture that's still trapped in your strands will react with the heat, essentially boiling your hair from within. As you can imagine, this immediately causes serious structural damage, much of which can be irreversible.
Since the Soft N' Straight Styler has plates that are 1.25" in size, split your hair into 1-1.25" sections. Each section should be small enough to fit between the plates without your hairs overlapping too much. This will greatly reduce the number of times you'll need to straighten each section. However, if you do need to run your flat iron over your strands a second time, make sure that your hair has fully cooled down before returning to that section.
The Simply Sleek Brush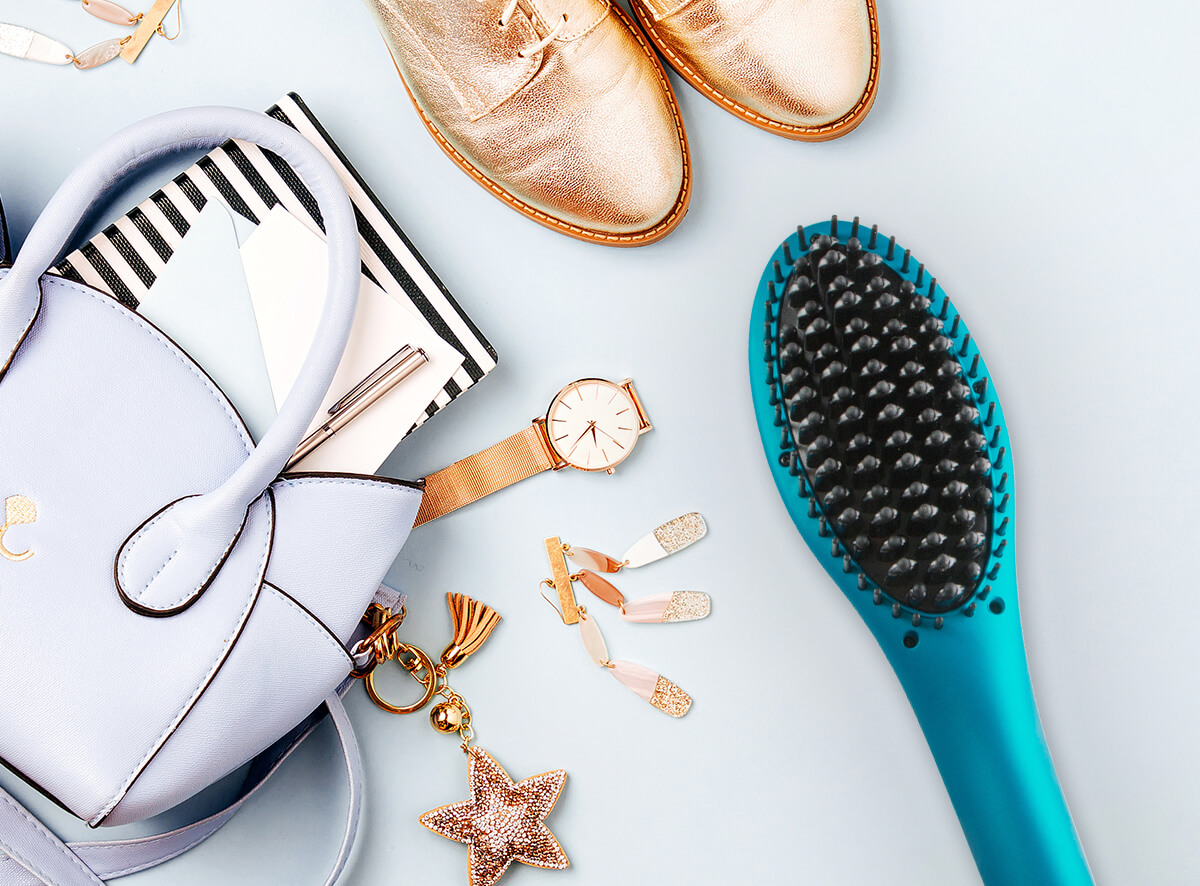 Hair straighteners are great, but it can sometimes be difficult to add volume to the hair when using a flat iron. This is where heated straightening brushes, like the Nubi Simply Sleek Brush, really come into their own. 
Just like the hair straightener featured above, this brush also offers an adjustable temperature, with a range of 285º-430ºF. Its ceramic surface evenly distributes heat and prevents hot spots, making this another tool that plays well with all hair types.
This hair tool also offers revolutionary negative ion technology. Thanks to its infrared heat, you'll be able to achieve a much smoother, glossier, and healthier-looking finish to your locks once you're done styling them.
Adding the Simply Sleek Brush to Your Haircare Routine
Just like when using any other heated styling tool, start by sectioning your hair. Starting from your roots, run the brush through your locks. It's the same technique as how you would usually brush your hair, except a little slower. However, don't hold the brush still onto a section of your hair for too long. Just like with a flat iron, this could potentially burn your strands.
If you're straightening your hair, then simply run your brush straight down from root to tip. However, if you'd like to add some bounce and shape, wrap your hair around the brush as you go. 
The Set Up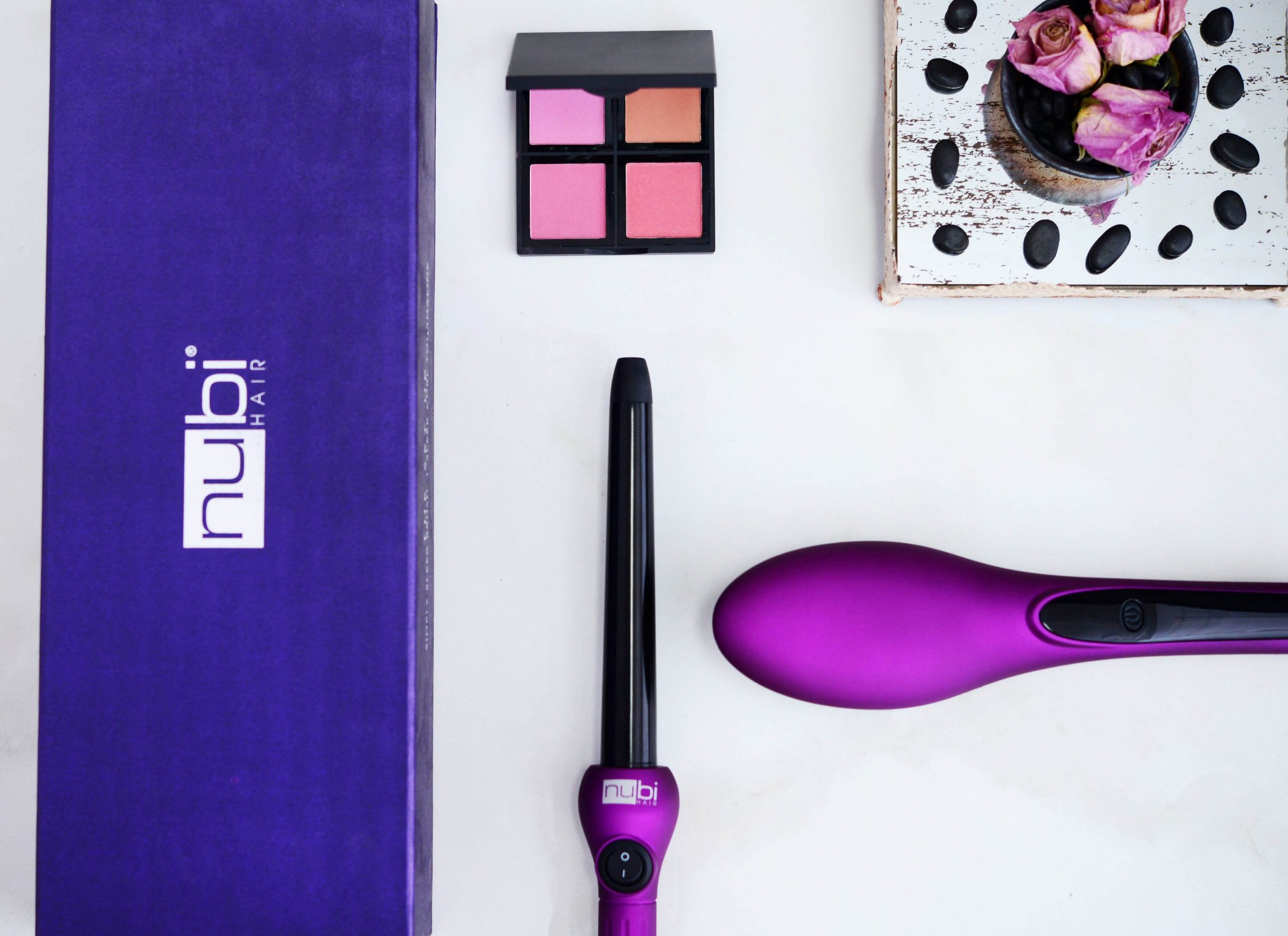 The Set Up is an amazing hairstyling duo. It consists of our Simply Sleek Brush, which we've featured above, as well as our Sleek Curl clip-less curling wand. 
The curling wand boasts a Teflon-coated tapered barrel. At 3/4″-1″, you'll be able to create everything from tight coils to larger waves, giving you plenty of versatility when styling. The wand is extremely lightweight, making it so easy to twirl your strands to perfection.
Adding the Set Up to Your Haircare Routine
The two products in the Set Up give you an endless array of styling options. Since we've already talked about adding the Simply Sleek Brush to your haircare routine, let's focus on the Sleek Curl curling wand.
As always, your hair should be completely dry before you attempt to use it. Section off your hair and then separate a 1" piece to wrap around the wand. Hold each piece of hair against the curling wand for a few seconds. The thicker your hair, the more time it will need. Then, release that piece of hair, allowing it to gently fall into the palm of your hand. Cup it there for a few seconds before fully releasing it down. This will help it to maintain its shape.
Once you're done curling all of your hair, give your hair time to completely cool down before you run your fingers through your curls to separate them. If you'd like them to look a little looser and less defined, then go ahead and run a wide-toothed comb through them too.
The Sleek Control Hair Straightener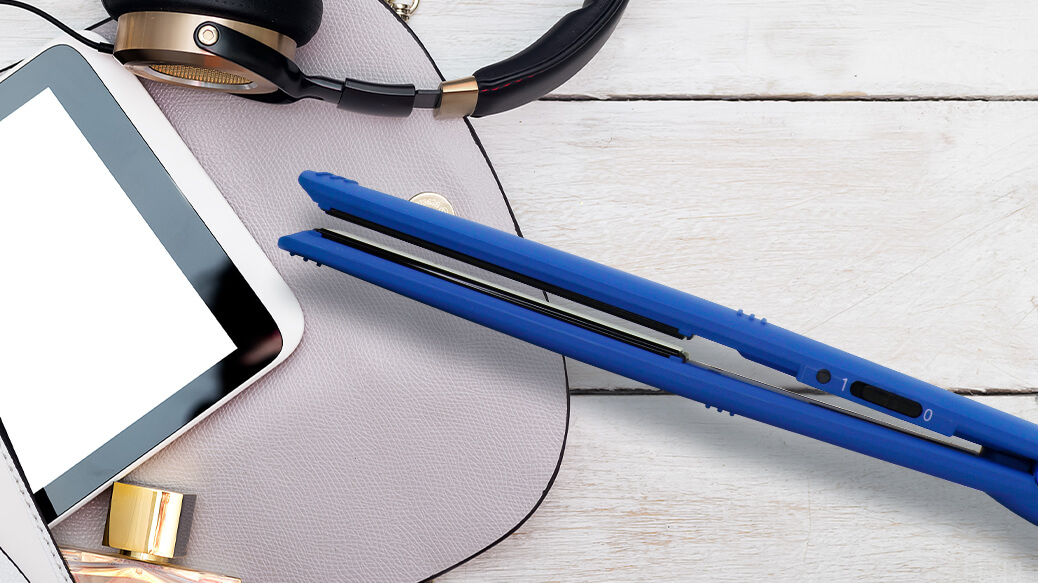 Another bestselling product from Nubi's roster of innovative hair tools is the Sleek Control hair straightener. 
This flat iron features tourmaline ceramic plates. By utilizing both materials, your hair experiences the unique benefits of each one. The power of tourmaline combined with the gentle nature of ceramic results in a one-of-a-kind straightening experience. 
If you frequently travel, then you'll love how lightweight this hair straightener is. It has a hinge lock that makes it so easy to pack, and it's also dual voltage. Its 1" plates won't take up too much space in your luggage, making it ideal for anyone looking to boost their hairstyling and haircare routine while on the go.
Adding the Sleek Control Straightener to Your Haircare Routine
Just like when using other hair styling tools, section off your hair before reaching for your Sleek Control flat iron. Start straightening your locks, running your flat iron from your roots to your tips. Move slowly but don't hold your straightener over the same piece of hair for more than three or four seconds. If you need to return to it to straighten it again, wait until it has cooled down before doing so. 
Once you've worked your way through all of the sections in your hair, run a brush or a wide-toothed comb through your locks. If you want your style to last for longer, give it a spritz with the Nubi Styling Spray. This extra-strong formula will keep your locks looking straight and sleek, while giving them an added sheen.
Summary
When thinking of ways to improve a haircare routine, most people try to upgrade the haircare formulas that they're using. There's no denying the effect that an exquisite new conditioner or hair serum can have, but it's important to consider how your hairstyling tools play into your haircare routine too. They need to help you style your hair while also looking after your locks. Innovation means that today's hair tools no longer need to cause the irreparable damage that they used to.
Do your hair tool shopping at Nubi and you won't need to worry about this. All of our products and tools are created to make styling a breeze while also giving the hair the gentle touch that it deserves. Whether you want to straighten or curl your hair, the products featured above would be worthwhile additions to any haircare routine.
Click here to check out more bestselling hair care and styling products from Nubi.